Directed by Kapil Verma, Rashtra Kavach Om was released today in cinema halls across the country. Starring Aditya Roy Kapur in the lead, and Ashutosh Rana, Sanjana Sanghi, Jackie Shroff, and Prakash Raaj in pivotal roles, Rashtra Kavach Om had a fascinating premise to work with. When a scientist developing a nuclear shield for India goes rogue, a team of defence and tech experts embark on an international mission to retrieve the critical nuclear weapons shield system from him. One of the critical members of this team is Om Rathore, played by Aditya Roy Kapur. What begins as a covert operation starts unravelling to reveal a family's dark, dirty secrets kept hidden for decades.
Sounds like a gripping story, right? That's what we thought too. However, the story falls victim to the amateurish treatment it receives in a painfully long 2 hours and 15 minutes. As soon as the film begins, expectations are instantly grounded thanks to terrible visual effects and acting that just doesn't sit right. In fact, the action sequences in Rashtra Kavach Om, decidedly sold as an action film, are a joke and far too few. The visual effects fail constantly and the actors' blank expressions don't do much to save a cinematic disaster.
Having said that, the story manages to keep the viewer curious, at least in the first half. In the second half, the actor who turns out to be the villain pretty much gives himself away, unintentionally. Rashtra Kavach Om moves at a dizzying pace initially but that doesn't always work in its favour. There are times when the story seems to take abrupt, illogical turns. The film slows down in the second half but then it slows down too much.
Aditya Roy Kapur looks gorgeous. And there are moments when you see a glimpse of a good actor in there. But most of Rashtra Kavach Om is a slo-mo showcase of his muscular, bronzed-up body. No, no, we're not objectifying. This is what the filmmakers wanted us to notice. Why else would his shirt tear into shreds while he walks really, really slowly towards the camera? Fun to watch, but don't expect a pathbreaking performance from the lead of this film. Kapur needed more direction and a better-handled film to really shine in the action genre.
Ashutosh Rana, as Jai Rathore, is intense but doesn't get enough room to show what he can really do. The many conflicts his character in Rashtra Kavach Om faces are portrayed well by Rana without going over the top. But we still wanted to see more from this legendary actor. Prakash Raaj, as Murthy, is intense too but annoyingly so. His intensity is thrown in our faces without warning. These two characters, played by seasoned actors, could have shared a unique, memorable dynamic but this angle is left unexplored.
Sanjana Sanghi, as Dr Kavya, is confused and lost for most of the film. Her character doesn't really know what's happening most of the time which gets quite annoying to watch after a while.
Jackie Shroff though! His role is short but significant for the story. And his performance as Dev Rathore gives us hope that this is a new era in his career, one where we get to see him play more complex characters with ease.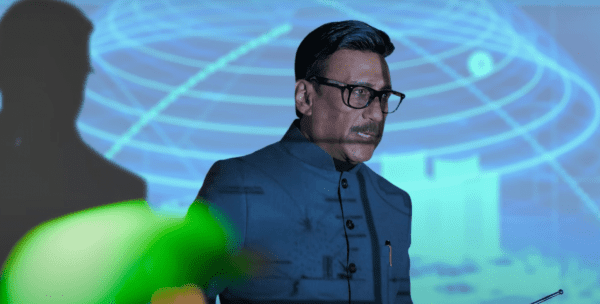 There are far too many attempts in this film to make the audience cry. What is conspicuously absent, however, is the kind of action that makes you gasp out of fear for the actors. What is also missing is humour with good timing which is always a welcome relief in action-packed films. The fleeting attempts at comedy seem improvised by one character alone rather than being smartly written into the script. We also have a random dance number, Kala Sha Kala, in Rashtra Kavach Om performed by Elnaaz Norouzi. However, this song has nothing on iconic songs like Sheila Ki Jawaani. If you can remember the tune of Kala Sha Kala after the film, we'll be impressed.
Even though the ending of Rashtra Kavach Om was predictable, we were looking forward to great action sequences with Aditya Roy Kapur and his perfect abs. However, the abs, even though they were beautifully bronzed, were overshadowed by the sheer mindlessness of the climax. We would say that the only reason, apart from Aditya Roy Kapur, to watch this film is the unintended hilarity of the chaos that unfolds. Try to control your laughter as well as Kapur manages to control a chopper with a chain…in his first attempt. Without help, of course.
Watch Rashtra Kavach Om for the beautiful sights, but don't bother if you're expecting even half-decent action.
Featured Image Source
Related: Rocketry: The Nambi Effect Review: R Madhavan Brings Alive Nambi Narayanan In This Evocative Biopic