Hi, everyone. You might remember me as "killer" Raj Sharma from a story called Bachna Ae Haseeno I told you 11 years ago. It was a story of love, dhokha, and redemption for said dhokha. In a very meta twist, I have to confess to you that the entire story was a-
Today, I'm here to tell you the truth and get redemption for the dhokha I gave y'all before I embark upon the next big journey in my life. It's a long story but I'll tell you in shorthand.
First things first. You might understand what I'm about to tell you better if you've seen Fight Club. Not the really awesome one with Zayed Khan and Suniel Shetty's hair, but the less awesome one with Edward Norton and Brad Pitt's abs. You thought I looked like this: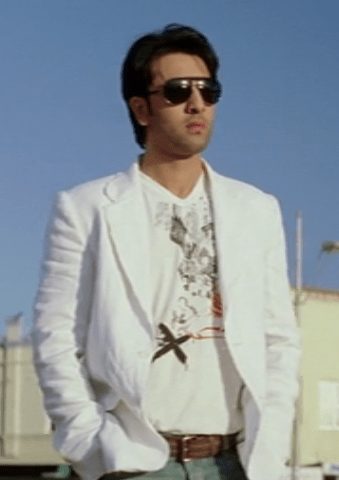 But in reality, this is me:
I needed you to believe that I look like a hero, because all the things I did would look pretty creepy and unbelievable if someone who looked like me did them. After all, Bollywood has always taught us that if Shah Rukh Khan does it, it's romantic but if Shakti Kapoor does it, it's creepy. Just like I used to kiss and tell the world I had sex, I embellished things a little. It didn't help that I started getting high by huffing phenyl when I was 16, which made it difficult to be sure what exactly was happening to me. Kids, notice my red eyes. Don't do saste nashe.
To be fair, I gave you a lot of clues to know that I was Sachin and Raj was just what I wished I looked like. Did you really think two school friends would remain together for more than 12 years after school, moving cities and countries at the exact same time and getting jobs at the same company? And did you think that it was just a coincidence that I was named Raj when my first catch, Maahi, was a huge DDLJ fan and was actively looking for her Raj?
Maahi did miss her train in Switzerland but she only came with me because of the weed I had on me at the time and she was a repressed teenager from a conservative family. Remember us eating a shitload of free chocolate under the guise of sampling? We had the munchies. The only thing we shared was a bag of weed. No love, no kiss, no song.
Radhika, who later became Shreya Rathod, was just my neighbour who gave me a cup of sugar once. She didn't even ask for her cup back, which was lucky because I broke it. Obviously, there's no way somebody who looked like a supermodel, and would later go on to become a big film star, would date me. I can't believe I fooled you guys on that one. Did you really think Mumbai landlords would be cool with us breaking down the wall between two flats to join them AND with leasing to a live-in couple?
Nor did Gayatri—an independent, intelligent, and extremely beautiful woman—give me the time of day, unless you want to count the restraining order she filed against me after I booked her cab and made the "is your dad a terrorist?" joke five times. I also got detained and strip-searched by the Australian authorities for that. That's how I learned that you can't be brown and make any jokes with the word "terrorist" in a white country.
When I quit my job and supposedly went to apologise to Maahi and Radhika, things went down as expected. Maahi simply could not remember who I was and I was beaten up by her husband and friends for crashing the wedding and trying to do a dance number. Wait, that's not true. It was her sister and best friend Preeti. Sorry, I can't help the lying.
Radhika genuinely didn't remember who I was either. But I still followed her to Italy where I was robbed of my passport and money while trying to buy cocaine. Because of this, I begged her to hire me as her valet (not PA) and she did. It was only when I made the money to buy my ticket and reapply for my passport that I could get back to Sydney, where I found a mountain of unpaid bills lying in my apartment (and not letters from Gayatri). There was also a lot of pigeon poop since I'd left the window open.
Some of them were default notices for the home loan I'd taken and credit card bill payment reminders. I was in a mountain of debt and then the 2008 recession hit because of which I couldn't find work anywhere. I sold the house and came back to India. IT jobs here are boring AF so I decided to go to Manali and grow weed.
That was when I met Maahi and her family again when they'd come for their kids' summer vacation. I'd found some kind of inner peace by this time so I apologised to them (for real this time), and Joginder and I sat and smoked a few joints together. I told him all of this, and we had a pretty good laugh about it. Then I suggested a threesome and he punched me in the face and left me in the forest. But obviously, I told everyone later that he and Maahi had both agreed.
I tried for a while to work on my issues with lying, but then someone approached me and said that I'd be a great politician. It was a brilliant idea and I felt that I needed to do what I was best at. So now, instead of trying to tell less lies, I need to amp it up a lot more. Besides, I've lived in the Himalayas so I have the perfect CV for this line of work. Bachna India, lo main aa gaya!