Radhe has been released on Zee5 and is available to the audience at a nominal charge. And the fact that I had to pay to watch this movie is both hilarious and sad. But because there has been such a hype around Salman Khan's blockbuster performance, I decided to see it for myself. Radhe, directed by Prabhudeva, is the remake of the South Korean movie The Outlaws. Check out this Radhe review before you decide to invest your time, emotions, and money in this one.
Related: Hello Charlie Review: You Can Skip Saying Hello To This Movie
A khichdi of Wanted, Tere Naam, and Dabangg
Image Source
If you are a true Salman Khan fan, you would have definitely watched his superhits Wanted, Tere Naam, and Dabangg. And Radhe is the perfect khichdi of these three movies with the same dialogues, storylines, and even character names. There were so many times while watching this movie when I knew what was coming next. It almost felt like Salman Khan recreated his own movies and dialogues. Because clearly, the recipe of a new blockbuster is using the stories of older ones. Radhe plays the role of an encounter specialist who falls in love with a much, much younger (surprise, surprise) model played by Disha Patani.
But the unexplained walking through glass windows and jumping off extreme heights without a scratch kind of throws you off. Don't even get me started on the CGI effects because they were clearly botched and shady much like Salman's face and body.
A throwback to checkered shirts and a bunch of Bigg Boss contestants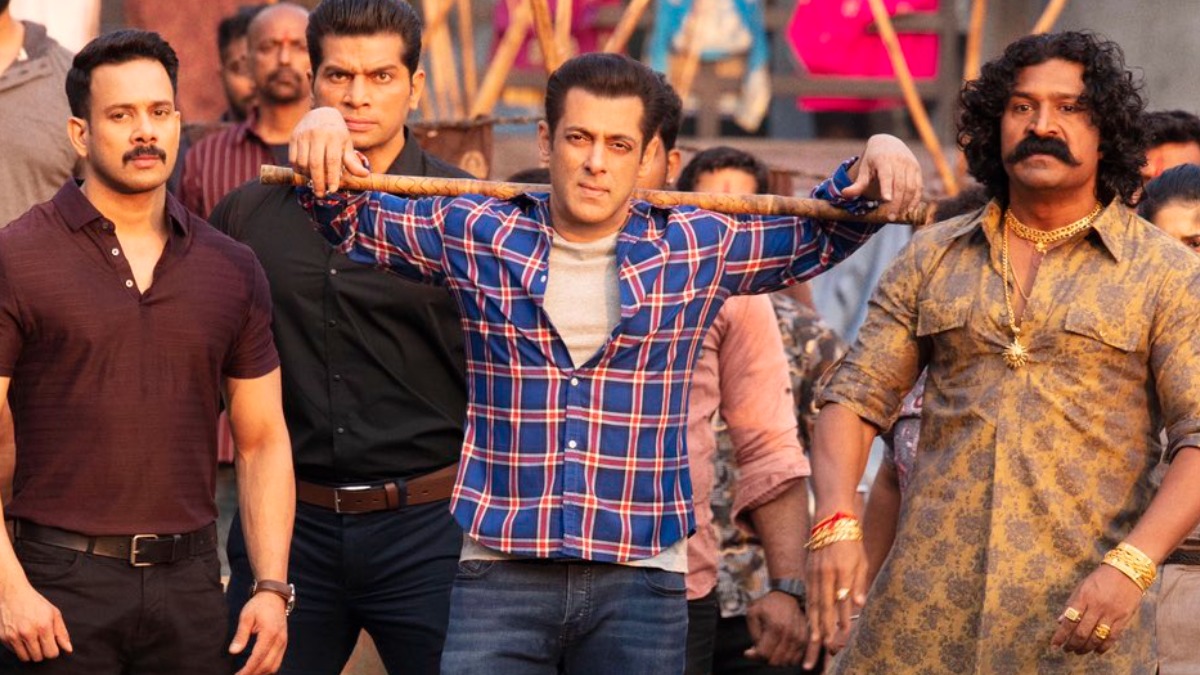 Image Source
Salman Khan is always seen giving chances to his new co-stars and reality show contestants. And with Radhe, you don't just get to live all of his super cool checkered shirt looks, but you also get to see a bunch of ex-Bigg Boss contestants. Right from season 8 winner Gautam Gulati in a prominent role to Andy, Pravesh Rana, and Manveer Gurjar in smaller unnecessary roles, this movie is a Bigg Boss throwback. And if you think this is too much to deal with, you can also see Jackie Shroff in an extremely short and slinky red dress dancing and romancing with Salman. Don't ask me why.
Randeep Hooda, the villain who stole the show
Image Source
Typically, you would watch Salman Khan's films to see him shirtless, fighting 10 people at a time and romancing with younger co-stars. But this time, Randeep Hooda, who plays the role of Rana, a drug dealer and the villain of the movie, completely stole the show. His maniacal and wild character will keep you hooked to your screen for an otherwise unbearable 109 minutes. The witty acting, alongside his right hand Gautam Gulati, was the only saving grace for Radhe.
From stabbing knives, banging heads on walls to more brutal scenes, Randeep stood his ground and acted better than most of the cast. He completely does justice to his role of the drug dealer trying to take over Mumbai and the mafia.
So, to wrap up this Radhe review, all I would like to say is that viewer discretion is advised.