Bachche ji, I spent all of Thursday watching Queen Charlotte A Bridgerton Story. I know it was a working day, but that's for plebs like you, beta ji. Not me and Queen Charlotte. Anyway, going by the trailer, I was certain I would like her, but omg, I didn't know I would find so many similarities between myself and Queenie. We're basically soul sisters! Here's why.
I'm also convinced that my undergarments will murder me one day
The underwire of my bra may not be whalebone, but it can and probably will stab me in my heart. If that won't kill me, the decades of patriarchy-enabled ghutan will eventually catch up with me. You know, when you're forced to wear a bra that's just too tight and clench-y because all the good ones cost more than the chanda we collected on Diwali last year.
I also have a delusional bhaiya
"There are worse fates than marrying the King of England" – Charlotte's brother says this to her, can you imagine? Diana se poochho same question. Charles may not have been king then, but he was on his way…sort of. It is worst fate only to marry King of England, Charlotte ke bhaiya. Everyone is not born with a Camilla kind of kismet. Even my bhaiya is delusional like that. Tells me I'm not smart enough to be RWA president. Loser.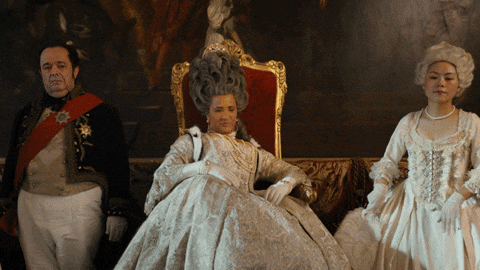 Queen Charlotte and I are the same at funerals
Even I don't really know what to say, bachche, at such events. Generally, I get away with "oh ho" and a generic mournful sound. But being the angelic soul sister of mine that she is, Queen Charlotte has come to my aid. "Sorrows, sorrows. Prayers" will be my new motto at every chautha. It invites no follow-up and I can sit and judge everyone in peace.
Everything I also do is a blessing
Because of me, our colony now has the best Christmas tree in south Delhi. Before me, it was just tacky, beta. Like your chumchum golden shoes that should have been bought with the intention to destroy. Just like Charlotte, I also just live to make the world a better place.
We both make friends with the right people
If Queen Charlotte has Lady Danbury, I have Mrs Duggal. I know, I know, we've had problems in the past. I still keep a close eye on her, but as long as she knows I'm the queen around here, it's all okay. I've sent her Lady Danbury's best moments as training. Very excited to create my own lady-in-waiting, bachche.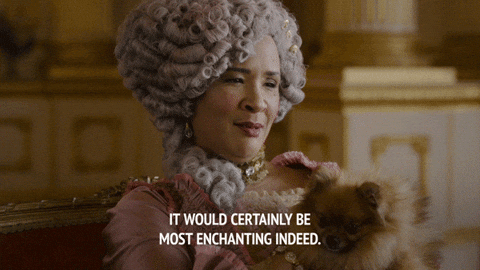 Queen Charlotte kicks asses in style. Like me
Every man is in serious trouble in Charlotte's presence. Especially if they try to act superior or smarter than her. It seems men were always this naive, bachche. Even centuries ago. But Charlotte is a great example of women who put men in their places. As am I. Ask any man who has tried to park their SUV in front of my gate.
Charlotte is my style inspiration
As sisters should be for each other. Queen Charlotte has inspired me to wear my frizzy mane like a crown, just as she does. In fact, I think my lovely blonde highlights will look even better than her perfectly-styled blue-grey thing. Can't wait for the monsoon!
She likes power. You know, just like me.
I will never give up on my fight to become the RWA president. So what if I've been losing the election since 2013? Everyone knows I'm their rightful queen, I don't know why they fight it so much.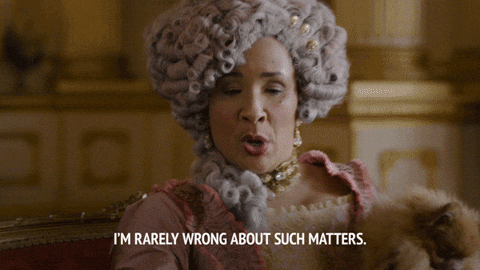 Both Queenie and I have hateful MILs
Bad mothers-in-law are the same all around the world. Even my MIL tried to do experiments with me as Charlotte's did with her. My MIL rubbed Fair and Lovely all over me when she first saw me. Told me to make friends with goras to up her street cred in our colony. And, of course, she tried to get me to fix her decades of bad parenting. Uff.
Basically, I have come to two solid conclusions. First, I need to change my tailor master ji, he has not made me a single gown that I can wear to a Bridgerton ball. And second, I need my own Brimsley for complete world domination. There is no other way.
GIFs Source