Being pregnant and unmarried is not a crime in India. Yet, the majority of our population seems to think so. The way young women are threatened and policed with the fear of being an unwed mother, one would think that it's the worst fate possible. That should be far from the truth, logically. Recently, actor Kalki Koechlin revealed her surprise pregnancy. She isn't married, and according to her interview with Miss Malini, she doesn't plan to get married to her partner anytime soon. She looks happy and excited, not destitute and grief-stricken that she will be an unwed mother.
One could argue that there is a certain privilege Kalki enjoys which lets her live more freely than others. Whether it's a liberal upbringing or the field she's in, Kalki's position is unique for India. But what's stopping Indian society from extending that privilege to everyone else? Why do the first reactions for a pregnant and unmarried woman always constitute shock, concern and disgust? Why did Kalki have to justify her decision to not marry and birth a child "out of wedlock" to the whole world before revealing her pregnancy? Why couldn't we treat it as any other celebrity pregnancy? Did Kareena Kapoor have to justify her decision to have a child when she revealed her pregnancy?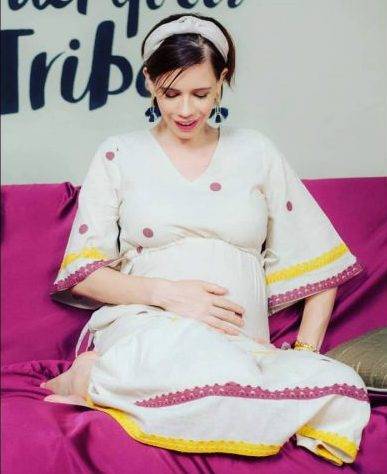 Image Source
Do children really need their parents to be married?
Marriage doesn't guarantee anything. We see cases of married couples falling out after a year, five years, 10 years, or more than that, almost every day. Conventional families fall apart for all kinds of reasons, leaving children with the label of coming from a "broken home". How then do we decide that a child needs their parents to be married to lead a happy life? How does that piece of paper guarantee a child's happiness? Bad parents can come from anywhere, and a marriage certificate doesn't fix them.
In 2019, Kalki Koechlin is getting more congratulations than condemnation. And we couldn't be happier about that. However, it does make one think what would have happened if a regular girl like you and me had decided to do something similar? The expected reaction from everyone around us would've been anger and disappointment. The advice would've been to "get rid of it". But as soon as a regular girl, like you and me, is married, a pregnancy is a blessing from the lords above, not a curse from hell for the whole family.
Will Kalki Koechlin's pregnancy announcement change anything?
While we may be far away from the time when a pregnant and unmarried woman in India is treated like any other woman, a Bollywood celebrity announcing her pregnancy in this manner and not hiding it away is a good start. That's all it is though. A start.
As soon as I saw the announcement, the first thought that came to me was, "Will Kalki's pregnancy be celebrated the same way Kareena's was?" Maybe. Bollywood does like to be cool when it suits them. Will it help change mindsets anywhere else? Probably not. And that's where the privilege part truly sinks in. We won't be able to put pictures on Instagram showing off a baby bump to the world, unless we have a marriage certificate to go with it. The moment anything like that happens, families ostracise women. Or do much, much worse.
There's no reason for us to make a big deal out of pregnant and unmarried women. No one should be able to make their lives miserable about it, and no one should feel the need to celebrate them. This is a completely natural phenomenon, which conservatives have demonised for no logical reason. Children don't need two parents, they need solid parenting. It can come from anywhere and anyone. In fact, if we stopped putting these pressures on young women, we'd probably have a happier world with happier children. Families would be happier, women would be accepted for who they are. After all, one would agree that an unhappy household affects kids more than the lack of a marriage certificate.