One of the biggest fashion events in the world, the Paris Fashion Week, concluded recently, and it gave us several awe-inspiring looks. From the streets of Paris to the designer's ramp, the Spring Summer 2021 collection left us stunned. Trends may come and go, but fashion is here to stay, and nobody does it better than Paris. Here are the 15 celebrities who stole our hearts in style this year.
Related: Venice Film Festival 2021: We Can't Stop Fawning Over These Stars Who Were Dripping With Glamour
1. Rosé
Blackpink made headlines for their appearance at the Paris Fashion Week, and we must say, they didn't disappoint. Blackpink's Rosé, who is the global ambassador of Saint Laurent, looked gorgeous in a sheer black slip dress. She paired her Saint Laurent dress with black knee-high leather boots which added an edge to her minimalistic look.
2. Regina King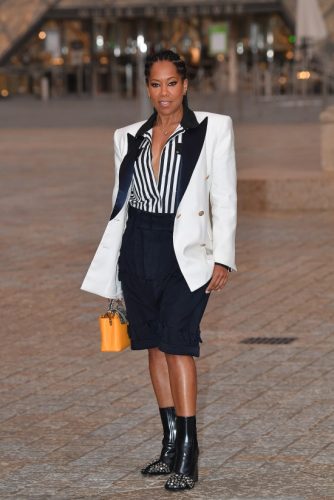 Regina King attended the Louis Vuitton show at the Paris Fashion Week looking like a total boss. She totally owned her space in a striped shirt paired with knee-length pants and a white blazer.
3. Halle Bailey
Halle Bailey looked absolutely gorgeous in a Miu Miu set. Her crystal crop-top and skirt left Parisians and us wonderstruck. She paired her outfit with strappy silver heels that just added to the dazzle.
4. Jisoo
Blackpink's Jisoo made her Paris Fashion Week debut in a mini black-and-white patterned A-line dress from Dior. The dress had embroidery motifs of the Greek goddess Athena which just added to the beauty of the dress and turned Jisoo into an absolute goddess.
5. Camilla Cabello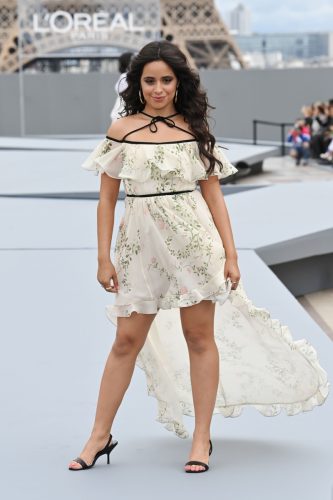 Camilla Cabello, one of the L'Oréal ambassadors, walked the ramp for Le Defile L'Oreal in a short, flirty, floral dress. Her outfit totally matched her personality — fun, bubbly and a delight to watch.
6. Aishwarya Rai Bachchan
How can we miss our Indian goddess, Aishwarya Rai? She took our breath away as she walked the ramp for Le Defile L'Oreal in an ethereal white gown. The Eiffel Tower had to fight for our attention and lost to the blue-eyed beauty.
7. Tommy Dorfman
Tommy Dorfman set our hearts on fire at her Givenchy appearance during Paris Fashion Week. She looked like a total power babe ready to take on the world in a red pantsuit.
8. Iris Law
Iris Law was absolutely angelic as she made an appearance at Saint Laurent's runway show. She looked ethereal in her off-shoulder gown with a pleated maxi skirt.
9. Cardi B
Cardi B's outfit is perhaps the most extravagant outfit on this list and why not! She looked like a total queen at the "Thierry Mugler: Couturissime" exhibition. Donned in a red sequined archival Mugler gown, with a matching cape and feathers, Cardi B set the red carpet on fire.
10. Katherine Langford
Here's another look from the Le Defile L'Oreal show that we loved. Katherine Langford looked pretty as a picture in an off-shoulder black mini dress. Even the Parisian background failed in comparison to the beauty of the 13 Reasons Why star.
11. Kristen Stewart
Kristen Stewart sizzled in a Chanel skirt suit at the show of the French fashion house. She added the extra oomph with a lace bustier and a pair of trendy shoes.
12. Demi Moore
Demi Moore was the definition of elegance and simplicity as she attended the Stella McCartney show. Her black jumpsuit with a mesh chest panel, paired with a tan bomber jacket, was a show-stopper.
13. Naomi Campbell
If you were to look up the word 'boss babe' in a dictionary, this picture of Naomi Campbell will pop up. Campbell looked like a total boss and stole the show on the Lanvin runway.
14.  Phoebe Dynevor
The Bridgerton star looked radiant in a Louis Vuitton ensemble during Paris Fashion Week 2021. Phoebe Dynevor's silver metallic co-ord was made quirkier with the addition of a chain belt and black bow.
15. Helen Mirren
Dame Helen Mirren looked elegant in a black patterned suit as she walked down the ramp at the Le Defile L'Oreal show. Her dramatic makeup elevated the look by a few hundred notches at least.
Which was your favourite look?
Featured Image Source
Related: Met Gala 2021: Top Picks From The Biggest Fashion Night That Broke The Internet!