A house or office desk full of winding cables can be an eyesore and quite a task to deal with on a heavy work day. Irrespective of how much you hide these cables, they have a bad habit of peeping, while you work. Perhaps it is time to bring your life back in order and start with the cables. A little session on organising them will bring peace and also rid you of the daily tugging at them.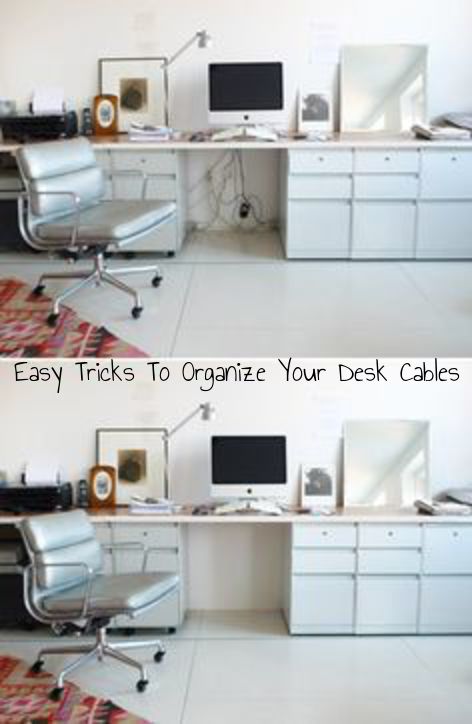 1. Label Them
Before you fix them, it is very important to label them. Use masking tape and write the names down with the marker. You may also paste pictures of the things that these cables belong to but that could be tedious.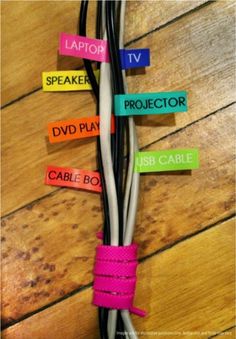 2. Wrap Them Up
Sometimes, it is necessary to wrap the cables up together. With the help of a rubber mat and scissors, you can shorten the cables by wrapping them up till the edge of the socket. As an alternative, you can also use old credit cards as cable wrappers.
3. Mailing Tubes
Put the cables through these cute mailing tubes you can score at the local stationery mart. You may also use the aluminum foil rolls once they are finished. These tubes can make any space in your room look great and clutter-free. Start saving your foil rolls and use them to zip these ugly cables.
4. Chipping Paper Roll Tube
Cut the roll tube for the cords to fit in and paste them under your desk. Your cables are going to love hanging around there, rather than on the floor. Nothing works better than this one.
5. Foam Pipe Insulation
This is another fine tip to find a perfect house for your foster cables. Cut the insulation pipe to fir the cables, arrange them lengthwise and pull out the ends for them to enter the socket. It is time to pat yourself on the back after all the neat and tidy work on your office desk.
6. Tissue/Toilet Roll Tube
Are you thinking what we are? There you go. Use your leftover tissue rolls and make them a friend for your cables to stick around with. You may also use these rolls as your storage for extension cords. Say hello to a tangle-free life.
7. Paper Clips
A simple paper or binder clip will help you hold the little cords of your MP3 player or your iPod together. It is a short and cute trick that I am sure your cables wouldn't mind dealing with. Moreover, these binder clips can be easily found in your office stationery.
8. Divide and Rule
Have you heard of the divide and rule concept? Well, it's easy to follow on those nasty little cables . Open your boring white colored office drawers and add some color to them. Divide the sections and name them as per the usage. Look at the picture for clarity.
There are oodles of DIY ideas on the web. These are a few we are going to put to use soon. Get creative with them and make your office desk look inviting each day.