Rani Mukerji's Mrs Chatterjee Vs Norway is now out in theatres and it tells the real story of Sagarika Chakraborty whose children were taken away by the Norwegian Child Welfare Services. As it's based on a real story, the movie has the onus of putting forward the true picture of the events that happened. But does it dramatise these events, sometimes a bit too much? Yes. However, it also portrays the pain of a mother whose children were snatched away. Mrs Chatterjee Vs Norway also stars Neena Gupta, Jim Sarbh, and Anirban Bhattacharya in key roles and is directed by Ashima Chibber. Here's what we thought of the movie.
A loud, screeching tale of pain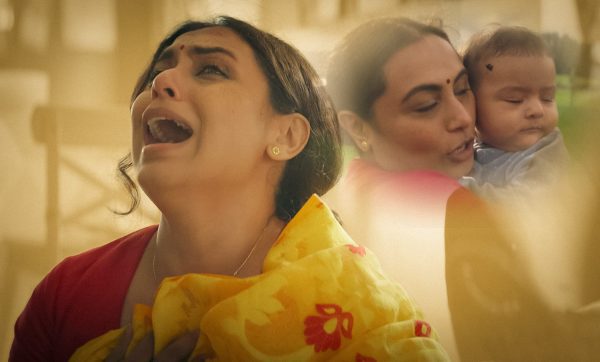 Mrs Chatterjee Vs Norway is a loud movie and that is proved in the very first scene where Debika (Rani Mukerji) is running after a car, hanging from its roof, screaming and screeching, wailing for her kids. And that continues throughout the first half of the movie.
Debika is a mother of two kids – her toddler son, Subh, and her 5-month-old daughter, Shuchi. While she takes care of the household, her husband is an oil rig engineer. We are never privy to the couple's life before Debika's children are taken away by Velfred, the name given to the child protective services of Norway in the movie. Debika and Anirudh have been living in Norway for the better part of a decade. While Anirudh has adapted to the language and culture, Debika stays strongly rooted in her Indianness. She has no knowledge of the local language, her English is broken, and she constantly switches between Hindi and Bengali. The whole basis of the kids being taken away by Velfred is that Debika feeds her kids by hand, which they see as force-feeding, the kids sleep with their parents, and Debika puts kaala teeka on her son's forehead.
It is a clash of cultures in Mrs Chatterjee Vs Norway. While nothing prior to her kids being taken away suggests Debika is an unfit parent, what happens after proves the Norwegian authorities correct. Debika is frazzled, reckless, and screeching at all times. She is hanging off cars, throwing herself on the floor, wailing, hitting cops, and kidnapping her own children. And her actions just play against her.
In a movie where you should be empathising with the mother, you are caught in the theatrics of the performances. Rani Mukerji's loud performance is not what this story needed, because it took away the attention that should have been gone towards understanding her character.
A very singular view of things
This movie is all about pitting Debika against the world. Everyone apart from Debika is the villain. Her husband is more worried about getting his Norwegian citizenship than his children. Debika's in-laws are constantly bad-mouthing her and treating her poorly. Everyone in the child protection services has been vilified, with their representatives smirking at every point, including in court.
You never get an insight into why Debika and Anirudh's marriage has soured, why her in-laws don't like her, and why her husband has confined her to the house. We know absolutely nothing. The focus of the movie is all about showing Debika as a mother who will go to any lengths for her children. We never gain an insight into why she acts the way she acts. We just see her recklessly doing things with no explanation as to what her thought process was.
Mrs Chatterjee Vs Norway called for a nuanced performance, which only happens in the second half of the movie. Jim Sarbh comes as a breath of fresh air with his composed yet confident character as Daniel. An Indian man who has been adopted by Norwegian parents, Daniel gives a heartwarming insight into how adoptive parents can be just as loving as biological parents. Sarbh is restrained and nuanced and that feels like a welcome break.
Mrs Chatterjee Vs Norway is not a bad movie, but it also doesn't reach the potential it could have. The loud, theatrical acting and the liberal spatterings of Bengali don't let you immerse yourself in the story.
Featured Image Source
Related: Gulmohar Review: An Emotional Journey That Feels Like A Warm Embrace