Watching Madhuri Dixit on screen is one of the more pleasurable things in life. This is why I was excited when Amazon Prime Video announced Maja Ma. The movie gives you dancer Madhuri as well as actor Madhuri and she delivers. Directed by Anand Tiwari, Maja Ma stars Madhuri Dixit, Gajraj Rao, Ritwik Bhowmik, Srishti Shrivastava, Simone Singh, and Barkha Singh among others. With such a talented cast, does the movie live up to its potential? Read this review of Maja Ma to find out.
Maja Ma has its heart in the right place
Pallavi Patel is a dancer, homemaker, and the most popular woman in her housing society. Everybody loves her and looks up to her. The story starts when her son Tejas (Ritwik Bhowmik), who is working in America, falls in love with Esha Hansraj (Barkha Singh), an Indian-American girl. Her parents Pam (Sheeba Chaddha) and Bob (Rajit Kapoor) despite living in America for decades are rooted in their Indian culture. The problem arises when Pallavi's secret from 30 years ago comes to light.
Pallavi is caught between accepting herself and her identity and keeping the family together. Owing to the family and societal pressure, she is never able to come out and confidently accept herself. When a video of Pallavi saying she is a lesbian goes viral, things go for a toss. The people who chanted her name suddenly treat her like the devil. The family that considered Pallavi to be the glue holding them together, looks at her in a different way. So, Pallavi is left fending for herself and fighting a lonely battle.
Though Maja Ma has its heart in the right place, the movie is far from perfect. What could have been a film about a woman finally coming to terms with her reality turns into a caricature at several points.
Performances hold the film together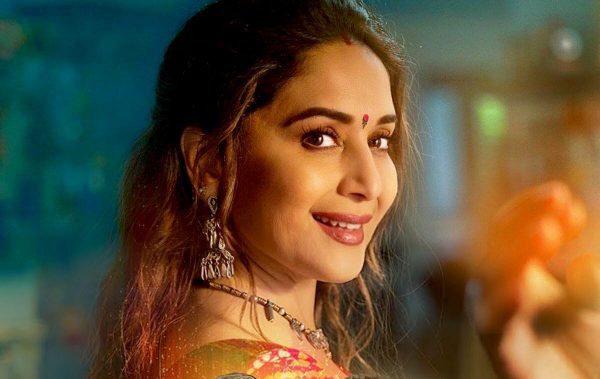 Madhuri Dixit proves yet again why she is considered one of the best actors in Bollywood. She knows how to let her eyes do the talking without uttering a single word. Madhuri's Pallavi is a character of strength despite her flaws. At a time when she needed her family to support her, she finds herself standing all alone. Dixit encapsulates Pallavi's pain, fear, and the battle within herself beautifully.
Simone Singh is a scene stealer. Kanchan is the foil to Pallavi. Where Pallavi is more reserved and willing to lose herself for her family, Kanchan is the bold and daring one who will never take any injustice lying down. Though Simone's screen time is not a lot, every time she is on screen, she just blows you away.
Gajraj Rao, despite the odd way his character is written, delivers a great performance and so does Ritwik Bhowmik. Sheeba Chaddha, Rajit Kapoor and Barkha Singh do their best, though their fake accents get tiresome real soon. Barkha Singh doesn't have enough opportunity to explore her character and she just remains a lesson to be taught to Tejas.
The movie forgets we have come out of the Stone Age
Bob and Pam Hansraj, who have been living in America for years, are very proud of their Indian roots. So much so that they still believe in the stone age concept that women on periods shouldn't be entering a kitchen. In the same sequence, they go on about how they like Tejas because he is a vegetarian and a virgin among other things.
Tejas, when he realises his mother actually is gay, takes her to a baba to get her "cured". Umm, hello, the Stone Age called. They want their regressive thought process back. We are living in 2022, but a well-educated man who is working in America believes his mother is ill just because she isn't heterosexual. His sister Tara, on the other hand, is an LGBTQIA+ rights activist who is too pushy. While she easily accepts her mother's truth, she forces Pallavi to come out of the closet because Tara believes that's the best. Pallavi's kids, Tejas and Tara, often try to take away Pallavi's agency from her to mould her into their version of perfection. Despite trying hard, the movie relegates Pallavi to the role of a mother, wife, and daughter and not that of a woman with her own identity.
Similarly, the climax of the movie is an absolute copout. Rather than breaking shackles, the movie remains in the very safe family drama territory, which is a pity.
Maja Ma has a unique storyline and a lot of potential, but it doesn't fully live up to it. The movie has its charms and positives and is worth a watch for some amazing performances.
Featured Image Source
Related: Eesho Review: A Predictable Thriller With Some Great Performances