Karni Sena, hello ji. All good? I guess not. You're back again, giving unwarranted opinions about queens and free publicity to Bollywood films. You're just like the sexist, creepy uncle at every wedding. If you haven't heard, dear readers, Karni Sena now has a problem with Kangana Ranaut's Manikarnika: The Queen Of Jhansi. The film, due to be released on January 25, is based on the life of the Rani of Jhansi. Because they didn't get their fill of protests and drama, Karni Sena has decided to throw tantrums again.
Image Source
What's up with you and your 'fight for traditions,' KS? How do you even know, for a fact, what traditions were followed in the 19th century? Are you historians? Kangana Ranaut says four historians have watched the film and given it the go-ahead. But you want a special screening for yourself, since you're the universal guardian of everything "traditional".
We don't know why you start screaming and shouting every time a film about a queen is released. At this rate, you'll have words for the Queen of England and their traditions too, whenever her biopic is made.
Since we can't figure out why you do what you do, Karni Sena, we made a list of possible reasons. There has to be some logic in your heads to behave like a spoilt 5-year-old whose favourite toy broke. So here goes this futile attempt to understand you and your "sanskaari" ways.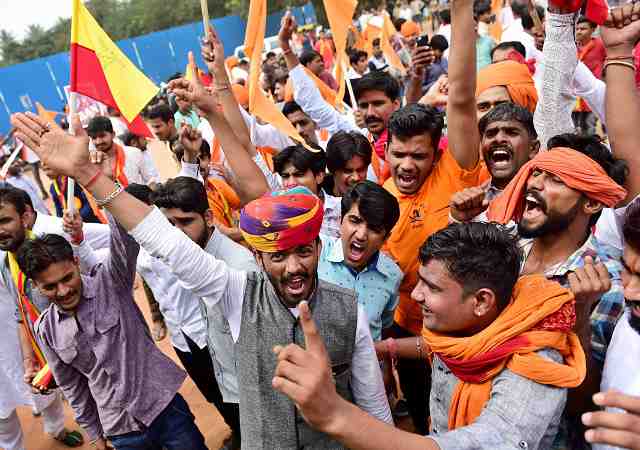 Image Source
Reason no. 1: You're cheap and don't want to spend on tickets.
That's why you want a special screening, na? Haina? Admit it already. It's okay. We've all tried to get out of paying for movie tickets. Some of us download films online or just wait for them to show up on an online streaming service. But you went next level, dudebros! You thought that you got away with it once with Padmaavat and you'll get away with it again. Are you going to do this for every single Bollywood release, or are you just going to bless a few? A better option would be to demand free popcorn refills in every movie hall. That way, we all win and no one ends up looking like a massive pile of shit.
Reason no. 2: You're trying to break into the marketing biz.
If this is what you're doing, you're doing a great job. We would not have gone to watch Padmaavat in a hall if it wasn't for you. A lot of people would not have watched it. But you made it happen. You're already talking about some hot affair with a British officer and some "inappropriate" dance numbers in Manikarnika. Don't you know us movie-goers/victims of arbitrary censorship? Are you trying to get more people to watch it? You kicked up such a fuss about scenes that didn't exist in Padmaavat that we all flocked to the theatres to watch it. You're going to do the same thing with Manikarnika also, aren't you? I knew Padmaavat wouldn't be worth it, but there I was – watching Deepika Padukone's constantly weepy face and listening to Shahid Kapoor's ridiculous monologues, which brings us to…
Reason no. 3: You're terribly insecure and need to make yourself heard.
You could raise a hue and cry about child marriages (still rampant in several states including yours), sexual assault, domestic violence, female illiteracy, and a whole range of issues around women. But you chose films. To protect the honour of women (real, fictitious, dead, living, whatever), you chose to use all your energy in trying to ban a film. If you are so insecure about being invisible and unheard, fight an election or hold a press conference. Give some well-meaning citizen a chance to throw a dirty shoe at you.
Reason no. 4: You want to start Karni Sena Productions and show the world how it's done.
You want to go into film production? Is that it? Is that why you're trying to shut down other people's films? That's not healthy competition, bros! You can't go around telling your competitors to stop making something because you're making it too. Who's going to star in your productions anyway? Since you don't like anything to do with women, you'll cast only men who will play the female roles too. All the women in your films will wear long ghunghats and shapeless ghagras. No faces will show, let alone any other skin surface. Even a dude can do that.
Reason no. 5: You're just bored.
We get it. Life gets monotonous. People become indifferent to you. Everyone needs entertainment to tide over the tough times. But yaar, chill a bit. Go have a drink, eat some great Rajasthani food, or just take a nap. Anything is better than this form of entertainment. And look who you're trying to take on now. Kangana Ranaut, the badass that she is, has already said that she will destroy you. Doesn't that scare you? It would scare us. And no amount of entertainment is worth having your ass whooped in public.
Whatever your reason might be, stop throwing tantrums and move on with your life, Karni Sena. No one likes you. Deal with it.