This year is turning out to be one of the most bizarre years of our lifetime! We started out with the news of a certain virus outbreak in China which, before we even knew it, turned into our worst nightmare. Within a couple of weeks, our lives were turned upside down, and we were all locked in our homes. Mall sprees, catching up over chai, and travelling over long weekends went out the window. Most countries today are following strict social distancing norms with a mandatory addition of masks and gloves to the daily public attire. The US, however, is facing a new outbreak – the Karens of America!
Karens of America are making Murica great again!
Social media is swarming with ridiculous memes and TikTok videos (now banned in India) on how white privileged women in America are protesting against the mask! The videos show them associating the mask with the oppression of women. In one of the videos, a woman was also seen equating the mandatory mask rule with terrorism and societies where women were forced to cover their faces.
People, how did we get here?
Of course, the Americans are often witnessed claiming their 'world supremacy' by calling themselves the 'greatest country in the world.' But someone needs to tell them that, right now, they're coming across as the 'stupidest country in the world.' According to worldometers.info, the global COVID-19 cases stood at 10,412,421 as on June 30, 2020. Of these, the United States alone took credit for 2,681,811 cases. That's 25.75 percent of the global cases in one country! With a situation so serious, can the United States really afford to have this Karena-virus too?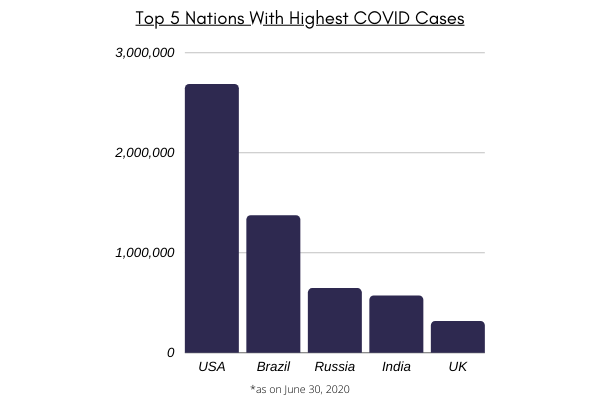 Data source
#KarensGoneWild is a legit trending hashtag on Twitter
Check out some of the videos on the Karens of Murica!
Imagine how she would feel after 400+ years of systemic racism. #KarensGoneWild pic.twitter.com/Bx10RzLAkp

— Karm Sumal (@KarmSumal) June 27, 2020
Okay then…
What doctor tells you not to wear a mask during a pandemic? Just stay home Karen and organize your 2002 BeBe wardrobe #TraderJoes #Karen #KarensGoneWild pic.twitter.com/TV3Q4HH5Ys

— gubler (@vivian_v_) June 27, 2020
At this point, we should open a little state for all the Karens so they can comfortably walk around without masks and transmit coronavirus to each other. This woman can be their governor!❤️#KarensGoneWild pic.twitter.com/EkkEoRO6ED

— Dania (@danidashi) June 27, 2020
Coughing on someone intentionally? Is she serious?
Crazy Karen coughs in the face of someone and storms out of store.

Intentional COVID-19 Transfer .,,#KarensGoneWild pic.twitter.com/Lwe8bbZNuT

— Black First (@Blac1st) June 27, 2020
Korporate Karen didnt want to wear a mask. #KarensGoneWild pic.twitter.com/YJFWVJbBqe

— EnterpriserSuite (@EnterpriserSTE) June 27, 2020
Variations of #KarensGoneWild pic.twitter.com/J8eThI83yh

— sister_nana-ama (@pawris) June 25, 2020
Why are white people so angry?#WearAMask #KarensGoneWild pic.twitter.com/k0azVb1s4F

— Minh Ngo (@minhtngo) June 28, 2020
Karen can't wear a mask because of a medical condition called Cuntitis and is thus refused shopping#KarensGoneWild pic.twitter.com/F1WGsGdJBU

— Justice for Floyd ➡️ I Can't Breathe (@InsideASCIF) June 19, 2020

And then we have this:
Karen wants to know why this guy isn't eating food with his mask on. #Karen #KarensGoneWild pic.twitter.com/Nof15zuYil

— Karen (@karensgoinwild) June 22, 2020
Special mention – innovation at its worst?

The Karens of America are giving us major goals on what NOT to do during a pandemic. In case anyone was wondering if labelling them all 'Karen' was sexist or racist, here's an interesting read for you. The 'Karen' memes and jokes aren't sexist or racist. Let a Karen explain.