Whether it's office wear or parties, a saree is one of those garments that can suit every scenario. While wearing a saree regularly is doable in the summer, one doesn't really think of them as a comfortable outfit option in the winter. And pairing a saree with a frumpy sweater may feel comfortable but this doesn't really cut it, style wise. But we figured out how to make the saree a truly all-season outfit. Check out these practical, stylish ideas on how to wear a saree in winter.
1. Turtlenecks and fitted sweaters are chic and practical
Bring out all the fitted sweaters and turtlenecks from your closet to make a warm and chic blouse. They look stylish and practical for any occasion. Opting for a plain turtleneck with a printed or tone-on-tone saree will instantly give you a winter appropriate, formal outfit. You can always add silver or oxidised jewelry to enhance your outfit and finish your look.
2. Faux fur and velvet jackets are statement pieces
Pairing sarees with faux fur and velvet jackets will completely change your whole look. Try a short faux fur coat for an effortlessly stylish look for a cocktail party. Another great option is a long velvet jacket. You can pair one with some intricate detailing for a classic ethnic touch.
3. Blazers and well-fitted cardigans are perfect for a crisp look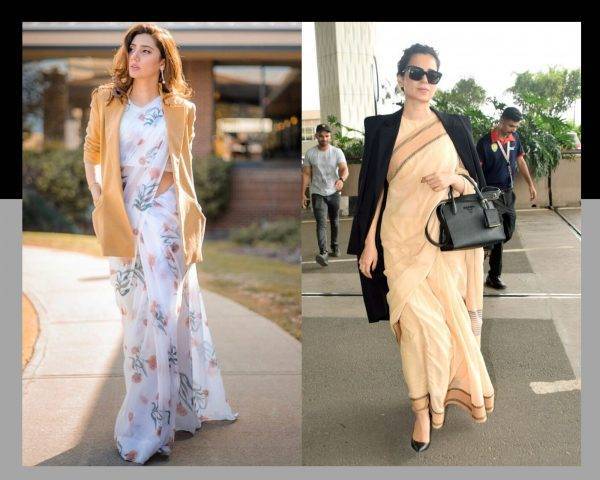 If you swear by this six-yard wonder as your go-to formal outfit, we understand your dilemma of styling a saree in winter. For a professional look, pair your saree with cardigans and blazers. Throw on a blazer after tying your saree, and style your pallu either above or below your blazer. You can do the same with well-fitted cardigans.
4. Denim and leather jackets are casual and edgy
Pair a denim jacket with your saree for a casual dinner or lunch with friends. You can also wear a leather jacket with your outfit for an edgy look. Don't restrict yourself, and keep experimenting with your look till you get the perfect outfit.
5. Silk shirts and kurtis make stunning blouses in the winter
We have always seen celebrities rock silk shirts with lehengas and sarees. You can do it too. Team up a short kurta or a silk shirt with your saree for a gorgeous outfit. Such pieces are stunning alternatives to a regular blouse and completely change your look. Add a few accessories if you're heading out for the night.
6. Shawls, capes and silk dupattas are game changers
Wear an elegant pashmina shawl or a silk dupatta, and use it as a second pallu with your saree. You can also add a cape to enhance your look. Shawls and silk dupattas are classic choices to upgrade your saree in winter.
7. Banarasi silk and velvet sarees are classics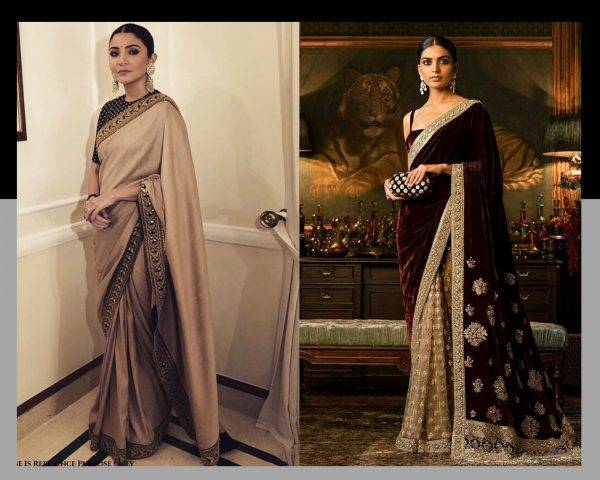 If you want to rock a saree in winter without any add ons, we have just the right options for you. Silk, brocade and velvet are thick fabrics and come in rich colours and intricate detailing. So, if any of the options given above don't suit you, give these classic styles a try. You can never go wrong with a silk or velvet saree.
8. Front open anarkalis are lively and vibrant
Confused between a saree and an anarkali suit? Why not put both to good use? Front open anarkalis can be worn over your saree to add a unique look to your outfit. You can play with colours, and mix and match your anarkali top with a contrasting saree to elevate your look.
For more unique saree styles and drapes, click here.