Ah yes! Wedding season is here, and that means it's peak body shamer season. Attending a wedding? Make sure your midriff isn't showing if there's a bit of loose flesh there. Don't you dare wear a tight blouse if you have breasts. How can you even think of eating anything from the elaborate wedding buffet…except salad? Were you "too thin" at the previous wedding you attended? Well, now you're "too fat".
Sounds familiar, no? See, beta, most of us aunties have your best interests at heart. We love you, you know. However, there are some criminally cringe elements in our midst too. Yes, I know I sound far too sophisticated today, but what to do? When I'm angry, I use my dictionary. And the one thing that makes me red with rage in this season is body shamers! They just thrive during the wedding season. It's like they memorise the checklist of things to say to make women feel awful about themselves. As if they just won't be able to sleep or live without shaming someone for their perfectly normal body! They even have the AUDACITY to comment on me. Me!
So, I've decided to teach them a lesson this year. Your dear Aunty Eve is going to arm you with all the ammo you need to shoot those shamers down. Some of you wrote to me with the typical comments you hear from these monsters and I'm here to help. Here's how you can shut them up for good!
Roll up your sleeves, bachche. You're going to enjoy this.
Shamer: "Lose weight, you have heavy thighs"
You, flapping your mighty thighs: "Aww, thank you, I've been working on these babies for a while. Why would I lose weight though? When my partner is between my legs, it's wonderful cushioning for them. All part of being a good host, you see. Not that you would know anything about hosting…or things between your legs."
Shamer: "Itni patli? Ladka pakdega toh iski haddi chubegi"
You, flashing your sharp, weapon-like arms: "Koi pakadne ki koshish toh karey. My bones will be fine, but if someone holds me without my consent, I can't take uski haddiyon ki guarantee."
Shamer: "Baith jaa, urh jayegi"
You, flapping your arms frantically: "HOW? It's not happening! I stayed thin all my life for this moment, but WHY AM I NOT FLYING YET? I BELIEVE I CAN FLYYYYYY. Give me a push, maybe it'll help. COME ON!"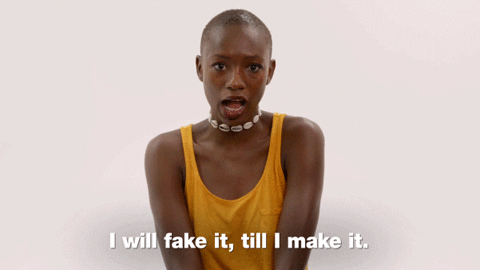 Shamer: "If you lose some weight, you'll look great"
You, being the bombshell you are: "If you gain some weight, you might come close to looking like the conqueror I am. And if you stop talking, that will just be the perfect icing on the cake I'm about to devour."
Shamer: "OMG (stares at stomach) good news?"
You, rocking that crop top and lehenga: "Uh, yeah. We're at a wedding, someone's getting married. I'm hoping they're happy about it and that it's good news for them. Did you not notice? Did you land up here uninvited? It's okay, not all of us know how to be a decent person."
Shamer: "Of course, you want dessert!"
You, on your second gulab jamun: "Why? You don't? You don't like the good things in life? Who hurt you? Come, talk to me. Who really hurt you enough to think dessert is a crime? Who taught you to think that you need to earn the right to enjoy your own life? Give me a name, I'll take them down."
Shamer: "You're very "top-heavy", hide those things"
You, dramatically removing the dupatta forced on you: "You want me to hide my pride and joy? My babies? These magical mountains? The juicy mangoes that people write songs about? The part of my body that gives me the most gorgeous cleavage? The happy, bouncy balls that move along with me whenever I'm jumping with joy? Pfft, not in a million years."
These responses might sound harsh to you, my gentle, kind babies. But think of the violent words you've been hearing ever since you were a child. It's time to hit back, bachche. You have your dear Aunty Eve's blessing. Every time you take a body shamer down, you make the world a happier place.
All images source Giphy
Related: Aunty Eve Talks: The Best Responses To "When Are You Having A Baby?"