HIT: The First Case is directed by Sailesh Kolanu and is the Hindi remake of his Telugu film of the same name. The Hindi remake stars Rajkummar Rao and Sanya Malhotra as the main leads. Even though Bollywood remakes can be quite messy, this one stood its ground. From the very beginning, you'll be hooked to the screen and it holds your undivided attention. But is it worth 136 minutes of run time and a trip to a cinema hall? Read our HIT: The First Case review to find out.
Related: Shabaash Mithu Review: Taapsee Pannu Hits Quite A Few Fours In This Mithali Raj Biopic
A gripping tale of PTSD and murder mysteries
Rajkummar Rao plays the role of Vikram, a cop who is suffering from PTSD because of his traumatic past. He has been advised by his doctor to quit the job or she'll end up declaring him unfit for the job. But he pays no heed to her as he finds his job to be the only distraction that keeps him going. The movie kick starts with Vikram lying on the snow with blood all over him. This scene then immediately brings flashbacks from his childhood where something similar had happened. And then throughout the movie, he keeps getting flashbacks of his traumatic past. But he must focus on the job at hand as he has a hunch to solve a mysterious kidnapping that gets personal pretty quickly.
Vikram is dating Neha played by Sanya Malhotra who works in the same branch as his. She seems to be his only pill to get him out of his misery and nightmares. But when things go south between them, they take a break and Vikram returns to his hometown to take some time off. In the meantime, Neha seems to disappear which brings Vikram back on his feet to find his lady love. This leads to a gripping tale that is engrossing, funny in bits, and mostly suspenseful.
The unexplained disappearances and loopholes
Vikram takes up Neha's case and then stumbles upon a case that Neha was handling. It involved a mysterious kidnapping of a young girl Preeti with way too many loopholes to help him solve this. But Vikram quickly realises that both the cases are interlinked. So, along with his right hand Rohit (Akhil Iyer) he gets down to business to solve the suspenseful case. There are a lot of times when these two bring a hilarious spin to their interrogations while keeping a straight face. This is also a highlight of Rajkummar Rao's fine acting and is an absolute treat to watch.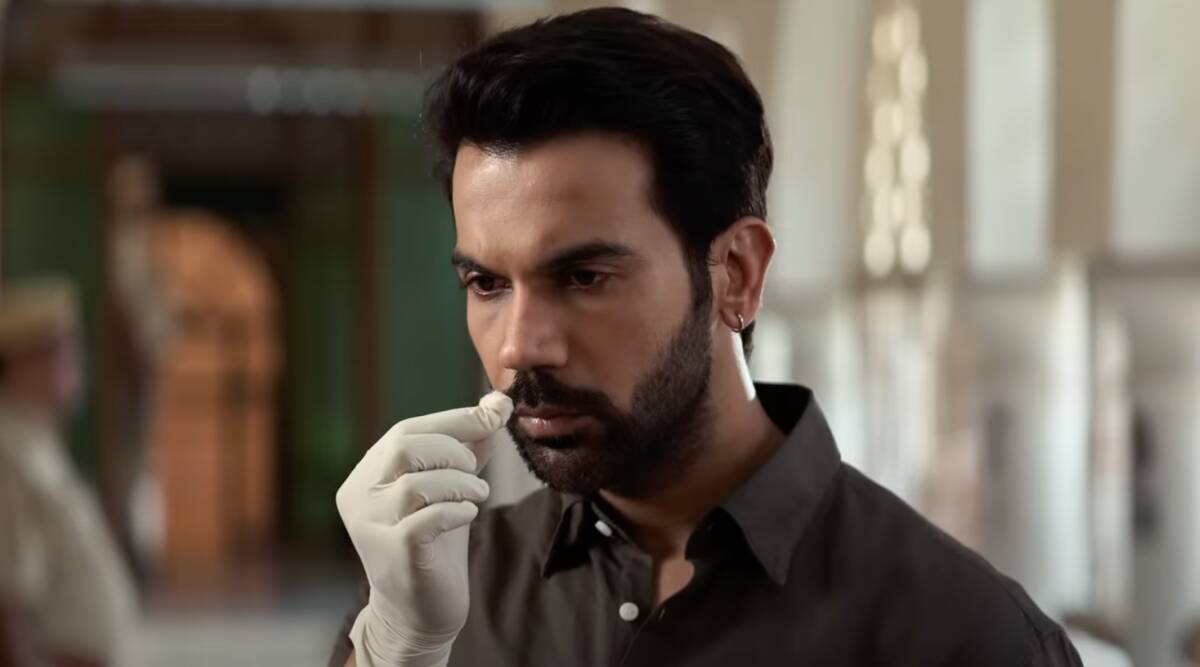 Person after person the culprits keep getting added but there is no solid way of getting out of the mess. But Vikram is determined despite his deteriorating health as the case hits home and keeps triggering his stress. After losing his sister to a bunch of kidnappers who burn her alive right in front of his eyes, he is determined to not let either Preeti or Neha meet the same fate. But will he be able to find them in time or will he lose them both in this gripping tale?
The cast does an incredible job of keeping you invested
Rajkummar Rao is a fine actor and his portrayal of Vikram's grief, loss, and trauma is simply phenomenal. Sanya Malhotra as Neha gets limited screen time but delivers a great performance regardless. Along with that, Akhil Iyer who plays Vikram's right-hand, Rohit, is also great and compliments Rajkummar Rao's character. Other than that there are some great performances by Milind Gunaji (Inspector Ibrahim) and Shilpa Shukla (Sheela) which add to the mysterious vibe of the movie. The movie has a sequel which will be coming out soon because this one leaves you at a dirty cliffhanger.
That's all for the review of HIT: The First Case. If you're a Rajkummar Rao fan, he's done a solid job in this one and you should definitely watch it for his brilliant performance.
You can catch the film at your nearest theatre.
Feature Image Source