Directed by Satram Ramani, Helmet is the latest in Bollywood's newly adopted social satire genre.
Aparshakti Khurrana plays Lucky, a singer in a wedding band. Lucky is in love with and wants to get married to Rupali (Pranutan Bahl), a flower decorator who is set to get married to a much richer guy in the US. What follows is a get rich quick scheme orchestrated by Lucky, Minus and Sultan, three friends who work together. And this scheme involves selling condoms that they steal accidentally.
The film starts well but the sad little love story derails the humour a bit. The story picks up soon enough and highlights the abysmal lack of sex education and poverty in rural India.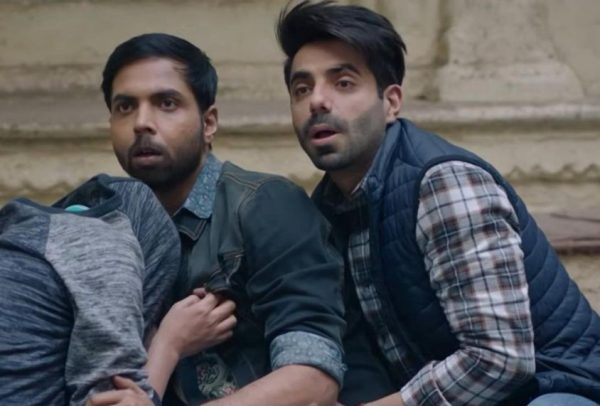 Image Source
Aparshakti Khurrana is fun to watch but Pranutan Bahl is quite bland in her role as Rupali. Ashish Vidyarthi, among several others, is criminally underused here.
The idea behind this film had a lot of potential, but it was somewhat squandered with the average performances. The makers of Helmet tried to tackle a lot of issues together but, in this endeavour, they failed to give adequate time to develop these complex storylines.
The dialogues could have been much, much better. With the level of satirical writing getting better with every film, the actors in Helmet needed much better lines for a story as interesting as this.
The ending of Helmet is quite unrealistic but, in true Bollywood style, it wraps up the story with a clear hero for the masses. The film is worth a watch, just don't expect your mind to be blown.
Watch Helmet on Zee5.