Gunjan Saxena – it's not a name you would've heard very frequently. We wouldn't blame you if you hadn't heard it at all. But it is a name which should go down in history books as synonymous with bravery in every form you can imagine. Gunjan Saxena, along with Srividya Rajan, was one of the first female pilots of the Indian Air Force to serve in combat. The two brave pilots were involved with casualty evacuation and spotting Pakistani positions during the Kargil War of 1999.
Image Source
Flight Lieutenant Gunjan Saxena and Flight Lieutenant Srividya Rajan flew dozens of sorties in small, unarmed Cheetah helicopters to rescue soldiers in the thick of battle. The Indian Air Force didn't have female fighter pilots then. The Indian Army still doesn't allow women to serve at the front. Since they didn't have weaponry to fire at enemy positions, Gunjan armed herself with an INSAS rifle and a revolver for every sortie, so that even if they came under attack, she would go down fighting.
Image Source
Facing danger at every step
Flt Lt Saxena and Flt Lt Rajan also flew through areas in North Kashmir where every aircraft was coming under heavy attack from the Pakistani forces. In fact, Gunjan narrowly escaped death when a rocket came within inches of her helicopter and hit the nearby hill.
When Gunjan Saxena and Srividya Rajan arrived in Kargil, the forces weren't really prepared for women in combat roles. In fact, as Gunjan highlighted later, they didn't even have separate changing rooms or washrooms. The female pilots managed with makeshift arrangements, like changing into overalls in an area cordoned off by a cupboard between walls, but they didn't give up. Even though they had to fight for very basic conveniences, they didn't falter at their job. Being the first female pilots in combat in India, Gunjan Saxena and Srividya Rajan had to work much harder than their male colleagues to prove that they belonged in the forces.
"I mean this was a very new thing for the Air Force – to see women pilots working with them, flying with them every day," Gunjan Saxena told NDTV in an interview. "So they used to see us to see if we would be able to cope with the conditions and the stresses that you face."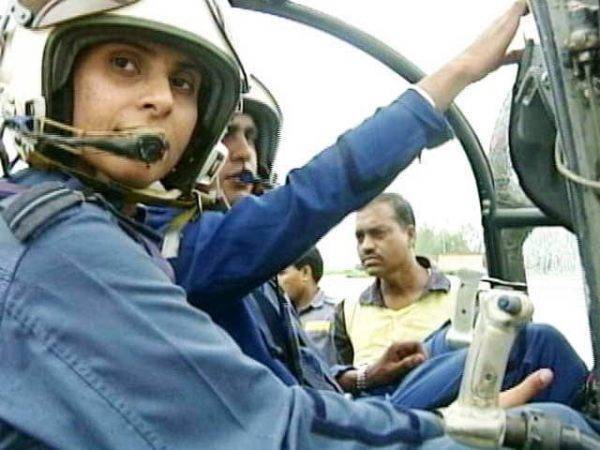 Image Source
A born fighter
For Gunjan, a career in the armed forces was a natural choice. Her family has served in the Indian Army for generations now, including her brother who also fought in the Kargil War. Back then, women didn't have too many opportunities in the armed forces and Gunjan retired after a short service commission of seven years. However, in those seven years, Gunjan Saxena paved the way for women in the armed forces. Now, women can serve in combat roles as fighter pilots in the Indian Air Force and don't have to face the restrictions that Gunjan and her colleagues did.
"I think inducting women in the fighter stream is a very, very big and a positive step on part of the Air Force," Gunjan said. "Being a pioneer, I would say, it feels great and I would only say that I hope these women who've come into the fighter stream now give their 100 per cent and really, really touch the sky with glory."
Image Source
Gunjan Saxena's story will now be told in a movie with Janhvi Kapoor in the lead. Titled Gunjan Saxena: The Kargil Girl, this movie releases on Netflix soon.