Ever since the first teaser dropped, Gulabo Sitabo became one of the most-awaited films of 2020. The film finally hit Amazon Prime Video at midnight on June 12. Directed by Shoojit Sircar, Gulabo Sitabo is among the first mainstream Bollywood films to have a premier on an online streaming platform, and the COVID-19 situation is likely to cause many more films to take this route. We've been looking forward to this film for a while now, and we know so have you. Before watching this Amitabh Bachchan-Ayushmann Khurrana starrer, this is the Gulabo Sitabo review that you need to read first.
Mirza-Baankey, aur Fatima ki haveli
Set in Lucknow, Gulabo Sitabo is about the struggles between landlord Mirza Chunnan Nawab (Bachchan) and his tenants at the 100-year-old haveli Fatima Mahal. On one hand, there's Mirza struggling to put his foot down as a landlord. On the other, there are his tenants led by Baankey Rastogi (Khurrana) who refuse to let go of their control on the haveli. In fact, Baankey even refuses to go above the rent-rate of Rs 30 per month. Every time Mirza knocks for rent, Baankey is ready with sob stories on how they can't afford to pay.
To complicate things further, Vijay Raaz enters the story as an official from the archaeology department. He has his own agenda of declaring Fatima Mahal a national heritage property. What follows next is about two hours of back-and-forth between Mirza and his tenants on who has rights over the haveli.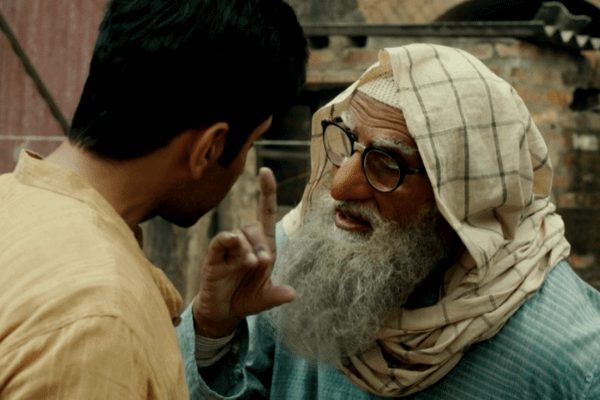 Image Source
Related: Choked Review: Cinematic Version Of The Meeting That Could've Been An Email
Things that make the film stand out
Gulabo Sitabo is definitely one of the cheekiest and most unique films this year has seen so far. The use of the Hindi-Urdu-Awadhi dialect of Lucknow is easily one of the biggest highlights of the film. The thing that steals the show is the portrayal of two people fighting tooth-and-nail over something that neither truly owns! Fatima Mahal is owned by Mirza's Begum Fatima aka Fatto B (Farrukh Jafar) who is watched closely by everyone around her. Why? Because she is expected to drop dead any minute! Mirza and Baankey are two people who are simply after the haveli with no real emotions behind it.
Another thing that makes this film stand apart from its peers is the portrayal of female characters. Even though Mirza and Baankey come across as the two central characters, it is the women in their lives that are more interesting to watch. First, there's Mirza and his Begum, who is 17 years older than him and constantly scowls at him. Then, there's Baankey, his love interest Fauzia, his mother, and three sisters.
Gulabo Sitabo review: Final thoughts
Related: Betaal: A Curse So Bad, I Barely Walked Out Of It Alive
Even though every character of the film has been written with the minutest attention to details, there is still something amiss. One example of how detailed the characters are would be Baankey's youngest sister who adorably portrays the innocence and uncalculated honesty of a child. There are parts of the film that make you chuckle, and then there are those that come across as a stagnating pause. When you look at the film in its totality, it leaves you confused about how you truly feel about it. You absolutely adore the characters, but you're not sure if you feel the same about the film.
What did you think about Gulabo Sitabo?