The much-awaited Enola Holmes is finally out on Netflix. Starring Millie Bobby Brown in the title role, Enola Holmes follows the journey of Mycroft and Sherlock Holmes' 16-year-old sister, Enola, who sets out on a mission to find her missing mother, Eudoria. It offers a completely different perspective on the Holmes universe and was one of the most awaited films in Netflix's Coming Soon section. Does the film do justice to all the hype? Is Enola able to find her missing mother? Read on to know our review of the film.
Image Source
A missing mother and two obnoxious brothers
Enola Holmes is a free-spirited young girl brought up by a mother who was much ahead of her times. Eudoria Holmes was a woman of her dreams who didn't believe in traditional methods of educating her young daughter. She home-schooled Enola and brought her up as a fierce girl with an inspiring fighting spirit. The inseparable mother-daughter duo, however, breaks apart on Enola's 16th birthday when her mother goes missing. This younger sibling of the famous Sherlock Holmes then sets out on a mission to decipher the codes left behind by her mother.
During the course of her journey, Enola gets swept up in another mysterious case of a missing Viscount Lord Tewksbury, the Marquess of Besilwether. Her path to discovery now involves not only searching for her own mother but also saving the young Tewksbury.
Things, however, don't go as per plan as older brother Mycroft sees Enola as a broken girl who needs 'fixing'. With her unladylike ways, Mycroft feels Enola severely lacks the mannerisms needed for a lady to be accepted by society. As Enola escapes to search for her mother, Mycroft sets out a plan to search for Enola to send her to a 'finishing school'. The Holmes family is thus torn in three separate directions — finding Eudoria, finding Enola, and grooming Enola to find a husband.
Quotable quotes and a new Holmes to follow
Enola Holmes is definitely a film that's going to have its quotable quotes repeated for years to come. Be it the wisdom of Eudoria, narrations of Enola, or advice from brother Sherlock, the film has lots of gems to offer. Here are some of my favourite quotes from the film: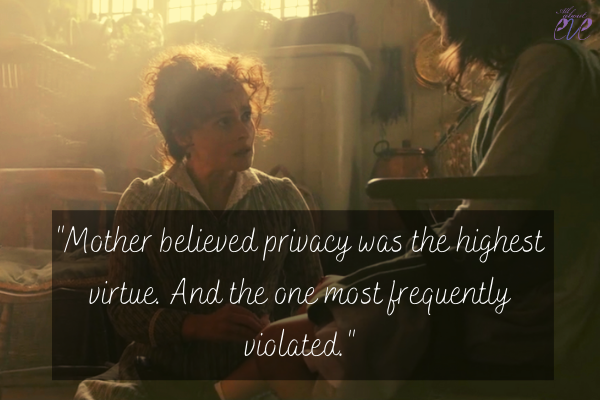 Enola Holmes review: Final thoughts
Enola Holmes belongs to the incredibly talented Millie Bobby Brown. As someone who hasn't watched Stranger Things and had not been acquainted with her acting skills, I am definitely impressed. Helena Bonham Carter has only a few concrete scenes in the film. However, she does leave a lasting impression as Eudoria, the mother that every girl deserves. The Holmes brothers, Sherlock and Mycroft, played by Henry Cavill and Sam Claflin respectively, do complete justice to their characters. Louis Partridge as Viscount Lord Tewksbury leaves us wanting for more. In fact, he gives us hope for the Enola-Tewksbury love story to be explored further. Special mention for all fans of the Harry Potter series! We get to see Aunt Petunia and Madame Olympe Maxime in fresh roles outside of the Harry Potter movies.
While Enola Holmes doesn't do justice to the mystery genre as most of us expected, it is definitely a delightful watch. Millie Bobby Brown is the biggest reason for you to watch this latest Netflix release. I love her and I'm sure you will too!
This film is a must-watch! Drop a comment to let us know what you think.