Indian wear is no longer just confined to India. It's everywhere. Every now and again we see the world embracing more and more of India. Specifically when we see high-profile celebs — whether politicians, diplomats, fashion designers, actors or musicians — donning beautiful, picture perfect Indian costumes.
Gone are the days wherein we would see a westerner dressed in glorious Indian wear dancing at weddings. Today, it's not an uncommon sight anymore to find artists — whether actors or musicians — making important appearances in exuberant Indian attires. It's a growing custom nowadays and is fashionably in.
So which foreign or Hollywood celebrities dressed in Indian attires absolutely stole the show?
1. VENUS WILLIAMS IN A BRIGHT YELLOW SAREE
One of the finest sports celebrities dressed in Indian attire ever was Tennis legend Venus Williams. Back in 2014, Williams took to the stage in Bangalore amid a massive gathering of fashion and sporting luminaries wearing a golden saree. Then in India to participate in the Champions Tennis League, Venus Williams danced and sizzled in full splendor decked in a bright, catchy traditional attire.
2. LADY GAGA IN A TARUN TAHILIANI SAREE
Back in 2011, all roads in India led to Delhi for the inaugural Indian Formula One Grand Prix. The checkered Formula 1 race saw luminaries from Hollywood take to India with much aplomb. Among them was the dazzling Lady Gaga, inarguably an impassioned artiste. She stole the show wearing a special silvery Tarun Tahiliani saree and presided over a spellbinding performance at the Buddha International Circuit.
3. NAOMI WATTS IN AN ELEGANT COTTON SUIT
An accomplished actor who's as elegant as she is beautiful. Back in 2013, filming arguably the most important role of her career, as Princess Diana in 'Diana', Watts wore a simple albeit elegant blue cotton suit. And truth be told, carried it off with a great dignity.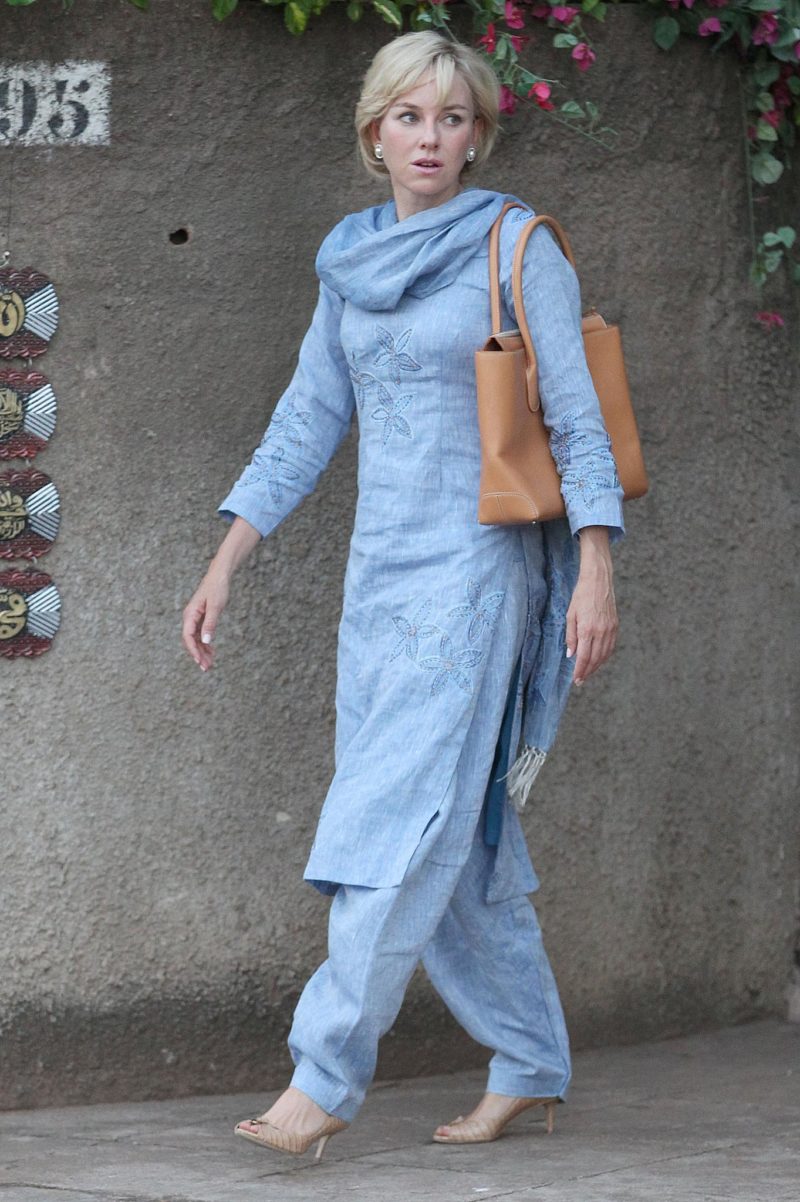 4. PAMELA ANDERSON IN A CHIC BLUE LEHENGA
Few celebs from Hollywood have been described as frequently by as Pamela Anderson. A racy star and an absolute diva from the famous Baywatch series, when she made her appearance in Salman Khan-hosted Big Boss, Anderson was the cynosure of all eyes. Reason? She was wearing an absolutely gorgeous sea-blue lehenga.
5. MARK ZUCKERBERG IN A SUAVE, COLOURFUL KURTA
Zuckerberg shares a great bond with India. He's even close to PM Modi. But there's more to his India connection. Many years before fame came calling, the Facebook supremo had celebrated the vivacious festival of lights, Diwali, in India. It is believed, Zuckerberg had been celebrating back then in Goa. During that time, he wore a traditional albeit colourful orange kurta and carried it effervescently.
6. ASHTON KUTCHER WEARING A BRIGHT KURTA AND TURBAN
Ever a ladies' man, Ashton Kutcher wore a lovely traditional Indian outfit not too long ago. That too at a friend's wedding in Italy. Looking plum in an embroidered blue kurta, teamed with a dhoti, Kutcher was seen dancing wearing a red turban. He pulled off an absolute ace with that one.
7. OPRAH IN AN EMPHATIC INDIAN SAREE
On her last visit to India, the queen of talk shows and an irrepressible modern American legend, Oprah Winfrey was decked in a stylish saree. Seen wearing the saree on multiple occasions, most noticeably during her visit to the Bachchan household, Oprah won a lot many fans with her grace and style.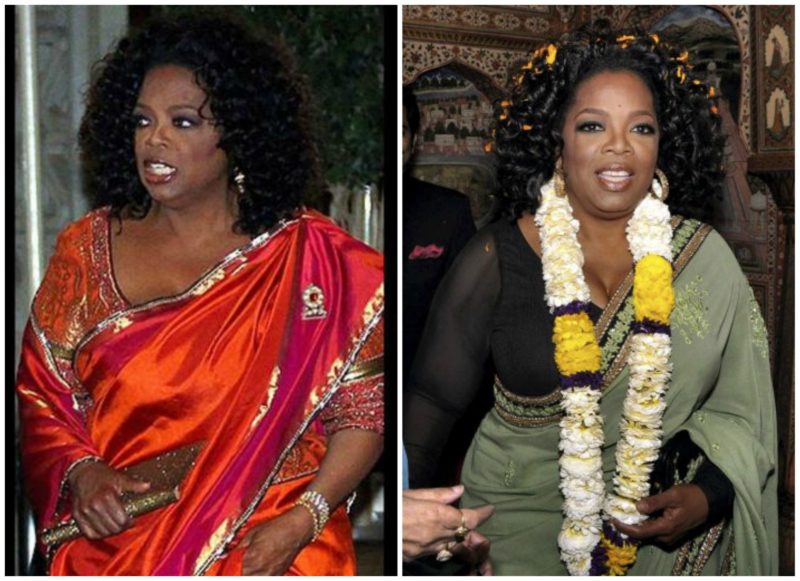 8. KIM KARDASHIAN IN A GORGEOUS RED SAREE
The last thing you'd ever imagine a Kim Kardashian in would be an Indian outfit. Isn't it? But the darling of social media and an ununmistakable selfie queen surprised one and all when she donned a shimmery red saree recently. Hot and hip, Kim teamed up an Anamika Khanna choli with a designer Sabyasachi saree for a Vogue India fashion shoot.