When Double XL was announced, one didn't really know what to expect. In fact, we had expected it to be another one of those slapstick comedies about two overweight women. But when the stars of the film, Huma Qureshi and Sonakshi Sinha, started talking about the motivation behind Double XL, the expectations were set high. And this is one film that surpasses all expectations. We watched Double XL at an advance screening in New Delhi and here's what we thought of it.
The relatability of Double XL is high
It's no secret that plus-sized women face a unique kind of pressure from society. They're constantly given unsolicited advice on their bodies, and in India, they're called "a little too healthy". As if that's an actual thing! The strange part is that the majority of women don't fit the image of the "perfect woman". They're either too big or too skinny. So, why is it that clothes are not made for most women and instead want to fit just the ones who walk the ramp? Why is it that no one caters to the needs and wants of women who are bigger than the set template? That's what the main focus of Double XL is. Of course, in an Indian context, there is also the added pressure of being "acceptable" for marriage.
Huma Qureshi plays Rajshree Trivedi, a 30-year-old unmarried woman from Meerut with big dreams. She dreams of being a sports presenter and shoots and directs her own videos for her social media channel. However, her mother is adamant about getting her married because of her age and, you guessed it, her weight. And this is where Double XL takes the first of its many surprising turns. When Rajshree and her mother butt heads over a job interview, her mother breaks down and tells her daughter about her struggles with body image issues after the age of 30. There's no comedy here or crass jokes. This is a tearful, moving moment between mother and daughter that addresses the generational trauma that comes with body shaming. Not expected out of a commercial Bollywood film but a welcome addition to the narrative, no doubt!
A fun crew with distinct personalities
When Rajshree is rejected for her dream job because of her appearance, she makes it a point to prove the channel wrong. But not before, very realistically, bawling in the office bathroom. Here, she meets Saira Khanna (Sonakshi Sinha), an aspiring designer with terrible luck in love and a sad past. Saira is on a mission to launch her brand with a fashion-travel vlog in London to impress potential investors. But for this, she needs a crew that will fit in her very, very low budget. Because of Rajshree's directorial skills, no matter how amateur, Saira decides to take her to London with her where, incidentally, the Indian cricket team is on tour. For Rajshree, this becomes the perfect opportunity to confront the sports channel head about his discriminatory hiring practices.
Among the crew is cameraperson Srikanth, played by Tamil actor Mahat Raghavendra. Now, this is a really fun character who makes his mark among the viewers even with Mahat's subtle portrayal. Srikanth is a wildlife documentary filmmaker who lights up a joint no matter where he is. The happy stoner vibes and apt representation of his Tamil roots, without any lame stereotypes aimed at him, make Srikanth truly a joy to watch. Even when the story becomes heavy with emotion, Mahat is poised on screen and never even close to being over the top.
Zaheer Iqbal plays the happy-go-lucky and sometimes annoying Zorawar Rehmani, Saira's one and only producer in London. This is another point where Double XL offers an interesting twist. Even though the film has two women and two men in the lead, the chemistry between the two men is the most endearing till the very end. The characters of Srikanth and Zorawar are fun to watch together and show a pure, easy friendship between them. It is much later that the romance angle comes in but that doesn't overshadow the bond between the bros.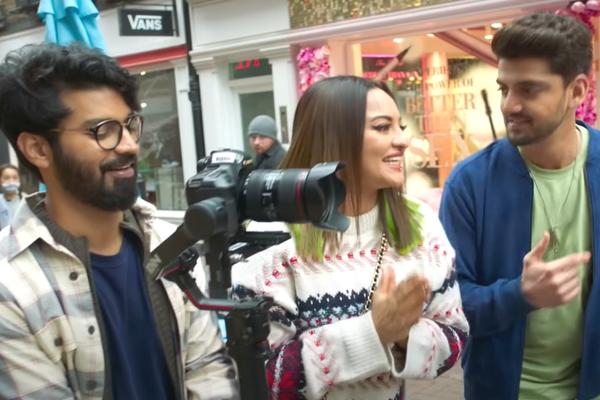 Double XL is full of pros…with one small con
For the most part, Double XL is a fun, easy, empowering watch, especially for Indian women. The two women in the lead start the journey of growing out of their body image issues themselves. They motivate each other and play active roles in each other's careers. However, if there is one con to this film, it is the male saviour trope. Yes, that is something that works in Bollywood and not many people would find it odd. But Double XL might have been even more empowering if the men had been encouraging spectators to Rajshree and Saira's journey instead of being portrayed as the ones who make them realise how beautiful they are. It's about time that the perceived superiority of the male gaze took a backseat.
Having said that, the actors do a great job of bringing a well-written story to life. Directed by Satramm Ramani, Double XL is thoughtfully executed and doesn't submit to harmful stereotypes for the sake of box office numbers. Double XL won't make you cry or laugh vociferously, but it will make you think and it will make you feel seen.
Double XL releases in theatres on November 4, 2022. Do yourselves a favour and watch this film with your family and friends.
Related: Not Fitting Into Clothes Or Spaces: 10 Unique Problems Curvy Women Face Almost Every Day
Featured Image Source