There are few Indians who don't enjoy a good, hot, cup of masala chai. And then there are white people who just can't survive without their "chai tea." If you just felt a great surge of anger on reading "chai tea," you're one of us. The West has been appropriating so much from Indians that it's started to become a little ridiculous. From naan bread to turmeric latte, here are six things Indians have been using forever, but the West is just discovering.
Turmeric Latte
Image Source
Cafes all over America have a new addition to their menus—cold-pressed turmeric juice added to regular or vegan milk—or as we know it, haldi doodh.
Miswak
Image Source
Before nine out of 10 dentists started telling us to use Oral-B, Indians used neem twigs to brush their teeth and keep their gums healthy. Now, suddenly the West has discovered the same thing and are selling it for $33, which is basically ₹2,356 for one twig in fancy packaging.
Bindis
Image Source
Indian women have been wearing a bindi since FOREVER, and now, if one walks into Coachella or literally any music festival, you'll find scores of white women with bindis on their foreheads because of "how cute it is"—when they're not too busy appropriating Native American culture that is.
Mehendi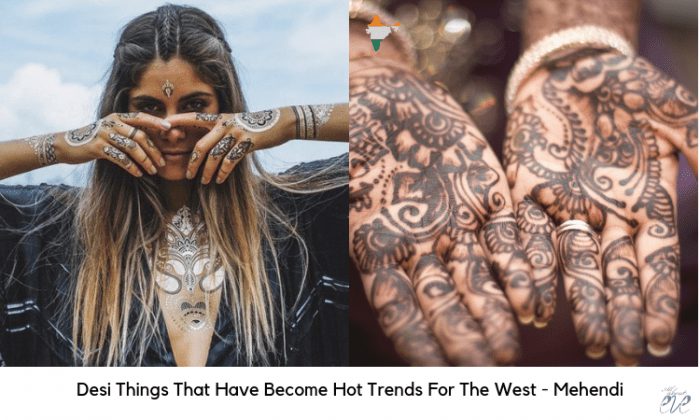 Image Source
We've grown up wearing mehendi at weddings—but white people have clearly discovered it pretty recently, with henna tattoos, temporary and permanent, becoming a rage.
Bollywood dance
Image Source
If you've seen literally any "Bollywood" routine on American dance shows like So You Think You Can Dance, you'll seriously be questioning exactly what Bollywood dancing they've been watching.
Chicken tikka masala
Image Source
The national dish of Britain has been chicken tikka masala for decades, but speak to any Indian who's eaten it, and they'll tell you there's absolutely no masala in it. We don't know why the British refuse to use the spices they invaded India for, but if chicken tikka masala is what you want, you're better off coming to India for it.