Directed by Jasmeet K Reen, Darlings stars Alia Bhatt, Shefali Shah, Vijay Varma, and Roshan Matthew. One of the most anticipated films of this year, Darlings is streaming now on Netflix. Here's our review of the hard-hitting dark comedy that will stay with you for a long time to come.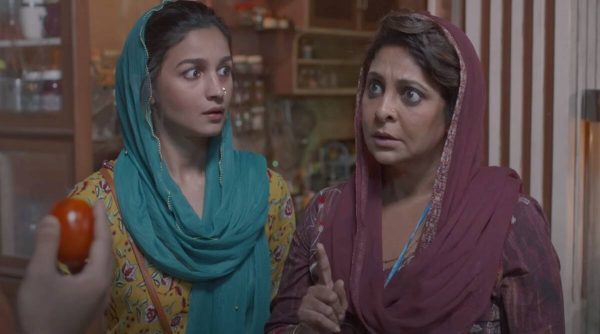 Badru (Alia Bhatt) is on a mission to get her alcoholic, violent husband, Hamza, on the right track. Hamza (Vijay Varma) shows no signs of improvement and beats his wife at the slightest inconvenience. His violence towards his wife is so regular that the whole neighbourhood knows about it. Badru's street-smart mother, Shamshunissa (Shefali Shah), lives in the same society and watches her daughter struggle with her husband every day. Badru, because of her husband's constant gaslighting, ignores her mother's advice to leave Hamza. Unlike the typical Bollywood mother, Shamshunissa encourages her daughter to get rid of Hamza to live a peaceful life, even if that means killing him. But Badru never gives up on Hamza, until the abuse goes too far, even for her. What ensues is a twisted tale of revenge that keeps you hooked.
When the trailer of Darlings came out, it seemed that the whole story had been revealed. But once you watch the film, you realise that's not the case. Darlings is a dark take on domestic violence and is rooted in reality. The unpredictable story flows well, you can never really tell where the story is going which works in the film's favour. Among the many good parts of Darlings is the well-written banter between the mother-daughter duo of Shamshunissa and Badru.
Alia Bhatt never fails to capture your attention, whether it is as the submissive wife defending her abusive husband or the woman seeking revenge. She makes you sympathise with Badru and be frustrated with her at the same time. And what do we even say about the legend who is Shefali Shah? She is fiery as Shamshunissa, a protective mother and ruthless woman. Her character was already well-written but Shefali Shah adds layers to the role that could not have been done by any other actor in our opinion. Shefali Shah and Alia Bhatt are delightful to watch on screen. The chemistry they share was, frankly, unexpected, but it is beautiful. Both actors excel in their individual characters and as a team. We can only hope to see more of them together.
Vijay Varma, as Hamza, is superb. He will make you hate Hamza and then laugh at him. The abusive husband who keeps changing tactics is portrayed in a unique manner by Varma. He keeps you guessing about his intentions and his true character till the end. Every actor, in fact, is really well suited to their roles. Roshan Matthew, as the innocent, smitten Zulfi, is endearing and amusing at the same time. Matthew makes his presence felt on screen even in a role that's not one of the leads.
Watch Darlings on Netflix for a concentrated dose of excellent cinema.
Featured Image Source
Related: Wedding Season Review: This American Desi Rom-com Is Old Wine In A New Bottle