Recently, we have seen an influx of problematic men in Bollywood movies. You would think with the way we are progressing, the portrayal of men in Bollywood would change. But that still seems to be a dream. However, in a world full of Kabir Singhs and Kundans, Bollywood has given us some real gems. Here's a list of seven fictional Bollywood heroes who are unproblematic and have rewritten the definition of 'being manly'.
1. Sunny Gill (Dil Dhadakne Do)
The ultimate feminist man who knows what equality really means. He becomes the catalyst for Ayesha to take charge of her life and break out from her shackles. In a conversation about gender equality, Ayesha's husband Manav pipes in that they are progressive because he "allows" Ayesha to work. To this, Sunny responds, "Tumne Ayesha ko allow kiya? Aur usse tumhaari permission ki zarurat kyun hai?" That promptly shut everyone's mouth and reiterated what real feminism is.
2. Iqbal Syed (Raazi)
Vicky Kaushal's Iqbal Syed was not just a charmer, but a perfect man in all senses. A Pakistani official married to an Indian woman, Sehmat, Iqbal never expected Sehmat to forget her country or lose her pride in her nation. He knew she could be a loving wife without giving up on her identity. Now that's a true blue Bollywood hero.
3. Aditya Kashyap (Jab We Met)
A humble, poised man who knows what consent and care are. Aditya knows how to be a gentleman and tries to make Geet, a perfect stranger, feel as safe as possible. Even when he falls in love with Geet and she doesn't reciprocate, he never tries to force her. "Haan, main tujhe bahut pasand karta hoon par woh mera problem hai. Tujhe tension lene ki koi zarurat nahin" won our hearts.
4. Jai Singh Rathore (Jaane Tu… Ya Jaane Na)
Jai Singh Rathore proved that pseudo-machismo doesn't make one a "real" man. In the movies, Rats is known as the most non-violent Rajput. Despite the troubles he faces, Jai never resorts to violence except for one incident. Jai is the perfect example of how nice guys can finish first.
5. Taran Khanna (Yeh Jawaani Hai Deewani)
The best character in Yeh Jawaani Hai Deewani is hands down the cutie pie, Taran. He stands by his fiancée, Aditi through every step of the way. He considers Aditi's friends his own, even when he is ridiculed. In fact, when Aditi blasts off at Avi about his gambling, drinking, and overspending, Taran is the one who stops Aditi and helps Avi out. Taran may not be the hot "bad boy" that everyone loves, but he is the real gem in the movie.
6. Lieutenant Colonel Anup Saxena (Gunjan Saxena: The Kargil Girl)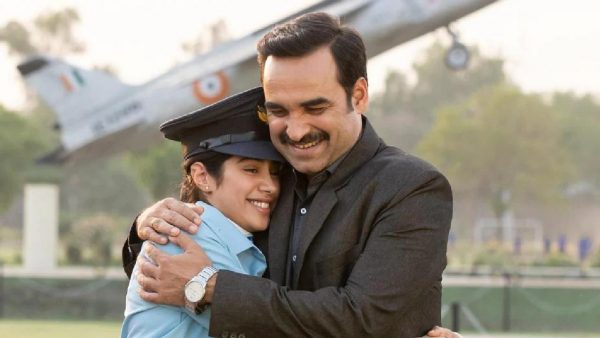 Dad roles and Pankaj Tripathi are made for each other. Be it Gunjan Saxena or Bareilly Ki Barfi, Pankaj Tripathi played the liberal dad we all want. Lt. Col. Anup Saxena is his daughter's biggest supporter and cheerleader. He is a source of strength for Gunjan and the one person who always motivates her to chase her dreams. When he says "Yeh duniya kitni mushkil hai auraton ke liye … par uska hal pinjre mein qaid ho jaana nahi hai … pinjra todke udh jaana hai", he hit us right in the feels. Petition to make Pankaj Tripathi the go-to Bollywood hero!
7. Aman Mehra (Kuch Kuch Hota Hai)
Yes, this is a surprising addition to the list. Even we didn't think a Salman Khan character would make it here. But Aman was a better guy than Rahul in KKHH without a doubt. He loved Anjali for who she is, he respected her and accepted her without judgement. Isn't that all we girls want? A supportive, non-judgemental guy who respects and loves us?
Featured Image Source
Related: 15 Of The Worst Bollywood Films That You Should Avoid To Maintain Your Sanity