Ayushmann Khurrana recently made it known that he wants to do something beyond breaking social taboos through cinema. And with An Action Hero, he has done just that. But not in the manner that you would generally expect in Bollywood. Directed by Anirudh Iyer, An Action Hero stars Khurrana in the lead along with Jaideep Ahlawat.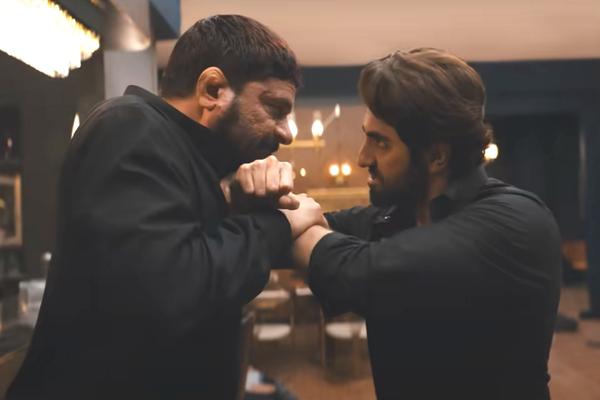 The film begins with an indication of how twisted the story is and then takes the audience into a bit of a flashback. Bollywood superstar and loved action hero Maanav (Ayushmann Khurrana) is in rural Haryana to shoot a few scenes for a film. When news of his arrival spreads, the local municipal councillor's brother, Vicky Solanki, goes to the set of the shooting with his friends to get a picture with the superstar. However, when Vicky is made to wait hours for Maanav, he loses his temper and follows the superstar's brand new Mustang out of the set. When he finally catches up with him, Vicky slips and hits his head on a rock which kills him instantly. In panic mode, Maanav leaves the country but not before accidentally leaving a trail for Vicky's dangerous elder brother, Bhoora (Jaideep Ahlawat), to follow.
What ensues is a game of cat-and-mouse that starts in Haryana and ends in Mumbai via London with the roles of the cat and the mouse changing constantly. While Ayushmann Khurrana is somewhat forgettable as an action hero in this film, this is where Jaideep Ahlawat shines. His authenticity in both appearance and manner of speaking is unmatched in such roles and the timing of his dark humour is impeccable.
Ayushmann Khurrana's grand debut in action cinema
An Action Hero is a smart move by both the director and the lead actor. It provides a sort of intelligent platform to launch Ayushmann Khurrana in a genre that the audience has never linked with him. And Anirudh Iyer manages to make the film not look like an out-and-out launchpad for the actor. An Action Hero is satirical in many parts of the story but it also doesn't miss a chance to showcase Khurrana's physical strength or his ability to jump over buildings and smash the villain. Also, it was about time that the actor's newly sculpted abs made their way to theatre screens.
Throughout the film, you will notice not-so-subtle jabs at the Indian news media and some of its most notorious participants (actors in their own right, of course). Some of the more popular statements from illogical nationalist politicians, like naya Bharat ghar mein ghus ke maarta hai, have also been added to keep the audience's interest alive. We wonder if Akshay Kumar's cameo in the film is a subtle move in the same direction.
We need to see more from Jaideep Ahlawat
If there's anything that An Action Hero has proved, it is that Jaideep Ahlawat needs to be seen much more often now. The man is a powerhouse of talent who shines bright even in a film with someone else in the lead. This is why the way his story ends in the film feels wrong and unjustified. The film truly becomes worth watching only when Ahlawat enters the story, elevating a potentially predictable action film to an interesting dark comedy.
An Action Hero is entertaining and offers a unique experience for Indian audiences. A welcome departure from what we generally see in the genre. And this is a good thing for An Action Hero because the action sequences are quite blah. Unintentionally so. Don't go for this film expecting to be on the edge of your seat with thrilling fight sequences and an action-packed climax. But do watch this film if you'd like to be entertained by an interesting new story.
An Action Hero is now in cinemas near you.
Related: Freddy Review: A Mediocre Psychological Thriller That Surprises You Occasionally
Featured Image Source