The weather doesn't seem to be getting any warmer in north India. To escape the chilling winds, the tropical climate of south India is a welcome change. There are several gorgeous places to visit in this region, but we've narrowed down the list to a few evergreen winners. To make your life simpler, we've also compiled a list of the most gorgeous Airbnb homes you can find in these areas. Airbnb homes in south India are bound to be a thing of beauty, so you will enjoy your living spaces as much as the outdoors.
Kerala Backwaters
The backwaters of Kerala attract admirers from all over the world. The natural beauty of this tourist attraction is truly unmatched. When you get the peace of the backwaters and a living space that celebrates the architectural history of Kerala, it doesn't get any better. According to the host, a part of the lake flows into the garden of this two acre property as well.
Image Source
This house can accommodate six guests. Click here to book this beautiful lakeside villa in Alleppey.
Slightly further away in Kottayam, you will find an Airbnb with a twist. This house is located in a farm right next to the backwaters. This gorgeous house can accommodate four guests.
Image Source
Click here to book a stay at this farm.
While visiting the backwaters, it is absolutely vital that you plan a stay in a houseboat. Cruising along the peaceful water, houseboats are a fun, unique way to spend your holiday. This luxury houseboat can accommodate five guests and is perfect for a family.
Image Source
Click here to book this serene houseboat.
Andaman & Nicobar
When you think of Andaman & Nicobar, tourism doesn't immediately come to mind. But this is one of the most gorgeous places to visit in India. If you love the beach, the sea, and peaceful surroundings, this is the place for you. And this is the perfect house to make your home. This bungalow on Havelock Island is the epitome of serenity. Stay here for a week, and you will come back rejuvenated. This gorgeous villa can accommodate nine guests.
Image Source
Image Source
Image Source
Click here to book your stay in this villa.
Pondicherry
A former French colony, Pondicherry still retains the charm of French architecture and culture. The Franco-Tamil cuisine is stunning, and the views of the sea are breathtaking. The ideal holiday home here is a mix of all this and more. Like this villa on Serenity Beach.
Image Source
This beautiful villa, with direct access to the beach, can accommodate five guests. Click here to book a stay in this house.
If villas are not your thing, and you want a more intimate space, this studio apartment is just right for you. With a decor that will please minimalists and Instagram enthusiasts alike, this studio apartment is an absolute delight. This house is near White Town and can accommodate two guests. Perfect for a romantic getaway.
Image Source
Click here to book this cozy studio in Pondicherry.
If you're travelling in a big group, you may want to consider staying in the crowning jewel of Pondicherry. Aptly named Bouganvilla, this massive villa celebrates colours and the bright sun of Pondy. This villa is located in the heart of Auroville and is surrounded by flowers and lemon farms. With a swimming pool as one of the many charms here, this villa is perfect for those seeking peace and luxury.
Image Source
Click here to book a stay in this villa.
Mahabalipuram
Known as the town of temples, Mahabalipuram is awe-inspiring. The intricate architectural details of the monuments and temples here are stunning. You can spend hours walking around the premises of a temple but you will still be shocked when you see the artwork on their walls. A town with such beauty deserves the best holiday homes. And we found one such gem which you can call home for the duration of your stay here.
Image Source
Perfect for a trip with friends, this villa can accommodate 10 guests. Click here to book a stay in this beautiful home.
Varkala
Located near Thiruvananthapuram, Varkala is the only place in southern Kerala where you can see cliffs right next to the sea. Known as the Varkala Cliff, this unique tourist attraction has been declared a geo-heritage site. To experience this beautiful beachside town, you need the perfect holiday home. This house has undisturbed views of the sea and hammocks where you can relax for hours.
Image Source
Ideal for two guests, this home is perfect for a romantic, luxurious holiday. Click here to book your stay right next to the sea.
Wayanad
Known for its cool climate and stunning natural landscapes, Wayanad is quite new on the conventional tourist's radar. It has long winding roads with tea gardens on both sides and green views that seem to go on forever. Wayanad is a creative person's paradise, and if you're looking for inspiration, here's the perfect Airbnb for you.
Image Source
Ideal to share with friends, this three-bedroom house can accommodate six guests. Click here to book your spot in this little paradise.
Another beautiful Airbnb that you can share with friends or family is this cottage in Wayanad. It looks small from the outside, but inside, this place can accommodate five people easily. Set amidst the dense greenery of Wayanad, this cottage feels secluded and just right as a getaway from the city.
Image Source
Click here to book this slice of heaven.
Ooty
From the tea estates of Wayanad to the hills of Ooty, a holiday in southern India has something for every kind of traveller. If the tropical weather gets too much for you, head to Ooty to feel the winter chill without the smog. This pristine white home, shining like a gem atop a hill, is where you can really enjoy Ooty.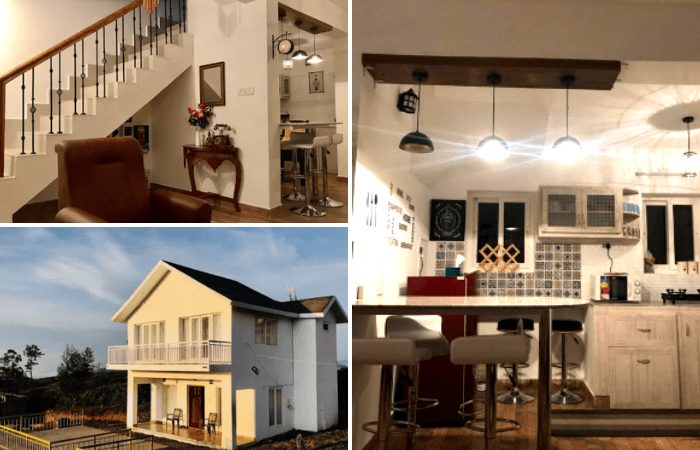 Image Source
Click here to book this charming holiday home for five people.
If you're a budding chef and love a cozy home, head to this villa in the Nilgiri mountains. With a beautiful European kitchen, you can cook to your heart's content and unleash your inner masterchef. The sprawling lawn outside is perfect for a game of football or cricket. Just get your gear and feel at home.
Image Source
This villa can house eight guests. Click here to book a holiday in this beautiful place.
For the love of floral patterns and a youthful decor, this bungalow in Ooty deserves all your attention. With a capacity of 10 guests, this bungalow has a huge lawn and a cheerful ambience inside.
Image Source
Click here to book this bright, chirpy villa.
What're you waiting for? Book your favourite Airbnb, gather your friends, pack up your bags, and get ready for the vacation of a lifetime.