The 13th of July 2022 marks 10 years of Cocktail. Remember it? The film starring Deepika Padukone, Saif Ali Khan, and Diana Penty was specifically made for urban millennials. We had a super hot, rich party girl who brought the house down with her moves every night, a funny, superficial guy who turns into a "good boy", and a small-town girl who became the perfect, desi parent-approved blend of modern and traditional.
We won't go into the storyline of the film here, because if you're reading this, you probably remember most of it. But we will get into the characters a bit, because contrary to what the filmmakers wanted us to believe, it was Veronica (party girl) who was the only angel in this film. The sanskaari naari, Meera, and the boy, Gautam, were toxic AF!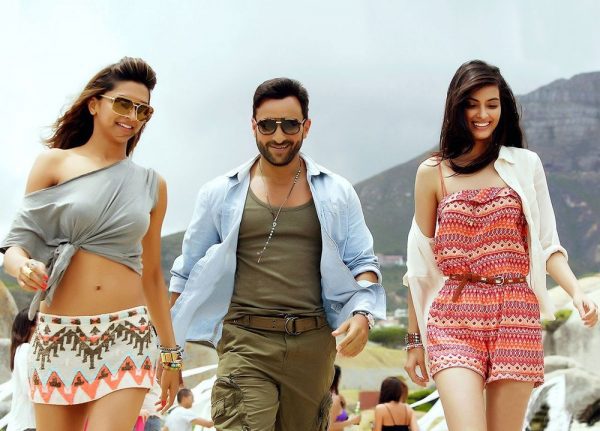 The rich b*tch who wasn't b*tchy at all
Self-proclaimed 'rich b*tch' Veronica was wronged from the very beginning. Not only did she lead a sad, lonely life, but she was also a kind person who got screwed over by the people who took advantage of her kindness. Instead of true gratitude, all she got was heartbreak. And no, we don't mean from her boyfriend.
Veronica gave shelter to Meera, who had nowhere to go in London and hardly any money. Soon, they became best friends all thanks to the effort Veronica put into their relationship. She encouraged her friend to believe in her talents and reach for the job she actually wants. Veronica took the pressure of money completely off her head by taking care of all of Meera's living expenses. And Veronica also helped Meera come out of her shell by introducing her to new people and experiences.
Where her boyfriend was concerned, Veronica happily played along when he wanted Meera to pretend to be his girlfriend to please his mother. She even spent time with his mother on vacation when she didn't need to at all. By the time the vacation ends, Veronica is ready to change almost everything about herself to be able to pursue a serious, long-term relationship with Gautam.
But what does she get in return? At the end of it, Veronica had to be in a near-death situation for the two people closest to her to actually give a f*ck about her.
Gutlu didn't become a good boy after all
It's bad enough that Gautam aka Gutlu fell in love with Meera while dating Veronica, but he becomes so much worse when he starts being portrayed as a freshly converted "good boy". Instead of talking about a highly complicated situation, he just blurts out the truth in front of both the women without even taking Meera into confidence. After realising that Meera has moved out without telling him, he pretty much slut-shames Veronica for sleeping with him and not being an "abla naari" and then acts all heartbroken.
Also, while he's busy shifting the focus of his affection, he pays no heed to the fact that his mom is busy brainwashing his actual girlfriend. Mrs Kapoor makes Veronica feel that she needs to be traditional and sanskaari to get married and lead a happy life. And Veronica lands up believing all this BS, oblivious to her boyfriend's cheating ways.
Apart from the obvious sexual harassment that forms the core of his personality, Gautam Kapoor is also an irritating mansplainer who tells the women in his life how they feel about him. You know, instead of actually listening to them.
'Bechari' Meera
Coming to the best friend now, Meera was the opposite of what a friend should be. As soon as the situation got difficult, she scooted and cut off all contact with the woman who, by her own admission, saved her. For all of her good girl gyaan, Meera didn't say a word when Gautam just blurts out a harmful, shared secret without her consent.
Here's an example of Meera's unintended toxicity. After witnessing Veronica's very public meltdown, Meera thought nothing of sharing a cute, romantic moment with her new boyfriend…in Veronica's bedroom…at the foot of her bed…while she's passed out! And all this doesn't even amount to anything because Meera then leaves Gautam without telling him.
Meera was basically a terrible friend who first started a relationship with her best friend's live-in boyfriend and then iced out that same friend when she needed support. Wow!
We already knew that Cocktail had slut-shamey undercurrents. Upon rewatching it recently, however, we realised that the leads, apart from Veronica, were just trash fires. If you think your friends are like Meera or Gautam, drop 'em before they drop you.
What did you think of the film? Has your opinion about Cocktail changed since you first watched it?
Featured Image Source
Related: 20 Years Of Devdas: Revisiting The Iconic Fashion In Bhansali's Masterpiece