Travelling is one of the things that brings great joy to life. At the same time, packing for a trip takes away all sources of peace and happiness. The stress of packing shouldn't be the reason your journey starts off on an anxious note. Here are all the travel essentials for women that you can find on Amazon for under ₹1,000.
1. Hanging toiletry bag
A hanging toiletry bag is a great way to keep all your essentials together without having to deal with a messy sink. It holds your toothbrush, toothpaste, skincare, and haircare products. You don't even have to worry about unpacking your essential toiletries at the hotel. Hang the bag on the counter, and you have everything within easy reach. The toiletry bag won't occupy a large part of your suitcase, so no need to worry about space.
2. Lingerie organiser
Every woman needs one of these in her travel essentials stock. Stacking up clothes one over the other takes up a lot of space inside a suitcase. In order to avoid doing that, get yourself a lingerie organiser where you can pack your undergarments in an organised manner without taking up too much space. The multi-compartment organiser can hold your bras, panties, socks, undershirts, and even a couple of toiletry items.
3. Jewellery organiser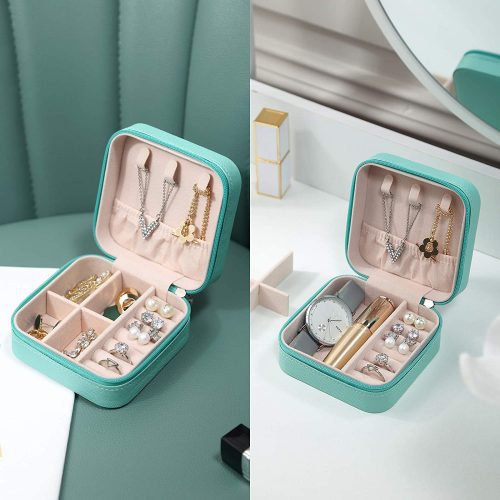 If you carry a lot of jewellery to match with your outfits, a jeweller organiser is a necessary addition to your travel essentials kit. Store your necklaces, rings, bracelets, and earrings together. The detachable crossing-board in the jewellery organiser allows you to store some of your bigger earrings or even a spare watch.
4. Shoe bag
Carrying spare shoes and sandals is one of the biggest pains while travelling. You never have enough space in your suitcase to fit all your footwear. Get a footwear organiser that can hold at least three pairs of footwear to organise them well. It also acts as a multipurpose bag for your clothes, electronics and toiletries. Add to cart now.
5. Makeup organiser
A cosmetic case for all your makeup is a must-have in your carry-on luggage. Store all your makeup products including foundations, creams, beauty blenders and makeup brushes together in a makeup organiser. All your products will be easily accessible and will stay organised. It also has adjustable compartments to make space for the bigger items you may have.
6. Laundry organiser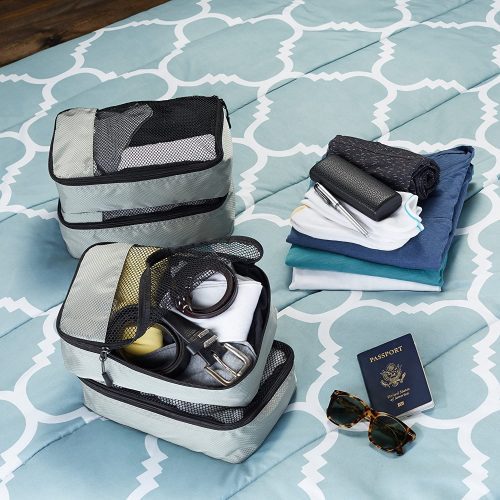 Keep your garments wrinkle-free using a laundry organiser. This travel essential item is perfect for folded pants, shirts, blouses, t-shirts and other garments. These packing cubes will help you keep your garments organised without having to create a mountain of clothes in your suitcase.
7. Refillable perfume bottle
Carrying a full-sized perfume bottle is not always feasible or needed while you travel. Instead, get yourself a portable mini refillable perfume bottle to carry along your favourite scents. These 5ml bottles are apt for travel and highly durable. All you have to do is remove the spray cover of your perfume bottle, place the travel perfume atomiser bottle on top of it, and fill it up. Carry it in your handbag or your suitcase worry-free.
8. Silicone travel containers
Using a hotel shampoo, conditioner or body wash may not be up your alley. At the same time, carrying a full bottle of any of these items is not quite feasible either. Get yourself a bunch of silicone containers that will allow you to carry just the right amount of liquid essential items like shampoo. They are easy to fill and carry, and there is no fear of breakage either. Since these silicone bottles are made of BPA-free food-grade silicone, they are suitable to carry edible items like sauces and baby food as well.
These items are individually selected by the team and we may earn a commission from your purchase.
Featured Image Source
Related: No Clutter, No Stress: 9 Amazon Finds Under ₹1,500 To Keep Your Home Organised