If you think skincare routines are not for men, you are absolutely wrong. Skincare isn't gender-based, everyone has skin. So, drop that male ego because you need to look after your skin if you don't want it to break out or become dry. And having a good pre and post-workout skincare routine for men can get you amazing results. Here's how you can keep the dirt, open pores, and chapped skin at bay.
Related: Want A Rock Solid Core? Here Are 8 Ab Workouts That Are Great For Beginners
1. Cleansing
Image Source
Cleansing is the key to clean skin in both pre and post-workout sessions. Before you start your workout, make sure to wash your face with a foaming face wash. This will help remove any dirt or bacteria on the surface and cleanse your pores. Once you are done with your workout, rinse your face with cold water as soon as you can. When you shower, use a good deep cleansing face wash to get rid of all the impurities from your skin.
2. Moisturising
Image Source
Applying a lightweight and fragrance-free moisturiser is an important part of skincare for men. But you need to ensure that you use a non-comedogenic moisturiser. This will ensure that your skin is supple without clogging your pores. Make sure to avoid heavy, oily formulas as they will make you sweat, clog your pores, and can lead to breakouts. Put on a generous layer before and after your workout.
3. Sunscreen
Image Source
If you are going outdoors, applying sunscreen is an absolute necessity. It protects your skin from the harsh UV rays that cause skin damage. Apply a generous layer of non-comedogenic sunscreen with an SPF of 30 or more after your moisturiser, pre-workout. You don't want to use an oil-based sunscreen as it can clog your pores.
4. Exfoliation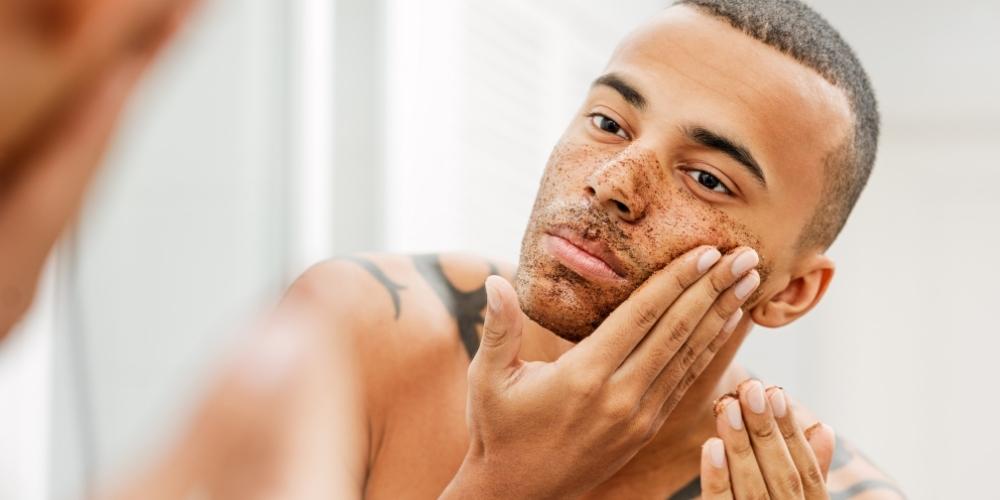 Image Source
Since men tend to shave, there is a chance of having ingrown hair. So, twice a week, you can use a gentle facial scrub post your workout session to prevent ingrown hair. This will also make sure that your skin is squeaky clean and remove any dirt or dead cells on the skin.
5. Hydration
Image Source
After the post-workout cleansing, your skin needs an extra boost of hydration. Spritz some face mist or toner on your face to give it instant freshness. Follow it up with a moisturiser while your skin is still slightly damp so that it absorbs better.
6. Eye cream
Image Source
Once you are done showering post your workout, dab on some eye cream after applying your moisturiser. Since the skin around the eyes is extremely thin, it ages much faster. Adding a good eye cream is an equally important step in men's skincare as it is in women's skincare.
Related: Dark Circles And Puffy Eyes No More: Try These Under Eye Creams, Gels, And Serums Under ₹1,000!