Motherhood – the most undervalued job in the world. Don't lie, we've all taken our moms for granted at some point. And, often, we don't even realise how something which seems harmless to us may actually be hurtful to them. Women who take on the mantle of motherhood deserve to be celebrated. So, we're dedicating the month of March to all the moms out there. We're not going to wait till Mother's Day to show all the moms around us that we care. This March, we will dedicate one activity a day to make sure moms feel truly appreciated, and we're doing this through a unique March 2020 calendar.
Download the only March 2020 calendar you need. While we have one activity for each day for women who are moms, or for those who want to pamper their moms, here are a few of our favourites from the calendar.
1. Spend a day away from mom duties
Every mom needs time off. Whether she's been a mom for 15 days or 15 years, every mom deserves a break. If you're a mom, dedicate a day to spend away from all mom duties. Involve your family, make sure they're prepared for you to be completely absent as a mom for a day, and enjoy your time off. If you want to give your own mom a gift, ask her when she would like a whole day off from mom duties and make sure it happens. No alarms,  no tiffins, no school work, no house work.
2. Plan a girls night out for your mum and her friends
In the spirit of moms getting a break, plan a fun evening for her with her friends. Do all the legwork of planning, picking a day and place, and other logistics like transportation, and just let mom show up. A night out with the girls can do wonders for her if she's overworked and tired.
3. Sign up with your mom for a hobby
As adults, we tend to get busier with every passing year, and we spend lesser and lesser time with our parents. A great way to make sure you spend some valuable time with your mom is to sign up for a hobby together. It could be music lessons, pottery, painting, brush lettering, a book club, or anything she's wanted to do for a long time.
4. Teach her a tech skill she dreads
It might be easy for you to catch up on all the latest tech innovations. But your mom may not be able to. Most people in our parents' generation are resistant to change, especially in tech. And there's always a couple of things in this arena which might intrigue them but it also seems far too complicated to learn. So if you've been after your mom to download the latest messaging app, or get a new phone, help her understand it first. Teach her a tech skill she's been avoiding so that she stops fearing it.
5. Introduce her to Neenaji's Sach Kahoon Toe
Whether it's your personal or professional life, everyone can do with a bit of advice now and then. And when that advice comes from someone who has lived through the same phase of life that you're going through, you know it'll have some merit. That's what actor Neena Gupta's Sach Kahoon Toe series on IGTV seems to be doing. From life advice on weight loss and how to tackle it, to finding your own happiness, this series by Neena Gupta hits all the right notes.
6. Stop dissing her television choices and join her
We've all judged our moms for their television choices. The cheesy soap operas, melodramatic series and the worst reality TV shows might be super funny to you but she loves them! So instead of dissing her choices all the time, join her. Maybe you'll see the entertainment value of her shows and start enjoying them. Even if you don't enjoy them, take a day out to watch your mom's favourite show with her and share the experience with her.
7. Listen to She Says She's Fine
This podcast should be mandatory listening for all women, especially in India. We don't talk much about women's health and wellbeing especially where menstrual and reproductive problems are concerned. Hosted by Dr Munjaal Kapadia, a gynaecologist based in Mumbai, this podcast also features guests who talk about different women's health issues, both from a personal and professional viewpoint.
Related: 8 Podcasts For Indian Women To Go Into 2020 Wiser, Stronger And Sharper
8. Get off the phone when she tells you to
Our phone is our lifeline, isn't it? We can't go a single day without our phones. And because of this dependency, we often get told off by our parents. How many times has your mom told you to get off the phone when she's talking to you? How many times has she berated you for scrolling through social media mindlessly and endlessly? So, this month, when she tells you to get off the phone, actually do it and surprise her.
9. Don't lose her dabbas
When you start managing your own kitchen, you realise the value of dabbas. And you also realise how annoying it is to give your dabbas to someone and not get them back. Make a pledge to preserve your mom's precious dabbas and return them within the promised time. If you want to look really grown up and surprise your mom, fill the dabbas with something delicious for her, instead of returning them empty.
10. Stop judging other moms!
Moms are the only group of people who face judgement no matter what they do. Even as moms, we tend to judge the parenting styles of other moms. This needs to stop! After all the sleepless nights and hard work they put in, the last thing moms need is judgement. This March, remind yourself that all moms are trying their hardest to be good parents, including you. Stop judging yourself as a mom, other moms in your social circle, or your own mom.
Celebrate #MomCareMarch with this super cute March 2020 calendar. Download it now and keep ticking off each day.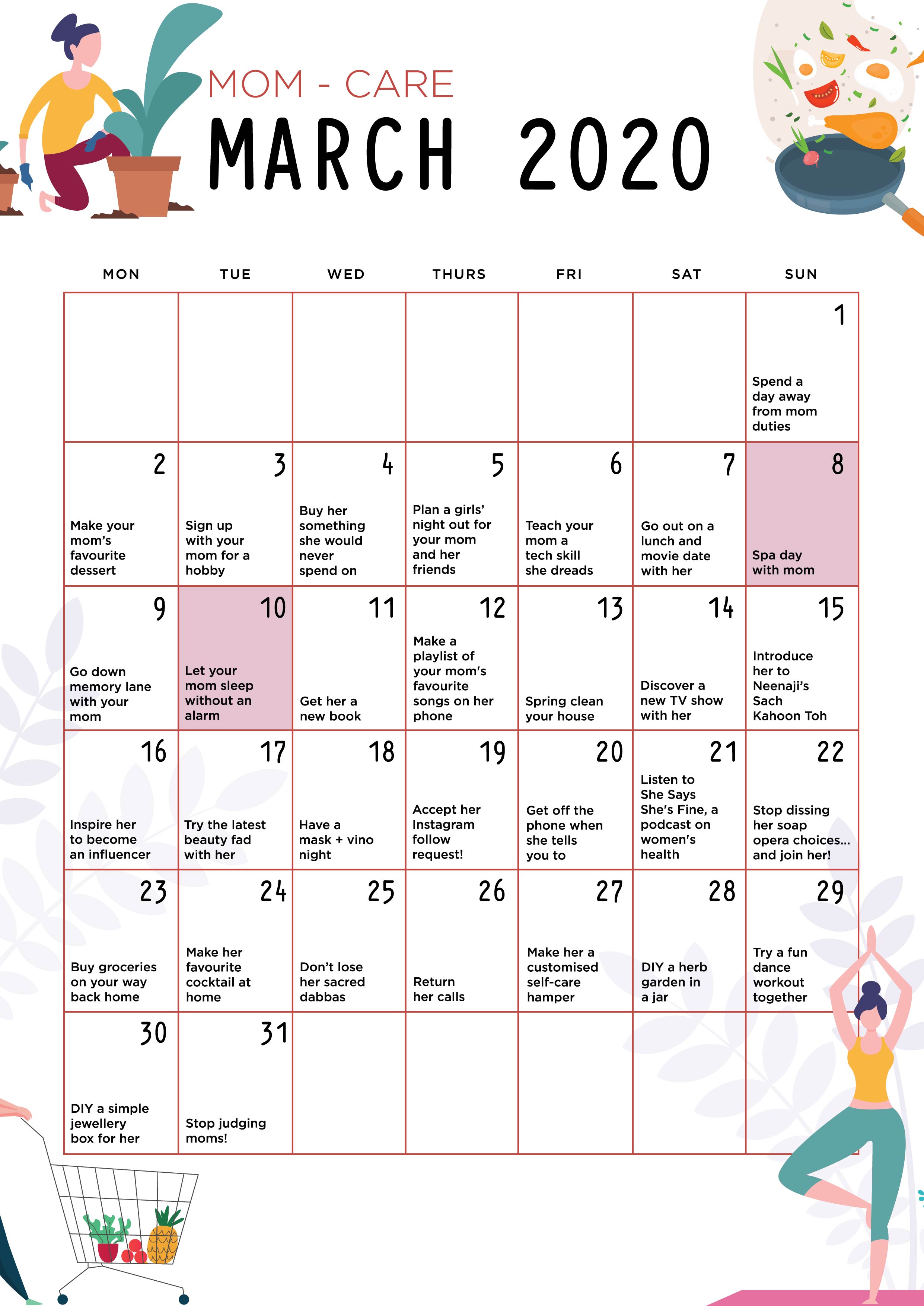 Watch out for our special calendars for every month in 2020, as we replace boredom and monotony with something exciting to do every day.