Karan Johar is finally back with Koffee With Karan. The only difference this time is that it's only available on OTT. And the first guests of this season are the much-in-news Alia Bhatt and Ranveer Singh. Here are a few highlights of the first episode…without too many spoilers.
"Bio bubble of political incorrectness in a world determined to be boring"
Karan Johar attempts to take on the trolls without addressing any of the criticism which is fine. It's Koffee With Karan, not political analysis that should be taken seriously. Watch it for the gossip and entertainers being entertainers. That is all. As Ranveer Singh puts it, enjoy the "happiness and cheer and lightness of being".
The stars start off the show by talking about the pandemic and how it affected them personally. Alia and Ranveer also talk about their married life and adapting to living with another person.
"Ranbir is traditional, ritualistic"
From Ranbir Kapoor's proposal in Maasai Mara to Karan Johar's emotional reaction to the news, the stars reveal some hilarious details about the wedding and the run-up to it.
Alia Bhatt also spoke about her life as a new bahu. Talking about the lighter aspects of this, she says, "The Kapoor family does everything together, eat together, do aarti together…Ranbir used to make fun of me saying, 'Jai karna aata hai?'"
Without going into specifics, Ranveer Singh also spoke about adapting to Deepika Padukone's family and how he keeps a separate wardrobe for visits to the Padukone family.
Apart from their personal lives, Ranveer and Alia also spoke about the latest in their careers, including their upcoming movie together, Rocky Aur Rani Ki Prem Kahani.
"Meet Pammi"
In case you didn't know, Ranveer Singh is known as Pammi to Alia and some of his other friends. And he also had quite a major role in selecting Alia's wedding jewellery!
Apart from Pammi, you will also see Ranveer Singh's unmatched mimicry talent. From Hrithik Roshan blessing the world to Varun Dhawan exiting the gym, this part of the episode is quite funny.
…and yes, of course, there are entertaining games which become even more fun when there are two vibrant actors playing them.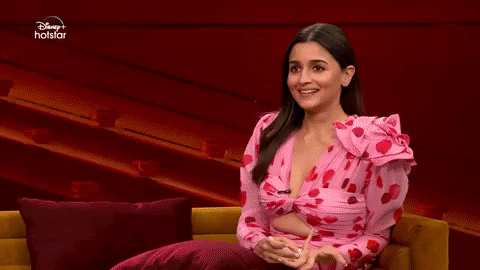 Watch the first episode of Koffee With Karan season 7 on Disney+ Hotstar.
Related: Aunty Eve's Advice To Alia Bhatt: How To Avoid Nosy Uncles And Aunties During Pregnancy