India Couture Week 2023, in association with FDCI, is the biggest bridal couture show in India. And if you're a bride-to-be looking for some inspiration, this is your heaven! The biggest designers in the industry come together to show their craftsmanship, and this year has been nothing short of breathtaking. So, here are some of our favourite picks from the season so far that are a blend of modern and traditional techniques.
1. Falguni and Shane Peacock
Designer duo Falguni and Shane Peacock showcased their stunning bridal collection at the opening show of ICW 2023. The collection embodies the essence of the Renaissance era, showcasing the timeless beauty of its art, architecture, and fashion. The soft romantic shades and statement silhouettes were the highlight of the collection.
Related: Falguni And Shane Peacock ICW 2023: Vibrant Colours And Artistic Masterpieces At The Opening Show
2. Varun Bahl
Varun Bahl's collection 'Inner Bloom' showcases artisanal embroideries with beautiful 3D flowers, focusing on young and playful silhouettes in vivid hues. The collection is made for the modern-day bride that is boho, free-spirited, and contemporary.
Related: ICW 2023: 'Inner Bloom' By Varun Bahl Brightens Up The Ramp, In Partnership With AAE
3. Gaurav Gupta
Ace designer Gaurav Gupta's collection represents a journey from birth to harmony. It showcases the cosmic cycle of elements through whites and lustrous, iridescent pearls, and monotone shades. The colour palette goes from neutral to vivid fluorescence as life bursts forth.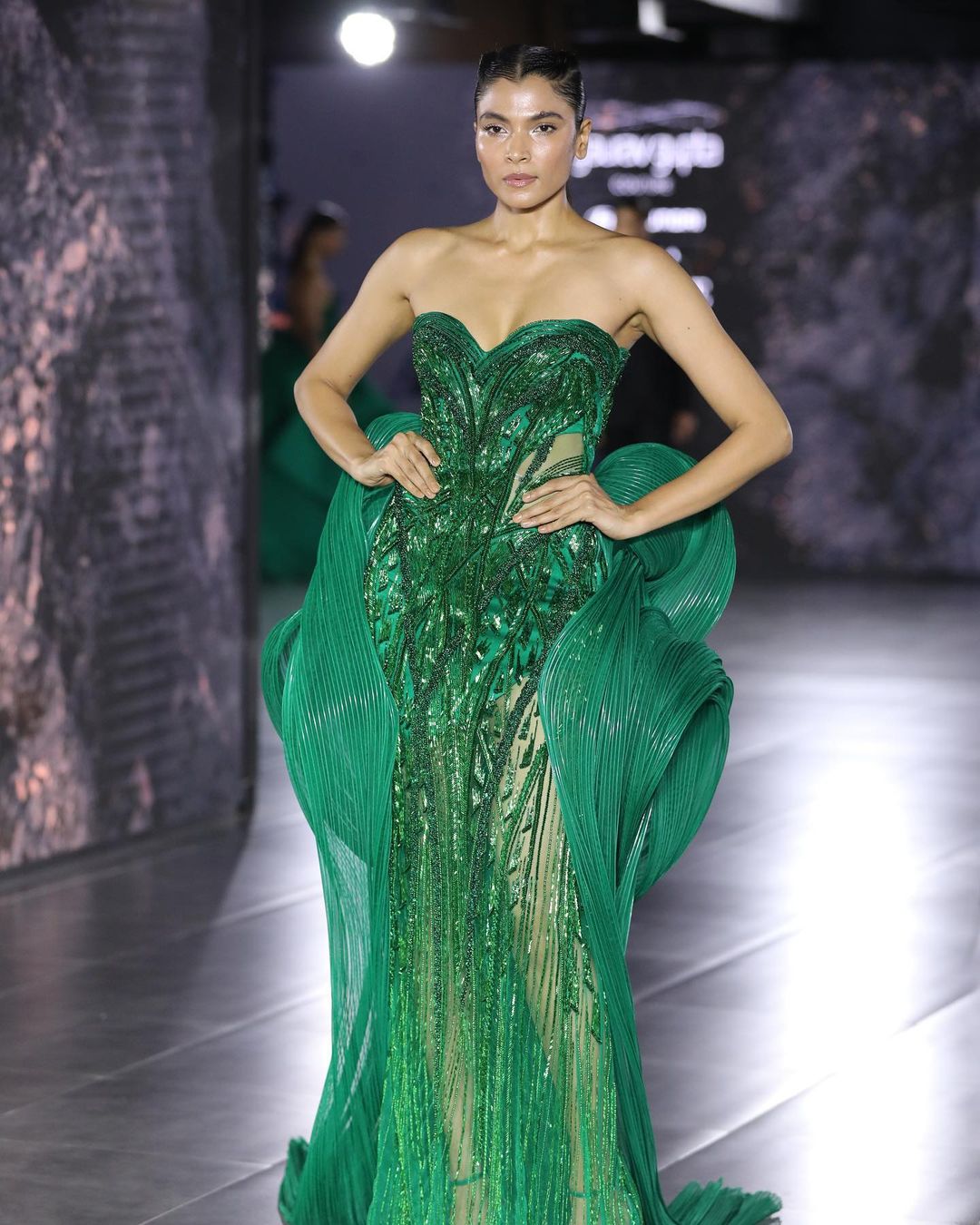 4. Tarun Tahiliani
Tarun Tahiliani's vision of a modern-day bride and groom is dreamy yet practical, just what the brides of today love. It has tones of beige and ivory and also pops of red, pink, and gold splashed all over the statement designs.
5. Rimzim Dadu
'Hydrochromic' by Rimzim Dadu at India Couture Week 2023 pays homage to the form, power, and versatility of water. The collection brings forth some traditional Indian crafts and weaves, reimagined in a contemporary context using signature materials.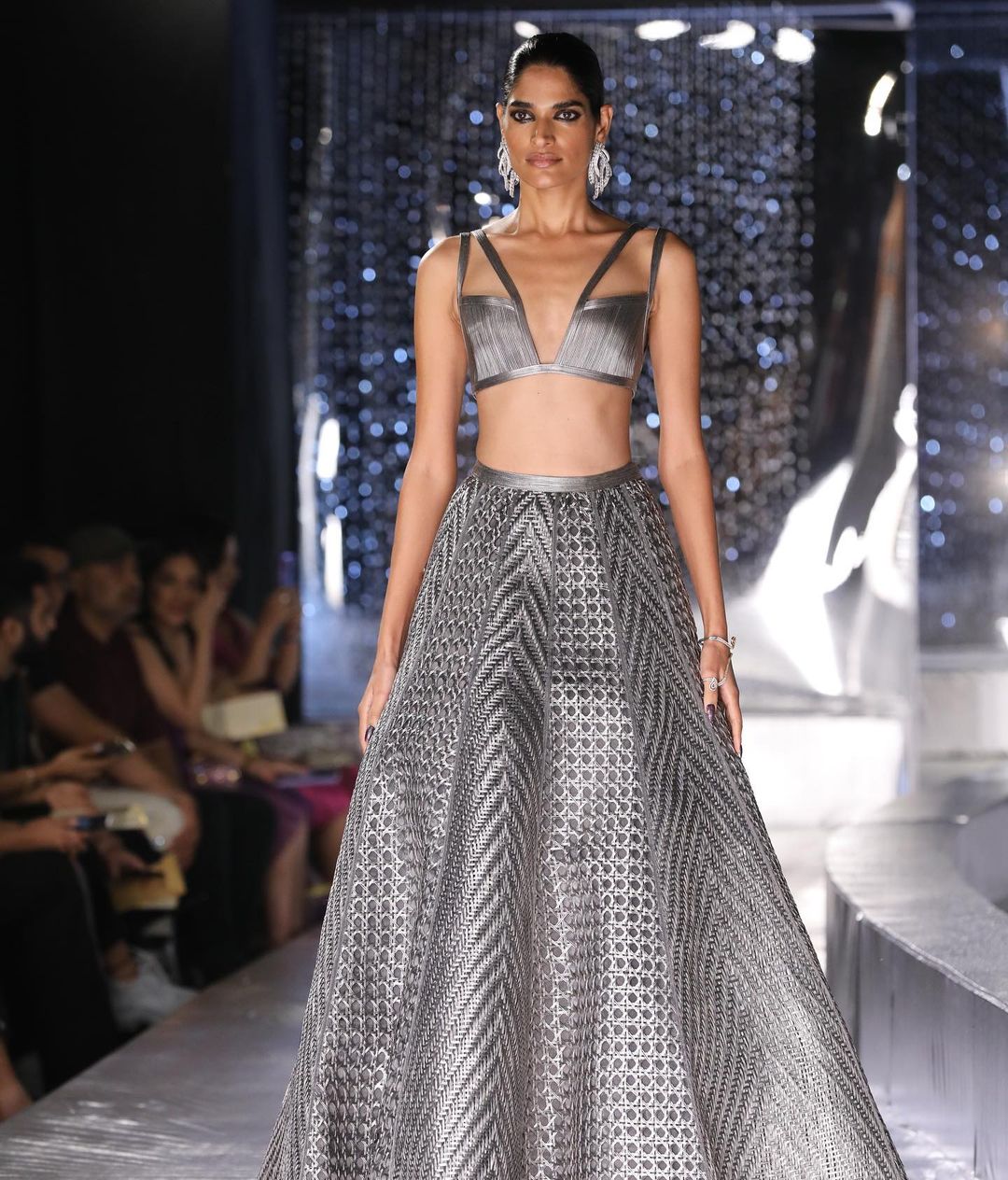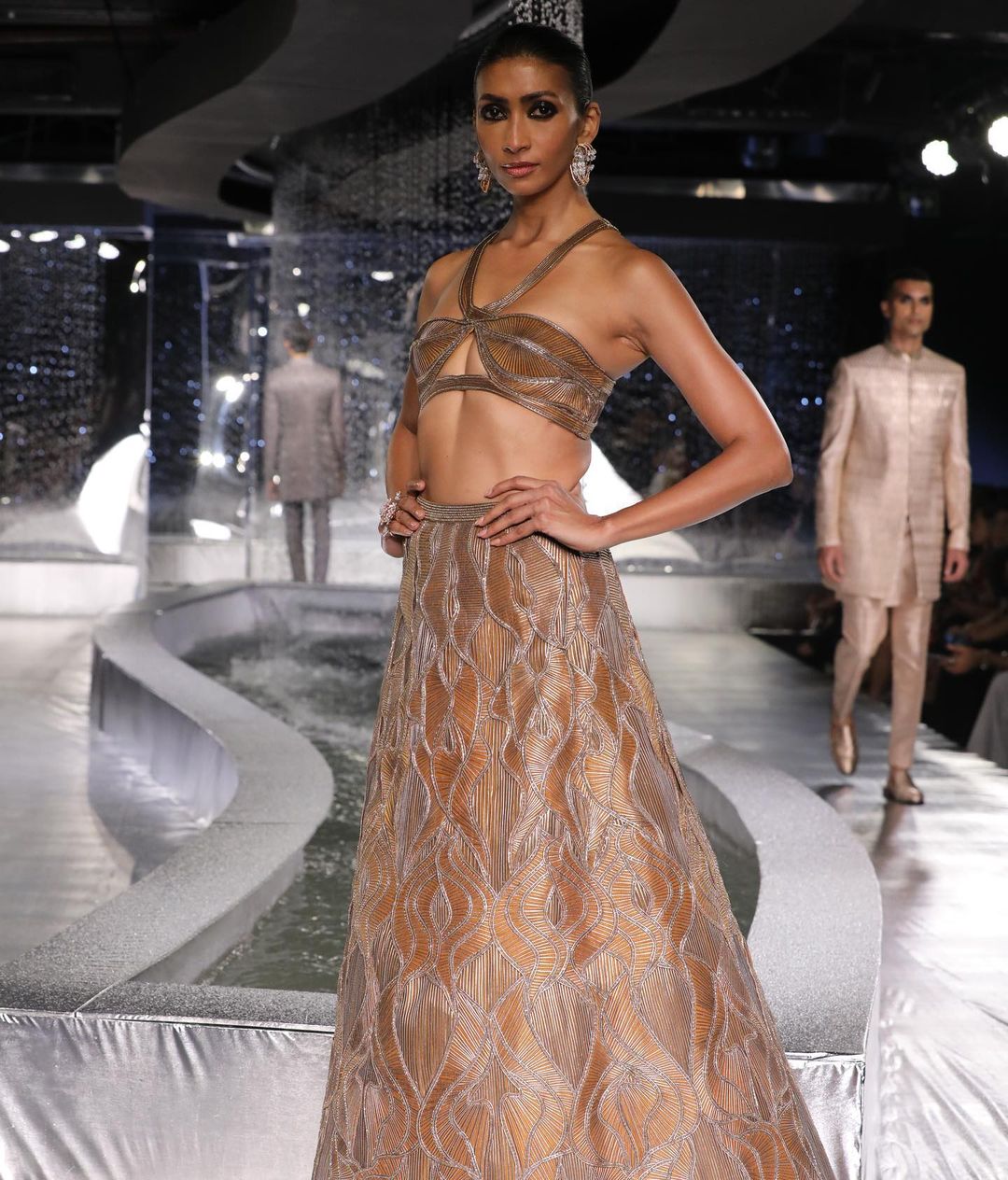 6. Dolly J
Dolly J's collection at India Couture Week 2023 takes inspiration from the mesmerizing presence of the enigmatic Moon, which stands as a timeless symbol of mystery, beauty, and wonder. It features soft, flowing silhouettes and pearly white sequins, metallic tissues, ivory tulle, iridescent silver sequins, burnt copper, washed gunmetal, and deep red hues that embody the mystique of this celestial body.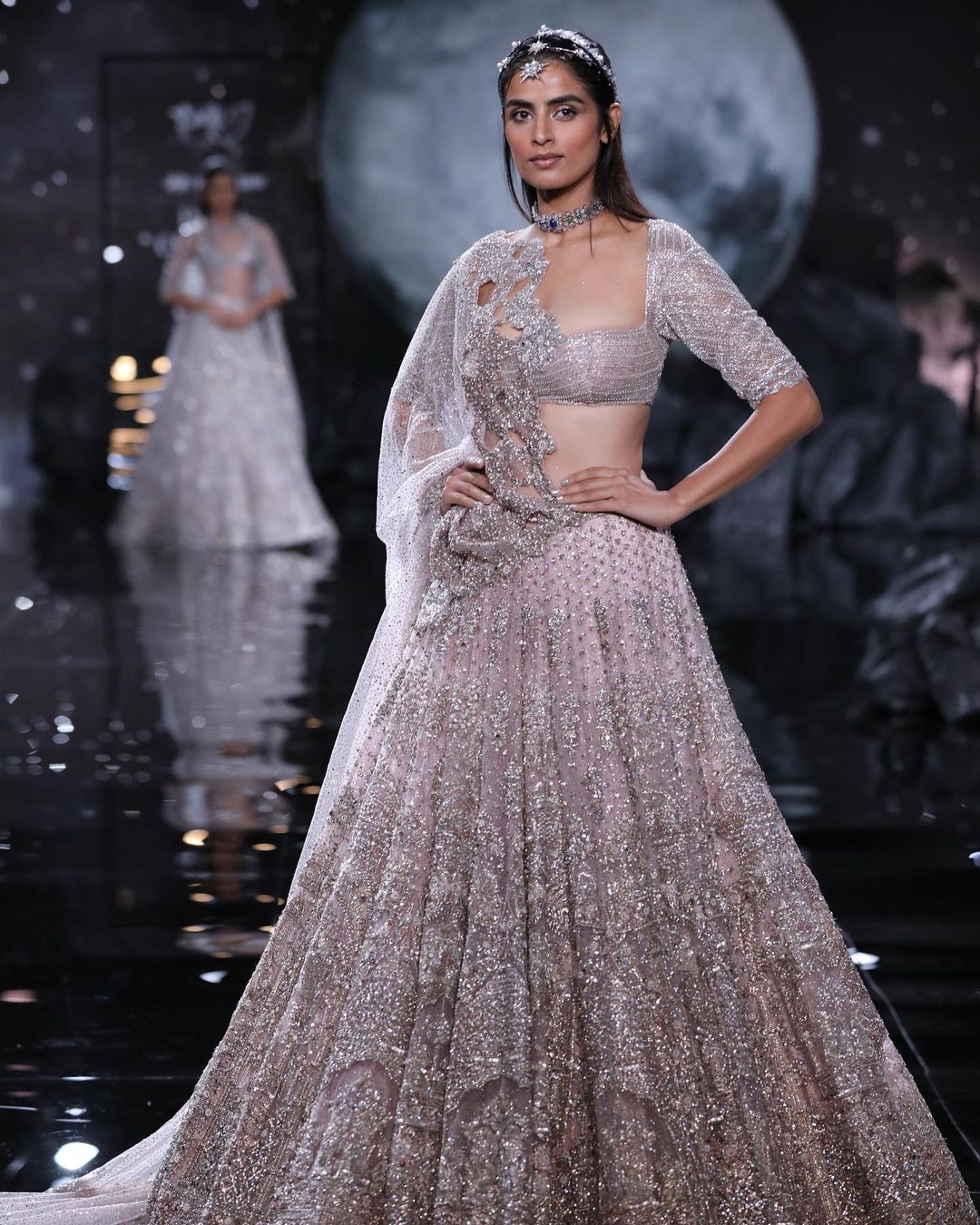 7. Shantanu & Nikhil
Designer duo Shantanu & Nikhil's collection draws inspiration from the ethereal beauty of travel and the allure of a bygone era. It is influenced by the designers' travels across Italy and fuses Indian and Roman elements to create a tapestry of magnificence. The bridal silhouettes feature ornate veils, bejewelled capes, and gloves, along with the duo's signature cocktail gowns.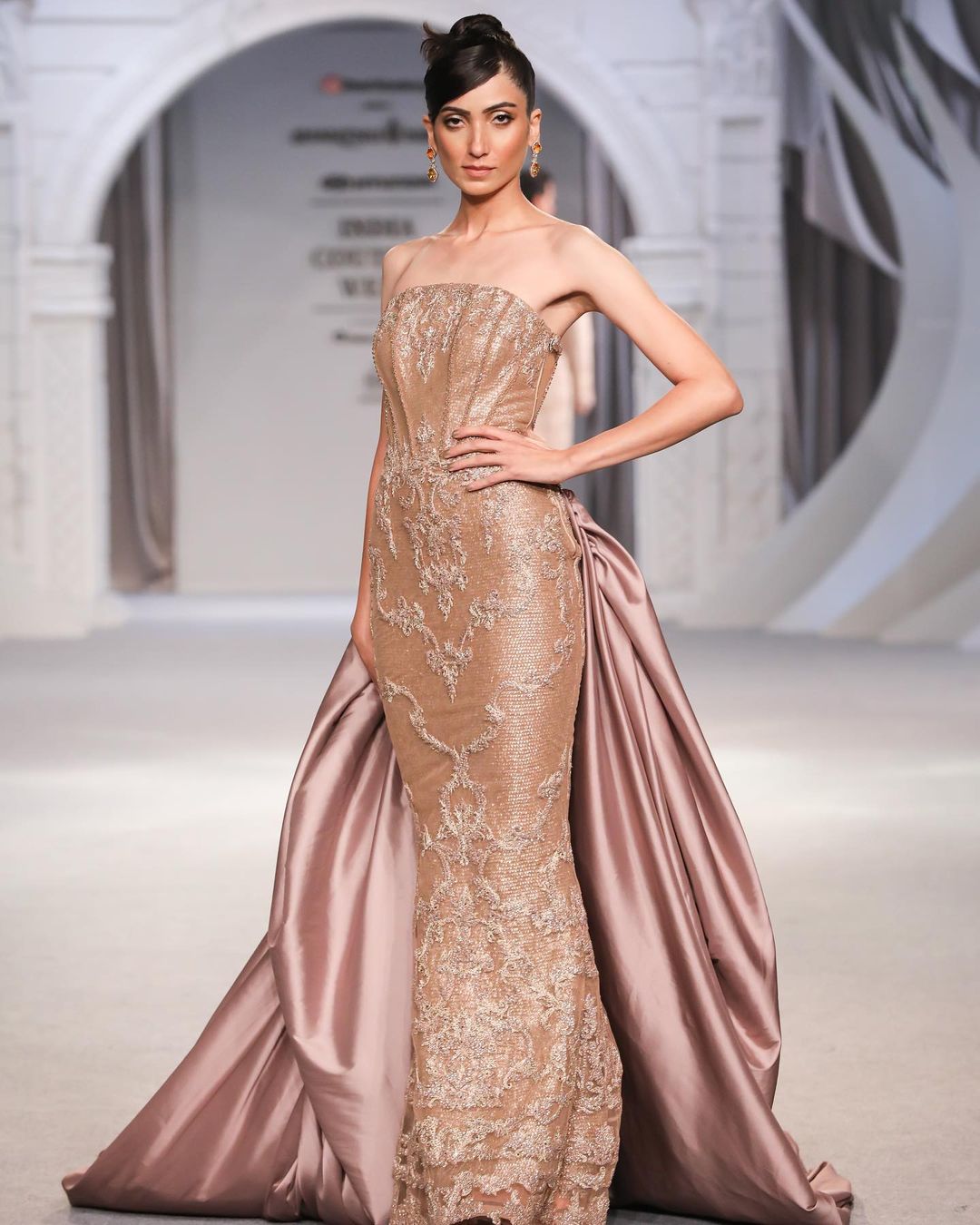 8. Roseroom by Isha J
Isha J's collection 'Romantic Reverie' draws inspiration from the captivating fusion of French Riviera fashion and the allure of Hollywood's Golden Era. Each garment in this collection pays homage to the glamorous vintage era.  The intricate chikankari details, delicate laces, and dreamy organza fabrics intertwine with pearls and crystals, creating playful sophistication, and exclusivity.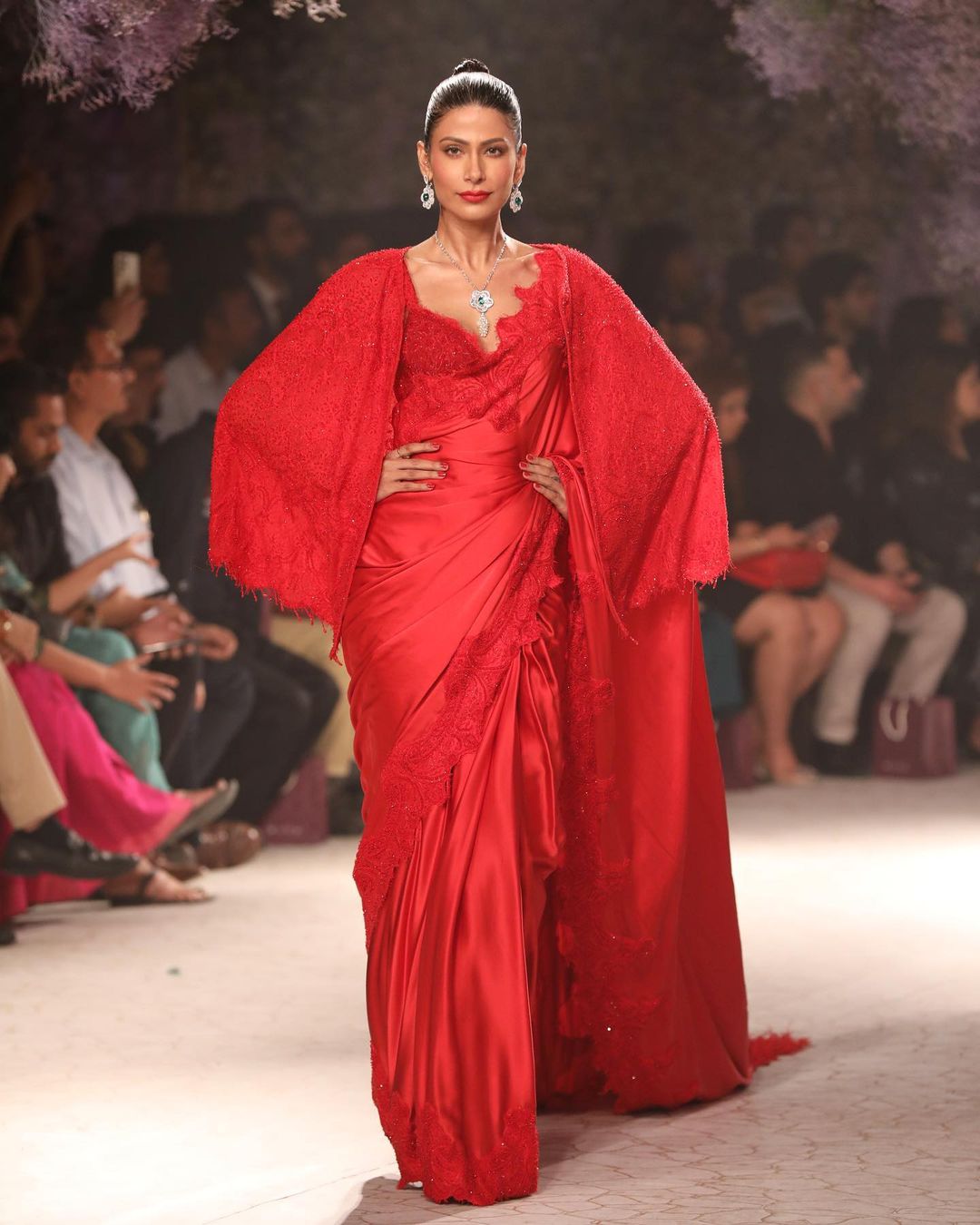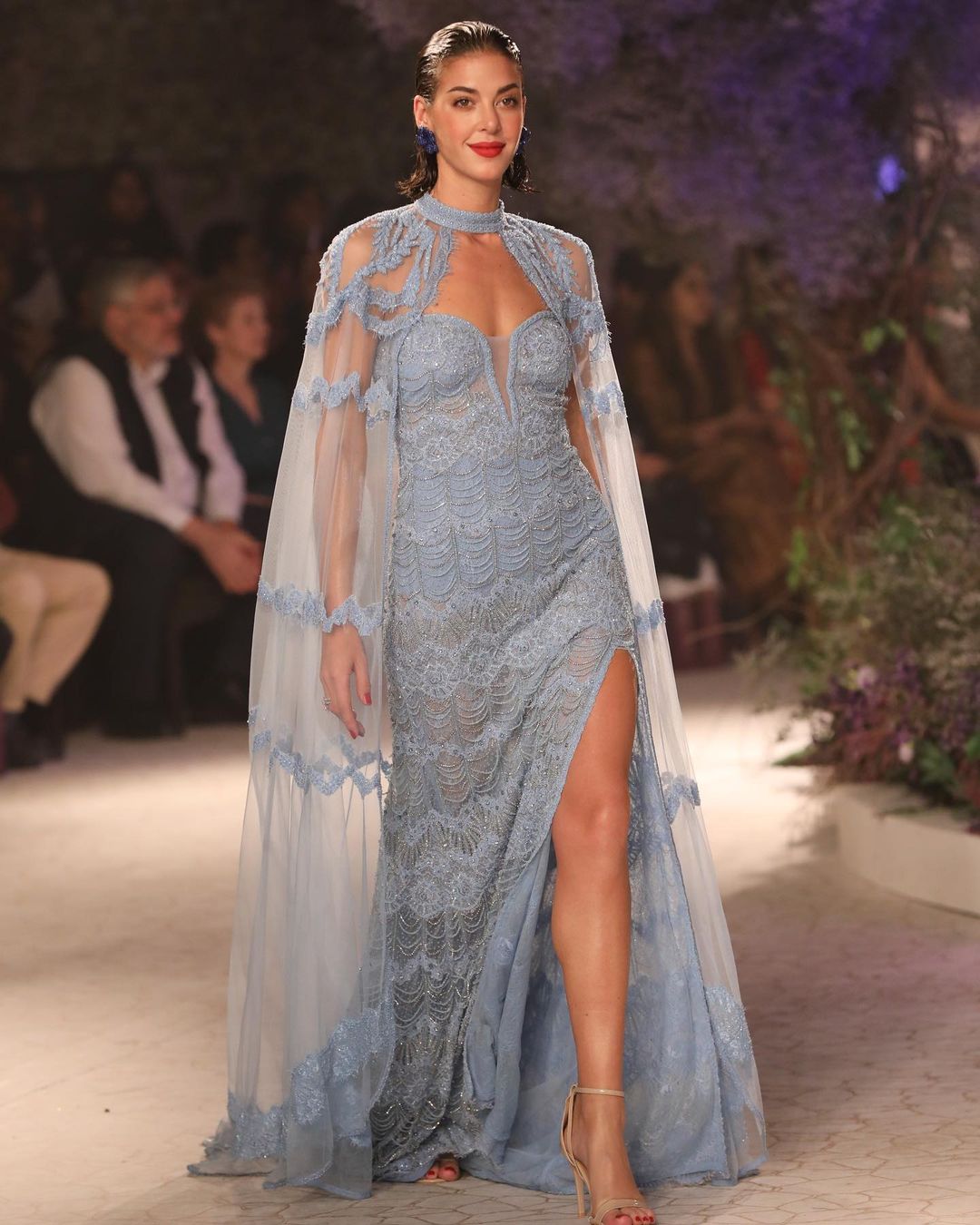 9. Rahul Mishra
'We, The People' by Rahul Mishra strives to draw the enablers of couture, the artisans, to the face of its narrative. The collection showcases some vibrant colours, and floral artwork fusion with metallics to give the feel of the Sundarbans amidst its virgin forest, caressing a majestic tiger.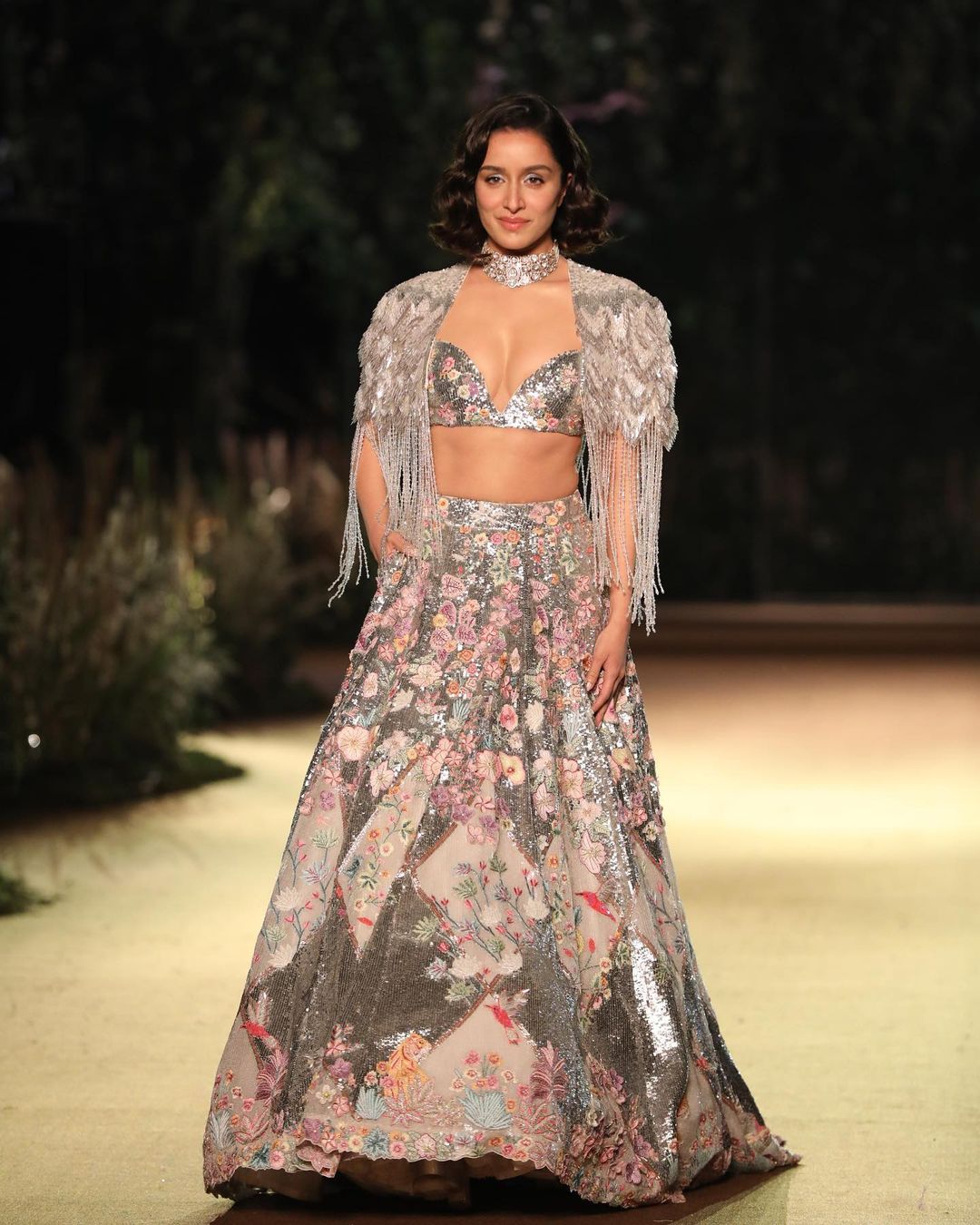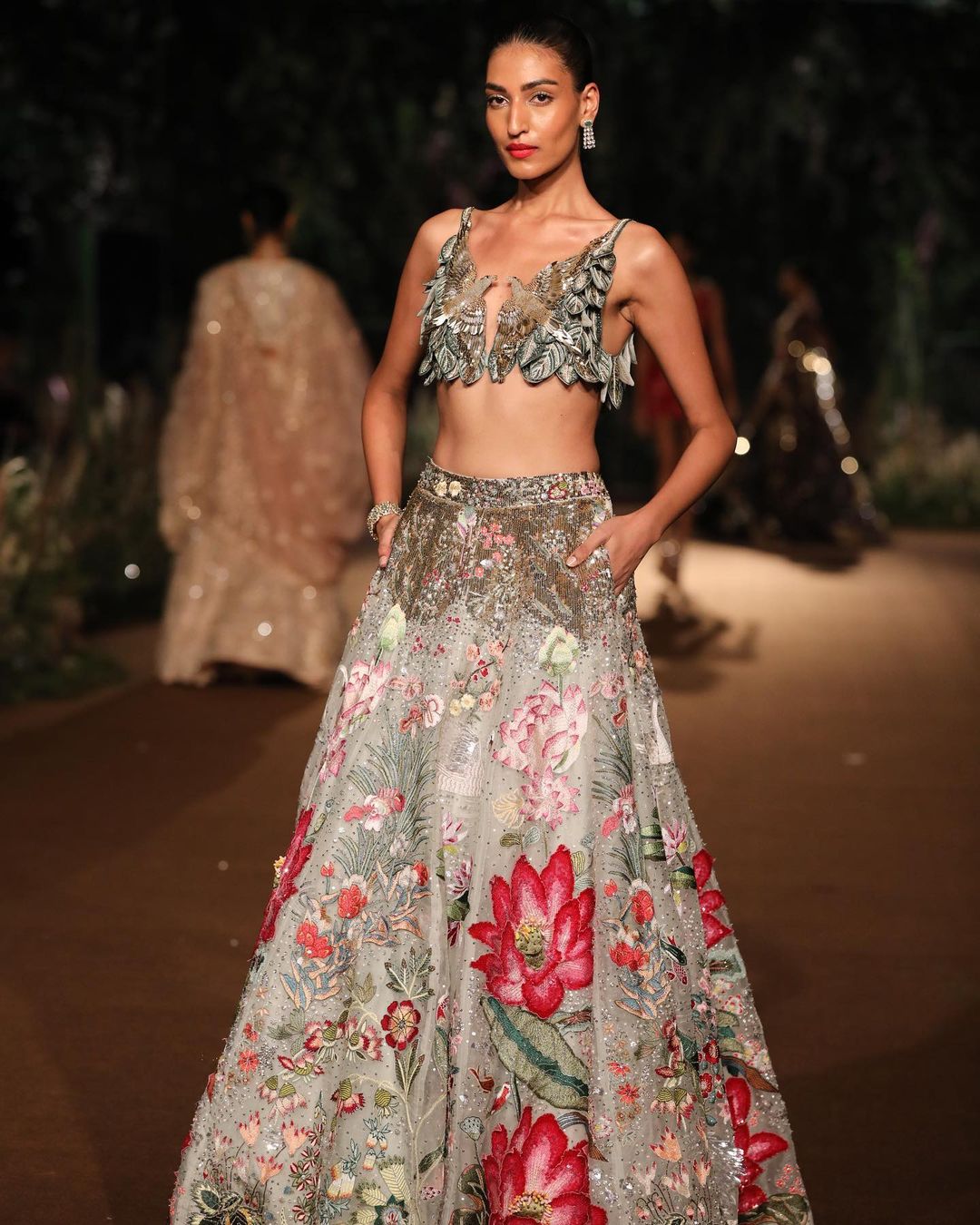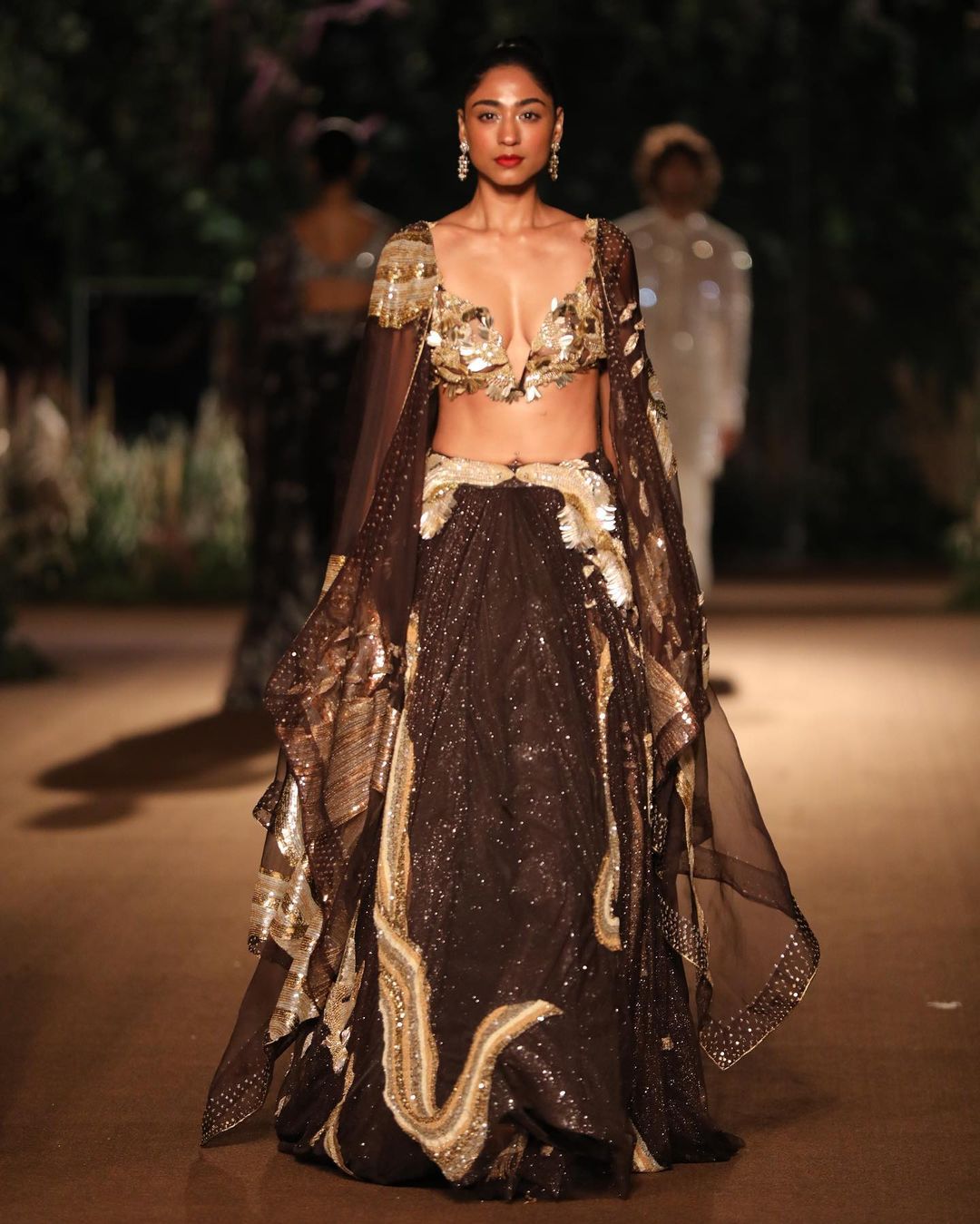 Images Source