The Commonwealth Games 2022 have finally come to a close. This year, India has achieved the impressive feat of winning 61 medals across several sporting events. And 26 of these medals have been won by women. The total medal tally has put India in the top five countries at the CWG 2022 held in Birmingham, UK. Now, that's what we call a fantastic Independence Day gift for the country.
While the men also deserve to be celebrated (and they are), we have chosen to focus on the women who have made the country proud at the Commonwealth Games 2022. This is because, even now in 2022, far too many families stop their daughters from playing sports or trying to make a career in the industry. The sexist thought process of pushing boys to the playing field and girls to the kitchen hasn't gone anywhere yet. So, by highlighting the achievements of these women, we hope to make at least a few families reconsider forcing their daughter away from a sport she loves.
Here are the sportswomen who have won medals for India at CWG 2022.
Annu Rani
With her impressive show at the women's javelin throw event, Annu Rani became the first Indian woman to win a medal for javelin throw at the Commonwealth Games. In her fourth attempt to finish third, Rani threw the spear to a distance of 60m, writing history in the process.
Priyanka Goswami
Known for her fashion sense among sports journalists as much as her athletic achievements, Priyanka Goswami broke a national record and won a silver medal in the Women's 10,000m race walk at CWG 2022, Birmingham. Priyanka says that she became interested in sports because of the bags that the winners would get, but somewhere along the way, she set her sights on historical feats. Her silver medal in Birmingham has made her the first Indian woman to win a CWG medal in the race walk.
Treesa Jolly and Gayatri Gopichand
This dynamic duo showed their mettle and won a bronze medal in women's doubles badminton. Along with that, the team, including Ashwini Ponnappa, won silver medals in the badminton mixed teams event. Incidentally, Gayatri is the daughter of badminton legend, Pullela Gopichand.
PV Sindhu
A fan favourite, PV Sindhu added one more medal to her envious tally. On the last day of the Commonwealth Games 2022, PV Sindhu rewarded the country with a gold medal in the badminton women's singles. This was truly well deserved after a nail-biting match.
Nikhat Zareen
India's rising star in boxing, Nikhat Zareen punched her way to a gold medal in the women's over 50kg light flyweight category. After her phenomenal victory at the World Championship, Nikhat Zareen was a medal contender at CWG 2022 from the beginning. And she has exceeded all expectations! This was Nikhat's first gold medal at the Commonwealth Games.
Nitu Ghangas
Two-time world youth champion and CWG debutante, Nitu Ghangas shocked her opponents with her boxing technique and skill. And all her efforts bore fruit with a gold medal in the women's 48kg category. In fact, Nitu Ghangas won India's first medal in boxing in the CWG 2022, leading the way for many more.
Jaismine Lamboria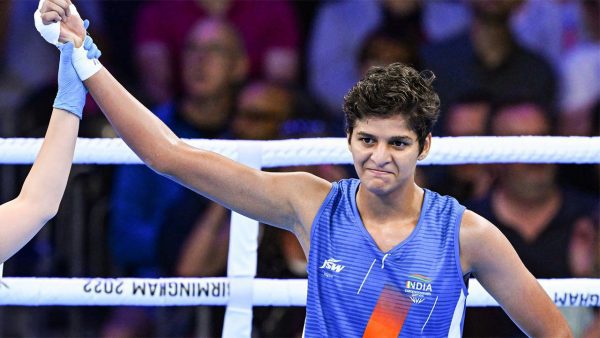 Boxer Jaismine Lamboria is only 20 but she is already setting goals for young women across India. Even though she lost the semi-finals, Jaismine made her country proud by securing a bronze medal in the women's lightweight category. Watch out for this star in the making!
Indian cricket team
In their first-ever CWG cricket final, the Indian women's cricket team bagged a silver medal in T20. They lost the gold to Australia by 9 runs but made sure they put up an exhausting fight before settling for silver. Their campaign at the CWG 2022 has shown that Harmanpreet Kaur and her girls are forcing the sporting world to sit up and acknowledge their calibre.
Indian hockey team
India beat New Zealand in a shootout to clinch the bronze medal at the Commonwealth Games 2022. This was India's first medal in women's hockey at the CWG in 16 years. This was one of the many achievements that have been bagged by the Indian women's hockey team in the recent past. And they don't seem to be stopping anytime soon.
Related: Indian Women's Hockey Team Makes History At The Olympics: Know The Champs
Tulika Maan
Judoka Tulika Maan won silver in the women's 78 kg category, the biggest achievement in her sporting career so far. In fact, the 23-year-old came within a minute of winning gold but lost to top-seed Sarah Adlington. Raised by a single mother who enrolled her in a judo academy to fend off the child's boredom, Tulika persevered and trained hard to reach the international stage. And today, both her and her mother's hard work has paid off.
Shushila Devi Likmabam
Another massive win for martial arts in India, Shushila Devi Likmabam bagged a silver in the women's 48 kg category. After narrowly losing the gold to Michaela Whitebooi, Shushila Devi won the second CWG silver of her career in judo. While everyone watched the bout, not many knew that Shushila Devi was playing with stitches on her knee.
Lovely Choubey, Rupa Rani Tikrey, Pinki, Nayanmoni Saikia
These are the four women who made unexpected history at the CWG 2022. India's first-ever medal in lawn bowls was none other than gold, bagged by this formidable team. While Rupa and Lovely are from Ranchi, Nayanmoni comes from Assam, and Pinki is a Delhi girl. And together, the four are now national heroes.
Dipika Pallikal
Dipika Pallikal and Saurav Ghosal won a bronze medal in the mixed doubles squash event at the Commonwealth Games 2022. This was India's second squash medal in Birmingham. And this was no small feat since Dipika returned to the game recently after giving birth to twins in October last year.
Sreeja Akula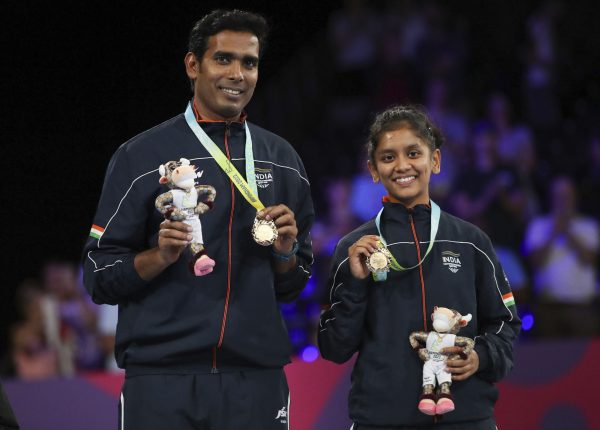 Sreeja Akula won her maiden CWG medal this year, teaming up with Sharath Kamal in the mixed doubles table tennis event. The duo defied all odds and won gold in their category. While Sharath is seasoned in the game, this was Sreeja's first medal at the Commonwealth Games. And we think it's the first of many.
Bhavina Patel
India's star para table tennis player, Bhavina Patel, added another feather to her cap at the Birmingham CWG. She won a gold medal in the women's singles class 3-5. The 35-year-old had previously won a silver at the Tokyo Paralympics.
Sonalben Patel
Another win in the para table tennis event, Sonalben Patel won a bronze medal in the women's single classes 3-5. She overwhelmed her opponent, England's Sue Bailey, in straight sets and added to India's impressive medals tally.
Harjinder Kaur
After a dramatic final, India's Harjinder Kaur bagged a bronze medal in the women's 71kg category in weightlifting. Even though she started rocky, Harjinder Kaur bounced back and demonstrated how to perform under immense pressure. She defeated Australia's Kiana Elliot in a close fight and made her way to the podium.
Bindyarani Devi Sorokhaibam
Another Indian weightlifter who shone bright in the crowd was Bindiyarani Devi Sorokhaibam. While achieving her personal best with the 116 kg clean and jerk lift, Bindiyarani also smashed the CWG record. So, it's no surprise that this superstar comes home with a silver medal in the women's 55 kg category.
Saikhom Mirabai Chanu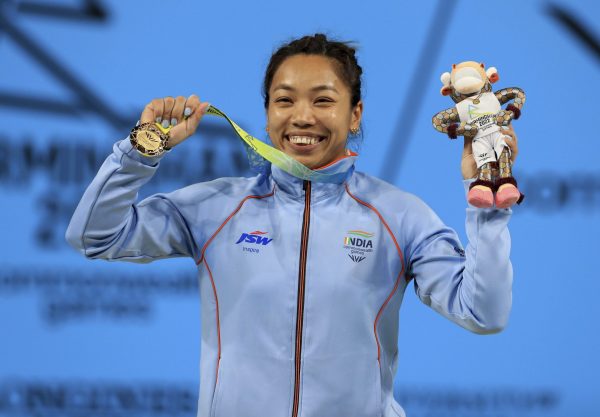 Speaking of Indian weightlifting superstars, how can we forget the woman who is now a legend across the world? Fulfilling every expectation, Saikhom Mirabai Chanu won a gold medal in the women's 49kg category. Apart from the accolades at home, Saikhom Mirabai Chanu also earned the appreciation of actor Chris Hemsworth who plays the role of Thor in the Marvel Cinematic Universe. In a tweet that delighted Indian Marvel fans, Hemsworth said that she is worthy of Thor's legendary hammer.
Pooja Sihag
India's Pooja Sihag won a bronze medal in the women's freestyle 76kg category in wrestling. In the deciding bout against Australia's Naomi de Bruine, Sihag showed a winning combination of strength and strategy. After her victory, she credited her coach with preparing her mentally to win a medal.
Vinesh Phogat
Another bright star in the world of wrestling is Vinesh Phogat who bagged a gold medal in the women's freestyle 53kg category. After going through a rough patch professionally, Vinesh Phogat made a thundering comeback in Birmingham. Vinesh, who is now a three-time CWG gold medallist, said she changed her entire training prior to the Commonwealth Games 2022 to achieve these heights again.
Pooja Gehlot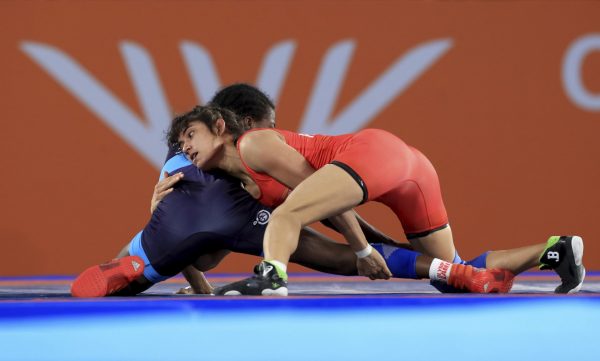 This is a name that will probably feature in these lists more and more in the next few years. India's Pooja Gehlot won a bronze medal in the women's freestyle 50kg category in wrestling. This was the first major senior international medal for the former world junior silver medallist. And even though the country rejoiced at her podium finish, it wasn't enough for Pooja Gehlot who wanted nothing less than the gold. Well, we can't wait to see the laurels she brings to the country now.
Divya Kakran
Indian grappler Divya Kakran clinched a bronze medal in the women's freestyle 68kg category. And this was no surprise for anyone who watched the deciding bout because her skill was at its best. In fact, Kakran was assured of the medal in just 26 seconds via Victory by Fall.
Sakshi Malik
You will remember Sakshi Malik as the legend who became India's first woman to win a gold medal in wrestling at the Olympics. This was back in 2016. Now, in 2022, Sakshi Malik has proved that she is here to break records for a long time. At the CWG in Birmingham, Sakshi won a gold medal in the women's freestyle 62 kg category, earning her the title of 'comeback queen'. Earlier, in 2014, she had bagged a silver medal, and in 2018, she had to settle for bronze.
Anshu Malik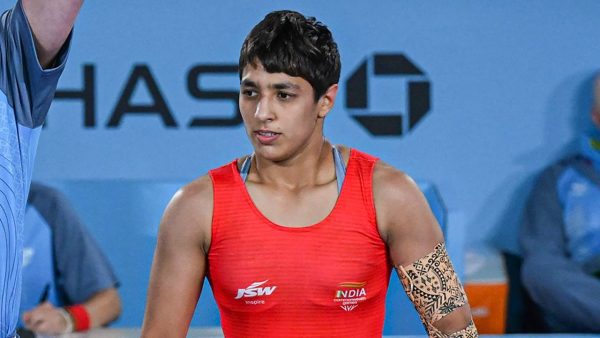 Twenty-one-year-old Anshu Malik opened the medals tally at CWG 2022 for India's wrestling contingent. She won a silver medal in the women's freestyle 57kg category, losing only to Nigeria's Odunayo Folasade Adekuoroye who had won gold in the past two Commonwealth Games. Before this, Anshu had pretty much sailed through to the final, making her part of the elite group of medallists at the CWG. Here's the fun part–Anshu won this silver medal on her 21st birthday.
Yet again, these women have proved that sports are not the exclusive domain of men. So, don't cut your daughter's wings. Let her fly and watch with pride as she achieves new heights. Maybe someday, her name will feature with these medallists.