After a month of fasting, it is time for the auspicious occasion of Eid ul-Fitr. After the holy month of Ramzan, where Muslims fast throughout the day, they will enjoy their first daytime meal on Eid. The first of the two Eids celebrated by Muslims around the world, Eid ul-Fitr is also known as meethi Eid or chhoti Eid. The day is marked with prayer, offerings, and feasting. So, to make your Eid celebrations delicious and extravagant, try these six recipes.
Related: Ramadan 2022: 5 Easy Iftar Recipes That Will Delight Your Taste Buds
1. Mutton Seekh Kebab
Ingredients:
Mutton – 350 gms
Coriander leaves – 1 tbsp finely chopped
Green chilli – 3 finely chopped
Ginger-garlic paste – 1/2 tbsp
Cumin powder – 1/2 tsp
Red chilli powder – 1/2 tbsp
Garam masala – 1/3 tsp
Chaat masala – 1 tbsp
Lemon juice – 2 tbsp
Salt – as per taste
Butter – 2 tsp
Method:
Thoroughly wash the mutton and mince it. Add the chopped green chillies and coriander leaves to the minced mutton and mix them well. Transfer the mix into a bowl and add ginger-garlic paste, salt, and the rest of the spice powders. Mix them well.
With moist hands, pat the mixture and shape them into kebabs. Put the kebabs onto skewers and place them into a tandoor. Cook them till they turn reddish-brown. Once done, remove the kebabs from the tandoor and brush them with butter. Add some lemon juice and sprinkle some chaat masala on the kebabs.
Alternatively, you can make the kebabs in a microwave by using the grill function.
2. Murgh Musallam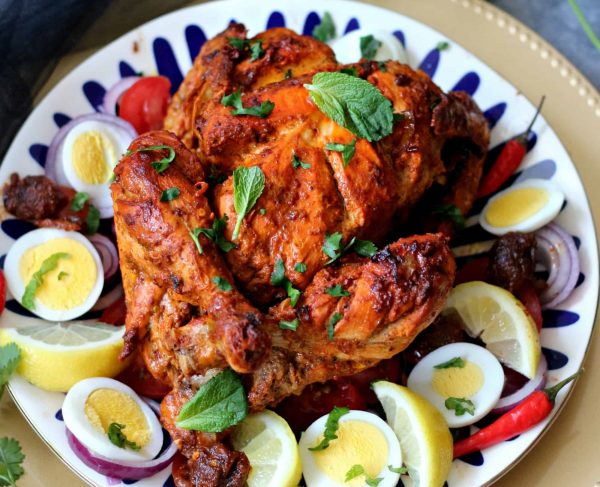 Ingredients:
Chicken – 1 whole, washed and cleaned thoroughly
Ghee – 2 tbsp
Water – 2 cups
Curd – 1/2 kg, beaten to a creamy consistency
Onions – 4 large, sliced
For paste:
Khus-khus – 1 tbsp
Cinnamon – 8 sticks
Cumin – 1 tbsp
Black cumin (shahjeera) – 1 tbsp
Black peppercorns – 10
Black cardamoms – 2 large
Cardamoms – 7
Cloves – 7
Ginger – 4-inch piece
Garlic – 1 whole
Red chillies – 6-8
Salt – to taste
Method:
Fry the sliced onions till they turn golden brown and set them aside. Grind the ginger, garlic, and all the spices into a smooth paste. Marinate the whole chicken completely from the inside and outside. Let it sit for at least 2 hours.
In a large vessel, heat ghee. Once it's hot, add the marinated chicken and fry it till it turns brown. Add water into the vessel and cook covered, till the chicken is tender.
Add the beaten curd, salt, and fried onions on top. Simmer for 10 minutes.
3. Pashtooni Zarda Pulao
Ingredients:
Rice – 750 gm
Ghee – 200 gm
Khoya – 150 gm
Cardamom – 6
Black cardamom – 6
Cinnamon sticks – 2
Bay leaves – 2
Cloves – 4
Fennel seeds – 5 gm
Cashew – 50 gm
Pistachios – 25 gm
Raisins – 50 gm
Almonds – 25 gm
Saffron – 1 gm
Rosewater – 1/2 tsp
Sugar – 200 gm
Milk – 1/2 cup
Water – 10-15 cups
Method:
Mix milk, saffron, rose water, and sugar in a bowl and set aside. Soak the rice in water for an hour and then drain.
Add water to a pan to boil. Once it comes to a boil, add the soaked and drained rice and cook. But don't let the rice cook fully. Strain the water from the rice and mix half the ghee with it. Add the remaining ghee to a pan and heat it. Put in all the dry fruits and fry till they are golden brown.
Add the whole spices and fry them for 30 seconds. Then, add the milk mixture and bring to a boil. Once boiled, add the rice and cook on low flame, covered, for 10-12 minutes.
Garnish with khoya and nuts.
4. Hyderabadi Chicken Dum Biryani
Ingredients:
For marinade:
Chicken – 500 gm
Salt – to taste
Shahi jeera – 2 tsp
Cardamom – 5
Cinnamon – 1 stick
Turmeric – 1 and 1/2 tsp
Chilli powder – 1 tbsp
Mace powder – a pinch
Ginger-garlic paste – 1 tbsp
Green chilli – 2
Browned onion – 3/4 cup
Mint leaves – 1 cup
Curd – 1 and 1/2 cup
Oil – 1/4 cup
For rice
Water – 3 litres
Salt – 3 tbsp
Cardamom – 3 to 4
Green chilli – 1
Soaked basmati rice – 2 cups
Water from blanched rice – 1 cup
Saffron – one pinch
Dough – for sealing
Method:
Soak the basmati rice for 30-45 minutes. Place the saffron in a bowl and add 3 tbsp of boiling water and wait till it releases its colour.
Wash and pat dry the chicken. Add the chicken and all the marinade ingredients and mix them well.
In a handi or a deep vessel, add water and bring to a boil. Add salt, cardamom, and green chilli, and boil for 5 minutes. Drain the water from the rice and add it to the boiling water in the handi. Stir lightly for 2 minutes and turn off the gas. Strain the rice using a sieve and retain the water from the rice.
In a deep vessel, spread half the rice. Carefully layer the marinated chicken over it. Cover the chicken with the remaining rice. Add 2 cups of water from the strained rice. Drizzle saffron water on top.
Apply the dough to the edges of the vessel and cover it with a lid. Press the lid gently so that the dough seals the lid to the vessel. Place the vessel on high heat for 2-3 minutes. Then, lower the heat and let it cook for another 10-12 minutes. Turn off the heat and let it sit for another 10 minutes.
Garnish with nuts, fried onions, and coriander, and serve.
5. Bread Kheer
Ingredients:
Bread – 4 slices
Oil – 1 cup
Milk – 1 kg
Condensed milk – 1 tin
Milk powder – 1 cup
Boiled rice – 1/2 cup
Sugar – 1/2 cup
Cardamom powder – 1/2 tsp
Pistachio – 2 tbsp
Almonds – 2 tbsp, crushed
Silver paper – 2
Method:
Cut bread into small pieces and fry them for 3-4 minutes or till they turn golden and crispy. Remove the bread from the oil and drain it on tissue paper.
Use a deep pan to boil milk in it. Once boiled, add cooked rice and fried bread to it. Cook on low heat for 30 minutes and wait for the milk to thicken. Add sugar and increase the flame. Add cardamom powder, condensed milk, and milk powder. Cook for 5-6 minutes till it is done.
Garnish with pistachios, almonds, and silver paper.
6. Sheer Khurma
Ingredients:
Vermicelli – 40 gm
Desi ghee – 3 tbsp
Chironji – 1 tbsp
Pistachio – chopped, 1 tbsp
Walnut – chopped, 1 tbsp
Almond – chopped, 1 tbsp
Dates – 5 to 7
Milk – 1 litre
Saffron – a pinch (optional)
Cardamom powder – 1/2 tsp
Sugar – 1/2 cup
Method:
Add 1 and 1/2 tbsp ghee to a pan. Add chironji, pistachio, almonds, walnuts, and dates to the ghee and stir. Pour milk and add saffron, cardamom powder, and sugar into it. Cook till the milk reduces to half. Keep stirring while you cook the milk.
In a separate pan, add the remaining ghee and vermicelli. Stir on low heat till the vermicelli turns light brown. Add the reduced milk to it and cook for 8-10 minutes. Remove from the heat and serve.
Featured Image Source
Related: Ramzan In Quarantine: 7 Delicious And Easy Iftar Recipes For One