Cucumbers are the best source of hydration in the summer apart from the good ol' trusted H2O. But eating a cucumber as it is, even with a sprinkling of salt and some lemon juice, gets boring pretty fast. So, here are some quick and easy cucumber recipes that you can make in 30 minutes or less to keep you refreshed and hydrated this summer.
1. Cucumber raita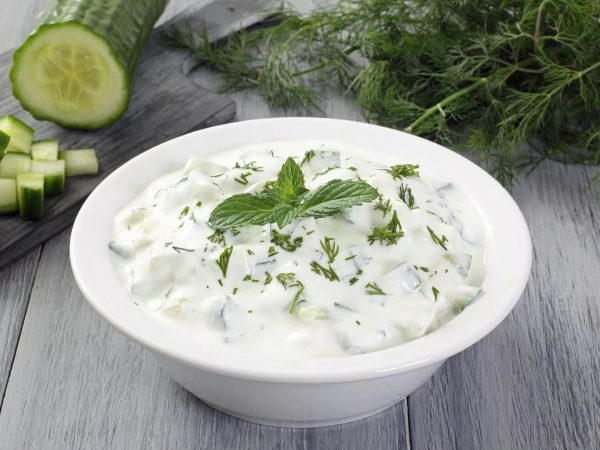 Ingredients:
1 cup curd
1/2 tsp chaat masala
1 medium cucumber grated or finely chopped
1 tsp roasted cumin powder
1/2 tsp Kashmiri chilli powder
1 tbsp coriander, finely chopped
Salt, to taste
Method:
In a bowl, take one cup of curd and whisk till it is smooth. Add the finely chopped or grated cucumber to the curd and mix well. Add all the spices to the cucumber and curd and combine them well. Finally, add the chopped coriander leaves to the raita, mix well and serve with rice, biryani, roti or parathas.
2. Chilled cucumber soup
Ingredients:
2 cups cucumber, chopped
1/2 cup curd
1/2 tbsp garlic, chopped
1/4 cup parsley, chopped
2 tsp olive oil
Salt, to taste
Method:
Add the cucumber, garlic, curd, parsley, salt and olive oil in a mixer, and blend them into a smooth paste. Pour the paste into a bowl and refrigerate for 30-45 minutes. Garnish the soup with some parsley and serve chilled.
3. Cucumber mint cooler
Ingredients:
1 large cucumber, chopped
2-3 thin slices of cucumber
2 tbsp sugar
Few mint leaves
2 tbsp lime juice
1 tsp black salt
1 cup ice
2-3 lemon wedges
Water, as required
Method:
Cut 2-3 thin cucumber slices and soak them in ice cold water for 10-15 minutes. Chop the remaining cucumber and add them to a blender. Add sugar, mint leaves and a cup of water, and blend into a smooth mixture. Strain the mixture to derive the maximum liquid and discard the pulp. Add lime juice, black salt and two cups of water to the mixture, and mix it well. In a glass, add the sliced cucumber pieces and pour the drink into it. Garnish it with lime rings and a couple of mint leaves. Serve chilled.
4. Cucumber and scrambled egg sandwich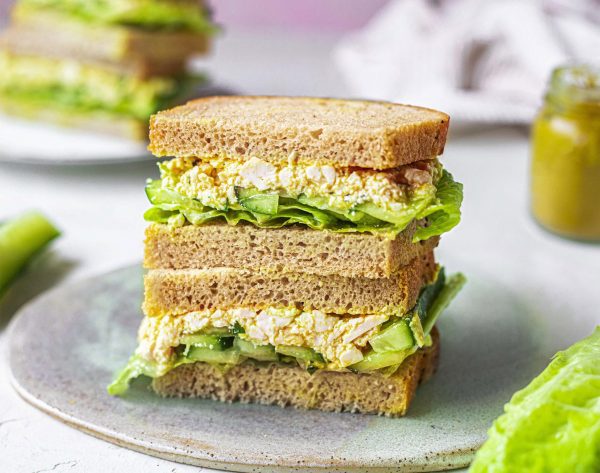 Ingredients:
4 slices whole wheat bread
2 whole eggs
1 cucumber, finely chopped
Cheese spread, as required
1 tbsp butter
Salt, to taste
Black pepper, to taste
Method:
Whisk two eggs in a bowl until they are fluffy. Add salt and pepper to the eggs and whisk once more. On a non-stick pan, heat 1 tbsp butter and add the eggs to it. Cook the eggs on medium heat while stirring them continuously. Once the eggs are cooked, set them aside.
Take a slice of bread and spread cheese as required. Place the thinly sliced cucumber on the bread and add salt and black pepper. On top of this, add some scrambled eggs and cover it with the second slice of bread and press it down. You can choose to grill the sandwich in a sandwich maker or serve it untoasted.
5. Cucumber pancakes
Ingredients:
3 medium size cucumbers, grated
1/2 cup onion, chopped
2 cups besan
1/2 cup rice flour
1/2 tsp turmeric
1 tbsp ginger garlic paste
1/4 cup of mint leaves
1 green chilli
2 tbsp cooking oil
Salt, to taste
Water, as required
Method:
In a bowl, add the grated cucumber and the rest of the ingredients, except water. Mix them well and set aside for 10 minutes. After 10 minutes, add water slowly and make a slightly runny batter. Place a pan on medium heat and coat it with cooking oil. Pour the batter into the pan and use a round bottom spoon to flatten it. Cover the pan for a minute to let the pancake cook. Once it turns golden on the edges, flip the pancakes and cook the other side. Serve hot with mint chutney or sauce.
6. Cucumber curd rice
Ingredients:
1 cup cooked rice
1 cup curd
1/2 cup cucumber, grated
2 tbsp carrot, grated
1 tsp cumin seeds
1/2 tsp asafoetida
1 tbsp coriander leaves, finely chopped
A few curry leaves, chopped
1-2 slit green chillies
1 tbsp ghee
Rock salt, to taste
Method:
In a bowl, whisk the curd and add the cooked rice, grated cucumber and carrot, chopped coriander, rock salt, and mix well. To make the tempering, in a pan, heat some ghee and add cumin seeds, asafoetida, slit chillies, and curry leaves and sauté for a minute. Pour the tempering over the rice and curd mixture and mix them well. Serve immediately.
Featured Image Source
Related: 7 Litchi Recipes To Give Your Summer Menu A Refreshing And Zingy Spin