Decoupled is the story of Shruti, a venture capitalist, and Arya, an author, two people who are co-parents and are staying together despite not being together for the sake of their daughter. They look like the perfect urban Gurgaon couple, but within their relationship, there is deep set resentment. So, they decide to separate but are torn about how to break the news to their daughter, Rohini.
Created and written by Manu Joseph and directed by Hardik Mehta, Decoupled starts on a hilarious note that also highlights the sad realities of the "marriage" in focus. However, we see more of Arya and his problems with life in the show. Surveen Chawla's Shruti is mostly just the frustrated ex-but-not-ex-wife.
As Decoupled progresses, Arya and Shruti get into a childish game of oneupmanship while still trying to figure out how to tell their family about their impending divorce. While figuring out this problem, they also have to fix other, smaller problems like handling the house help, outselling Chetan Bhagat, and keeping their child out of trouble.
This is not a conventional show for Indian audiences, and it's not as good as you would think it is. Decoupled has far too many moments that you know have been added purely for their shock value. It has massive problems in how the story focuses majorly on Arya and doesn't tell us much about the kind of person Shruti is. The gyaan that the self-declared important men of society keep giving about women is highly unnecessary. For example, sexually active women know how to orgasm. It's the men who don't know this. Also, figuring out a woman's ovulation date with an app is not a novelty in 2021, guys. There's no need to milk it for humour or shock value.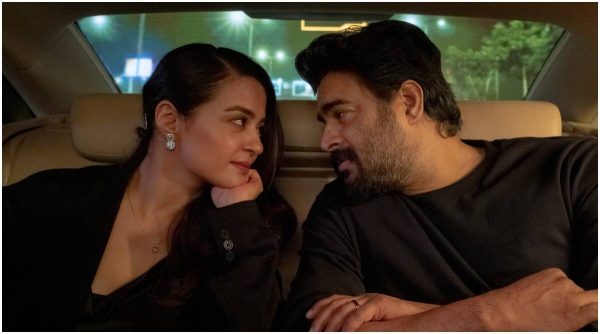 This is the kind of show that would've been fantastic in the hands of a woman or a writer who thinks lesser of himself. Manu Joseph has tried too hard to make Decoupled funny but this brand of humour may have worked in the early 2000s, not now. It's the kind of humour that one expects to hear at shady bars. Halfway through the show, it becomes horribly unfunny and offensive when the size of a woman's hips or her underarm hair are presented in a manner to make you laugh at them. No, I did not laugh when Madhavan gagged at the sight of hair or a woman who did not look like a model. So, it came as no surprise when the writer made it obvious that they do not think much of the #MeToo movement. People like human rights activists, intellectuals, mothers looking out for their kids, or just people who work in corporate India are portrayed as satirical characters in the show. At this point, Decoupled becomes a regurgitation of sick jokes made by back-slapping creeps who think every woman wants them.
The story was a great concept handled poorly and rather childishly by everyone involved. We're supposed to laugh at a man's complete disregard for his companion's work or just basic common courtesy. And after a while, it's just intolerable to watch. The attempt to make something shocking and bold falls flat when you realise there is nothing beyond this in Decoupled.
The expectations were high when we saw R Madhavan and Surveen Chawla coming together for something so different. It is disheartening to see their talents wasted in a show that does them no justice at all. If you want an overdose of dated humour set in 21st century urban India, watch Decoupled. But if you're not in the mood to cringe every 10 minutes or so, Manu Joseph's Decoupled can be avoided.
Featured Image Source