Hello, lovelies! It's Bridgerton day today and I am so excited! We are going to see Anthony Bridgerton make a fool of himself in his quest to find a wife. Or is he? Can't say yet. I must say though, I do lament the lack of the very hot Duke of Hastings. Where did you run off to, Simon? Even before I start watching the series, let me just cry a bit for him. I do hope Anthony and Kate make up for it, or else I might have a fainting spell. Well, dearies, let me share with you my experience as I navigate through 19th century London while the Viscount finds love.
I watched the first two episodes of Bridgerton S2 today, and boy, sitting through them was not easy. It would have helped if I had my Duke. Just sayin'.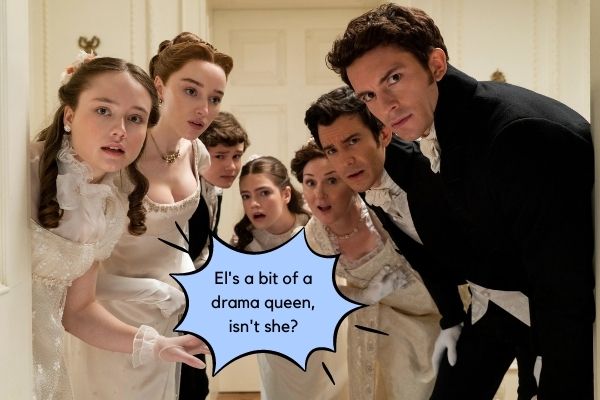 Dearest Eloise already has the maids upset and the family worried. Daphne even had to leave her husband and son back home for it. Is this how a young lady is supposed to behave?
The Queen wants adventure this season and that's exactly what she is going to get. Someone unexpected is definitely coming to turn the season on its head. I can feel it in my bones.
Well, duh! Of course, Lady Whistledown is a part of the ton.
Controlled emotions and staying composed – they are not really things that go well together. Eloise's mother should know better.
"Tolerable, dutiful, suitable enough hips for childbearing and at least half a brain" – Uh, I don't think Anthony wants a wife. He is looking for something else altogether.
Daphne dearest is absolutely right. Anthony will need all the luck this season. After all, the poor man has such low expectations of a wife. Wherever will he find her?
My, my, Penelope as Lady Whistledown is a force to be reckoned with. The girl can teach a man how to run a business with all the ferocity of a lioness! #goals
Is Anthony looking for a wife or someone to add to his "office"? What's with the list of suitable candidates and interviews, dude?
Ahh! The naked butt show! How is Bridgerton complete without one? Though I must say, compared to the first season, Season 2 seems to be taking its sweet time getting to some sexy times.
See a woman at the "crack" of dawn and just assume she is a damsel in distress. Anthony did what any other man would do. How very disappointing!
Baap re – A pinch of Hindi in 19th century London? Not bad, Shonda Rhimes. Not bad at all.
Wow, I never knew if a woman has no maid to accompany her, she must be married. How cute! You tell them, Anthony!
It looks like Lady Danbury has taken it upon herself to find the perfect match for every Bridgerton sibling. I won't be surprised if she'll be the one to bring together the leads for all the remaining seasons of the show.
Kate and Edwina Shawma – never thought Sharma will turn into shwarma.
The cutest addition to the cast is the super cute corgi, Newton. Can't get enough of him!
We stan a woman who hypes other women, even if the other woman is your sister. You go, Kate!
Ooh, trouble might be brewing on the Eloise – Penelope friendship front.
How is it that Queen Charlotte walks around with a 3-foot tower of hair effortlessly? If it was me, I'd probably be tipping over.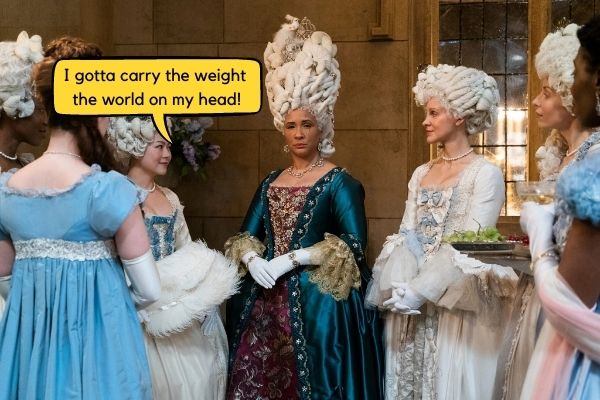 "Prized calf trussed up for auction" – that's quite an apt description of women in the marriage mart, even today. Eloise knows what she's talking about.
Oh, the horror! Lady Mary married a single father and eloped to India. How can anyone live down the shame?
Anthony doesn't disappoint with his misogyny. According to him and his friends, women are meant to be "wed, bed and bred". Hmmm, I don't have many hopes of liking the Viscount this season.
Prudence Featherington needs to learn to play nice with her little sister! With her current attitude, nobody will be surprised if everyone treats her like the hellish creature she is. And Mommy Featherington too needs to respect her daughter. I figured she would have learnt that by now.
Ooh, the suspense builds! Why did Kate Sharma really come to London? Is finding a husband for the sister all that she cares about? Or is there a sinister plan behind it?
I kinda love Eloise! The quirkiness of Eloise's characters is one of the most refreshing parts of the series. What a delight.
Elsewhere in the ton, the mean girl cliques are just getting worse. Cressida Copwer and her lackeys are still around, lurking in gardens. #IYKYK
She gets declared a diamond, and suddenly, Edwina turns into the object of desire for everyone. Anthony looks at her as if she is the last piece of fried chicken on a plate.
Edwina doesn't really have a stand of her own. She bows down to everything Kate says and is that really a desirable quality? Also, Kate's overbearing attitude is getting a little too much. The woman needs to tone it down a bit. I'm sick of it in two episodes.
Now that Colin Bridgerton is back, I can't wait for his love story with Penelope to begin. Shonda Rhimes needs to get on that stat.
The new Lord Featherington could use some interior decor lessons. The man really has no clue how to decorate his house. Somebody needs to tell him that mounting animal heads on walls is not exactly…umm…tasteful.
Oh my god, Eloise! Give up the quest to find Lady Whistledown. Aah! My favourite friendship is going to face some severe punches. I can already feel it.
Sparks are definitely flying between Kate and Anthony. Except nobody seems to be noticing it.
Colin Bridgerton wanting to take some time off from women and love and focus on himself is quite a refreshing take. Given his past with Marina Thompson in Season 1, it only makes sense for him to focus on himself.
Finally, we see Edwina choosing to make a decision by and for herself. Wow! What a rebel.
Okay, lovelies. I need a bit of a break before I delve into the lives of the Bridgertons and the Sharmas again. Knowing what's about to come, I already feel bad for poor Edwina Sharma. Alas! Love requires some sacrifices. So much drama! It's more fun to take it all in over a few days!
Featured Image Source
Related: Which Bridgerton Character Are You, Based On Your Personality? Take This Quiz To Find Out