This goes out to those who would love to try out something new with the meat and vegetables stored in their kitchen. It's that time of the year where you don't want to get grilled by the heat outside. But something that can go very well with the forthcoming monsoon is the barbeque – It's all about that flame grill life, girls!
Having said this, exactly what and how to grill can be two questions that can pop up in your head ANYTIME! Well, following are some unique dishes you can very easily grill this rainy season. Yummy in your Tummy already, huh?
1. Chilly Garlic Chicken
Of course, when we are talking about grilling, Chicken simply HAS to be on the top. "That's so conventional"- yeah! You may say that. But say that when it's crunchy on the outside and chewy on the inside and all you will be able to talk about is Chicken. One thing to be not forgotten about is the usage of garlic along with chilli here. The two tango the best ways possible. I say, 'Just Go With It'.
2. Fruit It Up
You can serve this before as starters or after the feast as dessert – Grilled Watermelon with a pinch of smoked salt and pepper. Crazy it sounds, but ever wondered how cool it would be to grill a watery fruit like watermelon. Try it out this time! (And oh, make sure you don't forget to serve the dish with Jalapeno rings)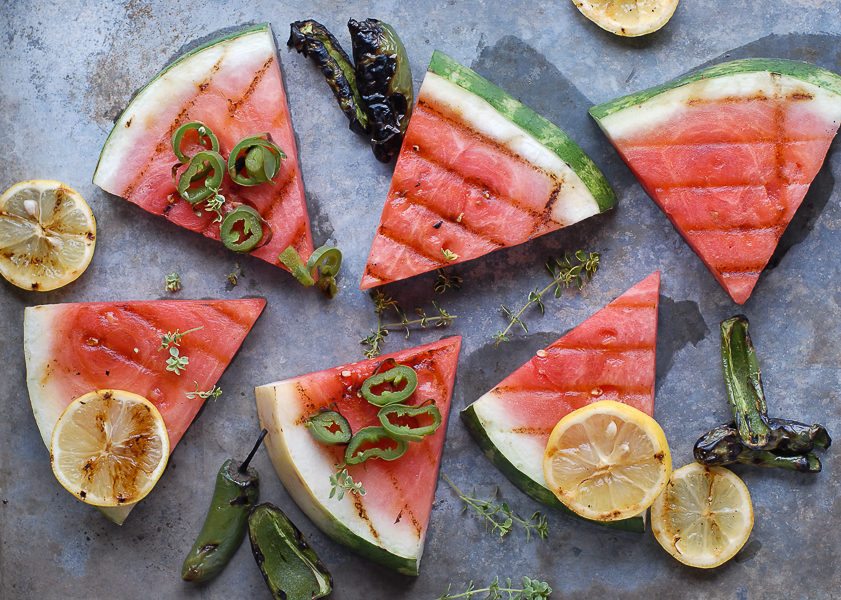 Picture credits: Boulderlocavore
3. Grilled London Broil
A GoT fan, are you? Don't just hide behind the screen and pretend like you never drooled over the food that Jon Snow or for that matter, Daenerys had! They looked so mouth watering, no one can ever watch the episodes without feeling neglected. Well, now that you have an idea, another grilled dish would be the grilled London broil. With that dark brown grilling and that huge size cut off and served on your plate, no meat lover can leave the table without having feasted over it.
                   Picture Credits: Bonappetit
4. For the Veggies
Enough of meat talks now. Talking about vegetarians, the first to be talked about would be Potatoes. A grilled dish you can simply sit and drool over because that's how lovely and beautiful it looks and you don't want to eat it and make it go – The Grilled Potato Salad. This can master the starters for sure. Smoke it up with ginger or spice it up with chilli, it's all your call.
Picture Credits: A farmgirl's dabbles
5. Sea Food
Sea food is generally juicier in the middle. So, apparently you can grill fish, lobsters and even squid and know what we are talking about here. For better results, grill them on fiery coal, to retain the juicy inside and grill the exterior crispy enough. Seafood is well served with a topping of lemon juice. Ergo, spread over that lemon zest and you're golden!
Picture Credits: Delish