If you're a good Punjabi, the number 11 in this article will give you a certain joy. Shagan hota hai at weddings, after all. From hefty shagans to hungover baraats, there are several things that happen at every Punjabi wedding. If you've never attended a Punjabi wedding, and have been invited to one this year, you need this crash course. A Punjabi wedding is unlike any other in the world. It's loud, colourful, hectic, and a lot of fun.
Here is an insight, compiled after years of experience, into things that happen at every Punjabi wedding. But it's no match for actually being a part of one.
1. An elaborate buffet and bar
Two things you will always find in abundance at Punjabi weddings is food and alcohol. It is a grave offence for anyone to be hungry or thirsty at a Punjabi wedding. The host will make sure you eat till your stomach is about to explode and drink till you can't stand straight.
2. Guests who will find fault even with the most elaborate buffet and bar
You could have cuisines from across the world, prepared by the best chefs under the sun. But someone will still find fault with it. A critical guest is an essential part of a Punjabi wedding. Nazar nahi lagti phir.
3. An emotional chooda ceremony
This is one ceremony where you might tear up a bit too. The bride's mama, or mother's brother, makes her wear a set of bangles called a chooda. It is an emotionally charged moment between the bride and her family. However, the tears are short-lived. Soon enough, they'll be back to dancing, eating, and drinking. At this time, the bride's sisters and friends will also tie kaleeras on her wrists. While kaleeras have a somewhat disturbing origin, it's all fun and games now.
4. A really fun, colourful mehendi
Image Source
There's no dearth of fun ceremonies at Punjabi weddings, and the mehendi doesn't disappoint. Earlier, the mehendi function was a small affair at home with close family and friends in attendance. Now, it's a major event at every Punjabi wedding. And it's great for pictures. The colourful decor, winter sun and fresh mehendi on every girl's hands make for epic Instagram content.
5. Hundreds of women and men flaunting the latest trends
Image Source
No Punjabi wedding is complete without an astounding display of wealth. Whether it's the latest designer wear, or their expensive copies, you will see hundreds of women and men at Punjabi weddings flaunting the best of the best. You also might feel a bit blinded by the bling, but you'll get used to it.
6. A sangeet that runs far too late into the night
No one cares that there is a wedding the next day. The whole point of a sangeet is to party the whole night. The choreographed dances give way to a free-for-all dancing frenzy, which you will be sucked into. So, don't wear uncomfortable shoes to a sangeet.
7. Someone fighting with the DJ to play their song for the 97th time
And that song is either rail gaddi or saadi gali. If you don't know any of these songs, please keep that to yourself to avoid being judged hard. A word of caution – if rail gaddi comes on, and you see everyone on the dance floor forming a line, join in. It is the most fun part of a sangeet.
8. Dholwalas drowning out the DJ
The dholwala will play the same song that the DJ is playing but will be louder. And so much better. Because everything sounds better with a dhol. The dhol will also be taken from the dholwala and passed around among the dancing guests. Everyone is a dholwala at a Punjabi wedding.
9. Money on the dance floor
While you're trying to keep up with the bhangra and gidda on the floor, you will also notice random money showers. Someone, at the peak of their drunkenness, will throw a wad of notes at the dancers. Don't get offended, please. It's just a display of unfiltered, unhinged joy (and wealth, again). Also, don't pick up that money. It's not for you.
10. A hungover, late baraat on the wedding day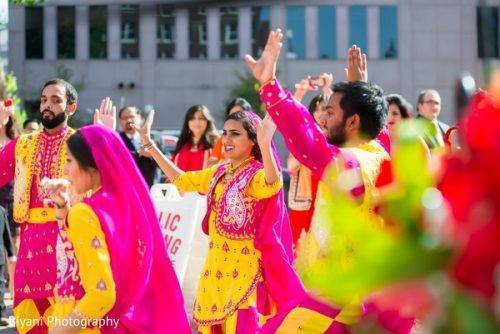 Image Source
If it's a day wedding, expect a late baraat because most of them will be hungover. There is a reason that everyone has sunglasses on at day weddings in north India. And it's not the sun. If it's a night wedding, they'll be slightly less hungover but there will be someone who will be "unwell". Hopefully, that won't be the groom. Or the bride. But hungover or not, the baraat will always be late.
11. Matchmaking and prep for the next wedding
The prep for a Punjabi wedding always starts at a wedding. If you think a bunch of aunties or uncles are constantly looking at you, run. They're trying to recruit you for the next eligible bachelor or bachelorette in their family. You won't be the only one though. Their radar shortlists a bunch of people and finds out who their parents are. Don't ask how. It's a natural phenomenon.
So, are you ready for the next big, fat Punjabi wedding? If you need outfit inspiration, check out our blogs for mehendi outfits, wedding outfits and sangeet attire. If you're looking for the right kind of jewellery to fit in with the crowd, click here.