Wondering what to do with that precious Banarasi saree handed down to you by your mother and grandmother? So exquisite and yet no occasion to wear them. Don't worry, and read on. These family heirlooms can be re-purposed in several ways so they not only stay close to you but also find a whole new meaning for their existence. Get ready to make some closet space, ladies.
1. Design a Dress
Turn your Banarasi silk saree into a dress for a modern-ethnic look. Mix and match two old sarees for a whole new creation but make sure they complement each other. You can make a skater dress, a formal gown, a cocktail dress or a maxi.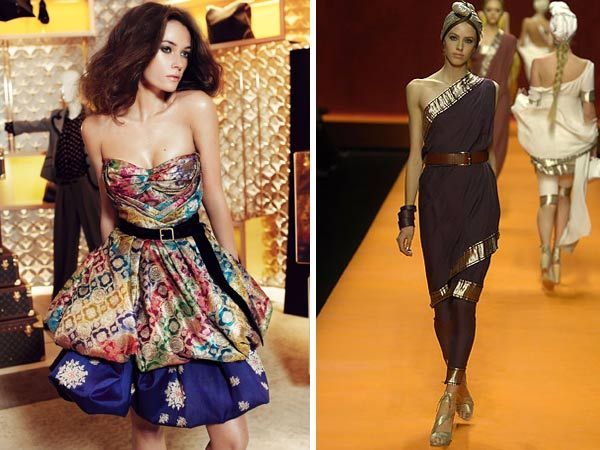 Courtesy: Luxpresso
2. Sizzle in a Skirt
Take inspiration by Alia Bhatt on how to rock a long skirt. The Banarasi fabric will add a beautiful flair making you feel like a princess.
3. Amaze in a Lehenga
Turn your old sarees into a long and gorgeous lehenga. Since the length of a saree is about six to seven yards, you can easily fashion a flowy lehenga out of it.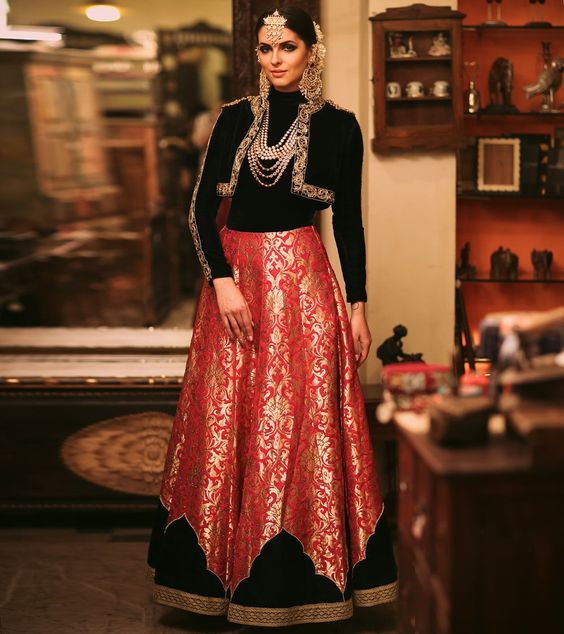 Courtesy: Vagabomb
4. Kill in a Kurta
Kurtas are a closet staple for each one of us. Transform your beautiful Banarasi saree into a fancy long kurta for special occasions or a simple short kurti for everyday wear.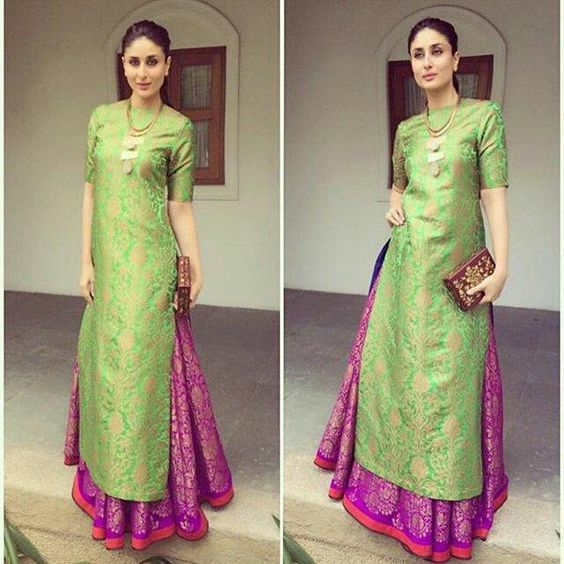 5. Pretty in Pants
Old Banarasi sarees are just perfect for making palazzo pants or even regular pants out of them.
Courtesy: Pyjamapeople
6. Steal Your Way with a Stole
You can easily turn your sarees that aren't in good shape into stoles, scarves and dupattas to make your outfit complete. Learn this cool way of storing your dupattas that won't take much space in your closet.
Courtesy: Bollywoodgossipgirl
7. Blend in with a Blouse
You can fashion a Banarasi top from a heavily embroidered saree that can double up as a blouse too.
8.  The DIY Gift Wrap
Ditch the regular gift wrappers and add a personal touch to your gift by wrapping it in a piece of an old saree.
Courtesy: SouthIndianFashion
9. The Perfect Potli
 Add a fun element to your ethnic look by carrying a cute banarasi silk potli.
Courtesy: Indian Roots
10. The Ultimate Home Decor Dream
Use your beautiful sarees to decorate your home by fashioning curtains, pillow covers, bed linen, table covers and any other home decor material that would add an instant blast of colour to your interiors.
Courtesy: Funandfoodcafe
11. Stitch a Sleeveless Jacket
Make a gorgeous jacket for yourself out of the old sarees to go with plain kurtis and give a grand look to the outfit.
Courtesy: SouthIndianFashion
12. Sew a Laptop Sleeve
Handcraft a fluffy and soft cover from the discarded sarees to keep your laptop or your mobile safe.
Courtesy: SouthIndianFashion
Please follow and like us: